Opening Season Revealed For Vibrant New Cabaret Venue At Wales Millennium Centre
Cabaret opens in February 2023 showcasing the very best in drag, burlesque, comedy, gig theatre and more.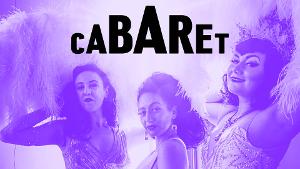 The opening season of Cabaret, Wales Millennium Centre's vibrant new venue, has been launched - opening in February 2023 showcasing the very best in drag, burlesque, comedy, gig theatre and more.
With a provocative, joyful and sometimes wild line up, Cabaret will be a safe space for everyone to express and enjoy themselves. Tickets are on sale now at wmc.org.uk/cabaret.
Cabaret's inaugural season features local collaborations with Cardiff Cabaret Club, Glitter Cymru and The Queer Emporium, as well as hot-ticket touring acts Big Band Burlesque and TV's Paulus who celebrates the music of Victoria Wood.
Wales Millennium Centre's own work will also take to the stage. Luke Hereford's heart-warming show Grandmother's Closet returns following an award-winning run at the Edinburgh Fringe, and Queerway - produced by Leeway Productions with support from RCT Theatres and Wales Millennium Centre - will debut telling life stories of LGBTQ+ people from Rhondda Cynon Taf.
Cwm Rag, a gaggle of LGBTQ Welsh drag performers, will celebrate and interrogate what it means to be Queer and Welsh in their bilingual show, while translator-turned-comedian Steffan Alun will treat Cardiff's audiences to Comedy Translates - a bilingual comedy night (sort of) featuring some of the Welsh language scene's best acts.
Relaxed matinee performances are on offer for people living with dementia for Grandmother's Closet and Judy & Liza, a sensational musical that tells the turbulent tale of Hollywood's mother-daughter duo. Mothers, daughters and people who menstruate will also be 'edu-tained' with Blood, Glorious Blood!, a taboo-busting show celebrating menstruation.
The programme has been curated by producer, Peter Darney, who masterminded two sell-out adult Christmas cabaret shows at Wales Millennium Centre - xxmas Carol (2021) and The Lion, the B!tch and the Wardrobe (2022).
Peter Darney said: "With Cabaret we wanted to create as diverse a programme as possible and to make sure that it remained affordable in such difficult times. It's going to be wild, provocative and fun.
"There's a Bhangra night, dementia friendly performances and something for the young and the young at heart. We want to create a special community here in South Wales - a safe space where you can be yourself, find yourself and lose yourself."
Cabaret is part of Wales Millennium Centre's ongoing transformation into a creative hub for everyone. The dedicated venue will seat around 120 and serve emerging and eclectic talent like nowhere else in Wales, bringing a taste of Soho to Cardiff Bay.
The venue has been designed to make everyone feel at home with accessible and gender-neutral facilities.
Events range from £7 - £20, with discounted tickets available for those who are living with a disability, students, under 30s and the unwaged. See the full season information at www.wmc.org.uk/cabaret.