Cast Announced for DICK WHITTINGTON at Exeter Northcott Theatre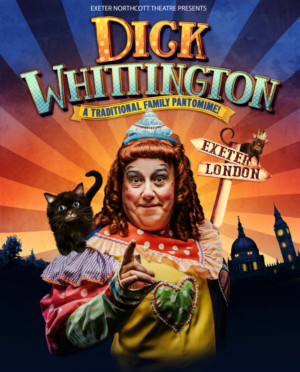 Exeter Northcott Theatre has announced that its 2017 Christmas show, Dick Whittington, will see the return of pantomime favourites, Steve Bennett, Gordon Cooper, Jeffrey Harmer and Martin Reeve.
All four actors have previously appeared in Northcott pantomimes over the years and the theatre is thrilled that they will all grace the stage again this Christmas.
Steve Bennett returns as the Dame, a role he played previously at the Northcott for 14 years, Gordon Cooper will take on the role of Captain Darling, Jeremy Harmer will play the evil King Rat and Martin Reeve will play Alderman Fitzwarren.
The cast also includes Emily Essery as Dick Whittington and Exeter native Annabel Warwick as Alice Fitzwarren.
Directed by one of the country's leading pantomime directors, Tony Lidington, set and costume design by Kelly Jago and musical direction by Paul McClure, Dick Whittington sees a spectacular return to the Exeter Northcott tradition of producing its own pantomimes.
Steve Bennett said, "I'm absolutely delighted to be returning as Dame this Christmas for what will be my 15th Northcott panto! I've done panto elsewhere but nothing compares to the Northcott. I really feel like I'm coming home!"
With his faithful Puss by his side Dick leaves his Exeter home for the bright lights of London in search of fame and fortune. Follow his adventures as he reaches the big city and travels the high seas. Will Dick find his fortune? Can he and Puss defeat the evil villain King Rat and return home triumphant?
Expect plenty of audience participation, live music, magic, mayhem and lots of laughter - the perfect recipe for a family Christmas panto treat!
Dick Whittington will be co-written by Steve Bennett and Tony Lidington.
Exeter Northcott Theatre last produced a pantomime in 2009, the much acclaimed Mother Goose.
Steve Bennett was the resident pantomime dame at the Exeter Northcott, between 1996 and 2010, appearing in three Cinderellas, two Aladdins, two Dick Whittingtons, two Mother Gooses, two Jack and the Beanstalks, two Sleeping Beauties and one Babes in the Wood.
Tony Lidington is a well-respected authority on British popular entertainment forms and works with many academic institutions and archives, before applying his research to contemporary performance contexts and broadcasting. His Radio 4 series on Max Wall was selected as Pick of the Week by Radio 4 ("a masterclass in comedy") and the series on Joey Grimaldi and Dan Leno were then painstakingly recreated as remarkable live performances which toured throughout the country.
Tony has produced, written and directed pantomimes for many historic venues: Leeds City Varieties, Theatre Royal Bury St Edmunds, Wakefield Theatre Royal & Opera House, Liverpool Everyman and the Georgian Theatre Royal, Richmond.
Jeffrey Harmer trained at the Webber Douglas Academy.?He has just finished playing Richard Willey in the National tour of Out of Order by Ray Cooney.
His favourite theatre credits include: Henry Bingham in Fox on The Fairway, Richard Willey in Out Of Order, Headingly in Donkey's Years, Capulet in Romeo & Juliet, Duke Frederick in As You Like It, Vittorio Vidal in Sweet Charity, (New Wolsey Theatre Ipswich), Andy Stephens, Susan Boyle's manager in the new musical I Dreamed A Dream. (National Tour), Abanazar in Aladdin, Alhambra Theatre in Bradford, High Pockets Duncan in Buddy (Channel Islands), Sgt Major Reg Drummond in Privates on Parade (West Yorkshire Playhouse & Birmingham Rep) Bill Austen in Mamma Mia! (International Tour) Koko in The Hot Mikado (Directed by Craig Revel Horwood for the Watermill Theatre Newbury and subsequent National Tour), King Rat in Dick Whittington, and Duke of Ephesus in The Comedy of Errors (Northcott Theatre, Exeter
TV and Film include: Prince Andrew in Diana Her True Story (NBC) Herr Luytnant in NorBert Smith A Life (CH4) Poirot, The Bill, Family Affairs (CH5) Westbeach (BBC) Rufus Sidwell in Kidnap & Ransom (ITV) DCI Bannister in The Runaway (SKYTV) Woods in The Italian Consul (Film Italia) Radio PC Collins in Saplings and Quisby in Gilbert Without Sullivan both for BBC Radio 4.
Martin Reeve's theatre credits include Embers (Bike Shed) and You and Me (Kaleider), both in Exeter, Present Laughter (The Royal Exchange, Manchester), Abigail's Party, Charley's Aunt, Alfie and A Taste of Honey (Octagon Theatre, Bolton), A Marginal Affair (Library Theatre, Manchester), The Crucible and The Snowman (Leicester Haymarket), Antony and Cleopatra and A Study in Scarlet (Orchard Theatre Co.), Gimme Shelter (Liverpool Playhouse), Sunday Monday (Birmingham Rep), The Bloomers and The Secret Agent (Durham Theatre Co.) and The Duchess of Malfi, The Life of Galileo, A Family Affair and The Idiot (all Contact Theatre, Manchester).
Television and film credits include: Two years with Emmerdale (ITV) as Brian Addyman, roles in Cornonation Street (ITV), Downton Abbey (ITV), Doctors (BBC), The Bill (BBC), Dead Clever (Granada), Sorted (BBC), Anatomy of a Crime (BBC), Shameless (Channel 4), Heartbeat (ITV), Outlaws (BBC), Murphy's Law (BBC), Hollyoaks (Channel 4), Phoenix Nights II (Channel 4), A Good Thief (ITV), 24Seven (ITV), Holby City (BBC), Fat Friends (ITV), Little Bird (Granada), At Home with the Braithwaites (ITV), Medics (Granada), Daziel and Pascoe (BBC), Peak Practice (ITV) and Brookside (Channel 4).
Gordon Cooper is a regular performer in pantomime and has played various daft roles in pantos up and down the country including Buttons in Cinderella at Exeter Northcott and The title role in Mother Goose at The Stafford Gatehouse.
Theatre credits include: the national tour of I Dreamed a Dream (The Susan Boyle Musical), Comedy of Errors and As You Like It at The Northcott Theatre Exeter, Romeo & Juliet and Much Ado about Nothing for Creation Theatre Company, Up on the Roof at The Minerva Theatre Chichester. The Tempest at Wimbledon Studio the national tour of Joseph & The Amazing Technicolor Dreamcoat,
Emily Essery trained in Physical Theatre at East 15 Acting School. She is co-founder of Fools Play whose recent work includes OSLO (RDC) & GO SOLO (European Tour). She is skilled in a variety of puppetry forms and trained specifically in Bunraku puppetry under Strange Arrangements & Flabbergast Theatre. Theatre credits include Snow White (Georgian Theatre Royal). Dracula (National Trust). The Fantastical Flying Exploratory Laboratory (UK Tour). Boris & Sergey's Preposterous Improvisation (Assembly, Edinburgh Fringe). BOBBIN (Little Angel). Boris & Sergey's Vaudevillian Adventure (International Tour inc. US & Australia). Jack & The Beanstalk (Georgian Theatre Royal). The Legend of the Holy Drinker (Lighthouse Theatre, Dorset). Everybody's Doing It (New Diorama Theatre). The Phoenix & The Carpet (National Trust). Drifters (BAC). Emily is a trained aerialist specialising in silks.
Annabel Warwick has recently finished her BA Honours Degree in Musical Theatre at UCW. Whilst studying she also performed in showcases and festivals such as: 'Beyond Broadway' at the Playhouse Theatre, 'A Night on Broadway' at the Playhouse Theatre, 'E3 Theatre Companies Showcase' at Tristan Bates Theatre, London and 'Move IT' a London dance festival.
Annabel has worked on a unique and interesting project with Relativity School in Los Angeles. The 'Telematics Project' was a live stream Broadcast from the Berkoff Studio.
One of her most recent projects was a 'Phantom of the Opera' Gala Dinner which she produced and performed in.