Date of Birth: May 30, 1932 (90)
Birth Place: London, ENGLAND
Latest News on Ray Cooney
Stage Credits
  [Broadway]
1989
John Smith
Productions
[Broadway, 1989]
Director
[Broadway, 1981]
Producer
[West End, 1980]
Producer
[Broadway, 1980]
Producer
[Broadway, 1979]
Producer
Theatre Owner / Operator
[West End, 1979]
Producer
Writing
Playwright
Playwright
Bookwriter
Conceiver
Ray Cooney Awards and Nominations
Olivier Awards - 2002 - Best New Comedy
Ray CooneyCaught In The Net
Olivier Awards - 1996 - Best Comedy
Ray CooneyFunny Money
Olivier Awards - 1991 - Best Comedy

Ray CooneyOut Of Order
Olivier Awards - 1983 - Comedy of the Year
Ray CooneyRun For Your Wife
Tony Awards - 1979 - Best Play
Ray Cooney, Whose Life Is It Anyway
Ray Cooney News
Rebecca Thornhill and Evelyn Hoskins Will Lead GYPSY at The Mill at Sonning Theatre
by Stephi Wild - Jan 6, 2023
Rebecca Thornhill will star as Mama Rose and Evelyn Hoskins will play her daughter Louise in 'Gypsy' at The Mill at Sonning Theatre, running from 24 May - 15 July, 2023.
Shaftesbury Theatre Reveals Next Phase Of Its £10 Million Plus Dramatic Transformation
by Stephi Wild - Oct 26, 2022
The Grade 2 listed Shaftesbury Theatre, the largest of the independent theatres in the West End, is undergoing dramatic and innovative extension and improvement to secure its position as one of London's leading theatrical forces, with a building designed for the 21st Century.
Cast Announced For Citadel Theatre's IT RUNS IN THE FAMILY
by Stephi Wild - Oct 5, 2022
Citadel Theatre Company has announced the cast and crew for its holiday season show, the British farce IT RUNS IN THE FAMILY.
NOT NOW DARLING Opens in The Off Broadway Palm
by Stephi Wild - Sep 23, 2022
The Off Broadway Palm Theatre opens its 2022-2023 Season with the laugh-out-loud NOT NOW, DARLING playing September 22 through November 5, 2022. This 1967 farce was written by English playwrights John Chapman and Ray Cooney.
WICKED Will Welcome Back Mark Curry as The Wizard
by Stephi Wild - Sep 22, 2022
WICKED will welcome back Mark Curry as 'The Wizard' from Tuesday 18 October 2022. Gary Wilmot will play his final performance as 'The Wizard' at the Apollo Victoria Theatre on Sunday 16 October 2022.
Citadel Theatre Releases Four-Show 2022-23 Season
by Grace Cutler - Jul 23, 2022
Citadel Theatre Company recently announced its 2022/2023 season, featuring an Obie Award winner and three comedies –one of them a beloved musical.
Avon Players Present RUN FOR YOUR WIFE in March
by Stephi Wild - Feb 28, 2022
Comic collisions and merry misunderstandings will provide plenty of amusement for Metro Detroit audiences as Avon Players presents Run for Your Wife running March 18-April 2.
BWW Review: Hale Centre Theatre's ONE FOR THE POT is a Madcap Romp
by Tyler Hinton - Jan 16, 2022
ONE FOR THE POT on Hale Centre Theatre's Jewel Box Stage defies description, but ultimately it is a madcap comedic romp filled with mistaken identities and pure effervescent entertainment.
The Mill At Sonning Theatre Names The Auditorium in Honor of Ray Cooney
by Stephi Wild - Sep 15, 2021
The Mill at Sonning, the UK's only dinner theatre, has renamed its theatre The Ray Cooney Auditourium in honor of comedy legend Ray Cooney, whose classic farces have all been performed there, and whose incredibly generous financial support during lockdown helped ensure the venue's survival.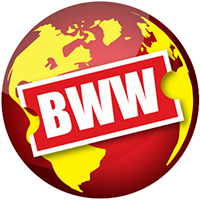 Second Street Players Will Perform CAUGHT IN THE NET This Fall
by Stephi Wild - Aug 16, 2021
Playwright Ray Cooney, well known for his hilarious satirical farces, brings traditional British bawdiness to the theme of an ordinary guy with an extraordinary love life.
Ray Cooney Videos
STAGE TUBE: Behind the Scenes with Sierra Rep's THERE GOES THE BRIDE
by Stage Tube - Jul 31, 2012
Join Sierra Rep for a fun and frantic wedding day like no other as it presents There Goes the Bride, a mad-cap dash to the altar with an unexpected twist. The comedy by British playwrights Ray Cooney and John Chapman and directed by SRT's Dennis Jones plays at SRT's East Sonora theater now through September 2. Check out behind-the-scenes interviews with the cast in the video below!
Ray Cooney Frequently Asked Questions
How many Broadway shows has Ray Cooney been in?
Ray Cooney has appeared on Broadway in 1 shows.
How many West End shows has Ray Cooney been in?
Ray Cooney has not appeared in the West End
What awards has Ray Cooney been nominated for?
Best New Comedy (Olivier Awards) for Caught In The Net , Best Comedy (Olivier Awards) for Funny Money , Best Comedy (Olivier Awards) for Out Of Order Comedy of the Year (Olivier Awards) for Run For Your Wife and Best Play (Tony Awards) for Whose Life Is It Anyway .
What awards has Ray Cooney won?
Best Comedy (Olivier Awards) for Out Of Order.
How many shows has Ray Cooney written?
Ray Cooney has written 4 shows including Charlie Girl (Bookwriter), Not Now, Darling (Playwright), Elvis (Conceiver), Run for Your Wife (Playwright).