BWW Review: Technical Wizardry Astounds in Mirvish's NORTH BY NORTHWEST
You've never seen anything like it! Mirvish's NORTH BY NORTHWEST, based on Alfred Hitchcock's famous film, fills the gorgeous Royal Alexandra Theatre with suspense and intrigue. Adapted by Carolyn Burns and directed by Simon Phillips, the new stage adaption thrills with witty, technical innovation.
A classic take on mistaken identity - Roger O. Thornhill (Jonathan Watton), a dapper advertising executive is abducted by thugs who confuse him with a Mr. George Kaplan. Things escalate quickly for Thornhill. A failed assassination attempt leads to a drunk driving conviction and a murder at the UN. Suddenly the innocent Thornhill becomes America's most wanted man. With help from the charming Ms. Eve Kendall (Olivia Fines), Thornhill races to find the real Mr. Kaplan, and clear his name.
Theatre magic is the ability to create the impossible on stage. And the creative team of NORTH BY NORTHWEST does just that. Simon Phillips and Nick Schlieper are absolutely brilliant. Sleek steel structures frame the stage, flying in from the ceiling to create hallways, windows and even building ledges. If you watch the film's opening credits, you'll see the inspiration for this design. The versatility of the set is imperative in a story that never stops moving. Chairs zoom across the stage, becoming luggage trolleys or police cars when needed. The level of creativity is mind boggling.
The most astonishing aspect of the design is the ingenious video projections. Manipulating scaled-down models, in mini green-screen studios, the upstage projections are filmed and projected live. You heard me - live. In perplexing, meticulously choreographed sequences, some of the most suspenseful scenes are brought to life. Every detail is so carefully planned - one of the male actor's fingernails was painted red to resemble Ms. Kendall's hand in one of the projections.
Following the film, nearly word-for-word - Bernard Herrmann's original film score is used sparingly to preserve the iconic atmosphere of suspense. Composer Ian McDonald incorporates a new soundscape that never strays from Herrmann's style - dancing with Schlieper's light design in sharp, stiff transitions that keep you on the edge of your seat.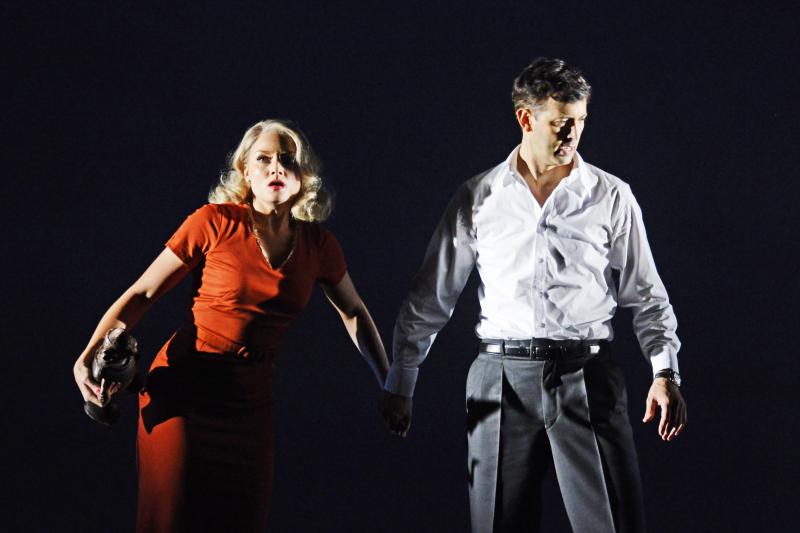 The actors must be exhausted after every show. Jonathan Watton is practically perfect as Roger O. Thornhill. Watton is just as suave but much more lithe than Cary Grant. The extremely active scenes work better in Watton's body - they come across as much more believable than in the film. I'm sure it helps playing opposite the irresistibly intoxicating Olivia Fines as Eve Kendall - their chemistry looks rather effortless. Every step that Fines takes is refined in a style that flawlessly captures the essence of the classic Hollywood actress.
The rest of the ensemble are tasked with playing countless roles. During Herrmann's pounding overture they rip sheets revealing, "by a cast of thousands". They aren't kidding. Abigail McKern transitions swiftly from Roger's mother, to a housekeeper, to a UN desk clerk. Phillips' meticulous vision influences everything from the voices McKern uses, to the limp that she adopts for the housekeeper.
If you're a fan of the film, you will not be disappointed by NORTH BY NORTHWEST on stage. The quaintness of the classic film and the genius of some of Hitchcock's most famous shots are preserved through the use of cutting-edge, bold projection technology. The extent of imagination, bringing this story to life, will make your jaw drop.
---
NORTH BY NORTHWEST is presented by Mirvish Productions and runs through October 29th at the Royal Alexandra Theatre, 260 King Street West, Toronto, ON.
For more information, visit https://www.mirvish.com/shows/north-by-northwest or call the box office at 1 800 724 6420
(main photo credit: Nobby Clark)
Related Articles View More Toronto

Stories

Shows