BWW Review: mad Theatre of Tampa's Production of DISASTER: THE MUSICAL at the Shimberg is a Blast!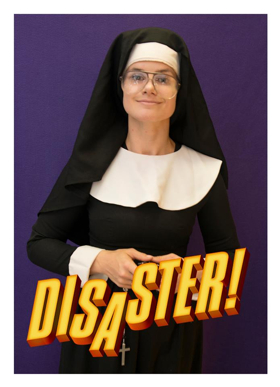 Should Seth Rudetsky be deemed a National Treasure? Since you are reading Broadway World, chances are you know and appreciate who Rudetsky is. Anyone who has even a passing infatuation with musical theatre must listen to and learn Broadway trivia and bon mots from his show, "Seth's Big Fat Broadway," on Sirius/XM Radio. And Rudetsky's deconstruction of various Broadway songs on You Tube are musts. (I highly recommend his verse-by-verse dissection of "Another Hundred People" from Company.) So when Rudestsky, along with Jack Plotnick, created a musical love letter to the 1970's, you know he of all people would do it right. And with DISASTER: THE MUSICAL, which is being given its Bay Area premiere by mad Theatre of Tampa and performed at the Shimberg thru October 22nd, he found a campy, fun-loving, goofy-great cult hit.
What is more Seventies than a melding of disaster movies and cheesy, schmaltzy pop songs? Films like The Poseidon Adventure, The Towering Inferno, Earthquake, Airport, Jaws, even Piranha and The Swarm are given the once-over in this clever, anything-goes musical. And numerous lost songs are resurrected whether they deserve to be or not--from One Hit Wonders (like Albert Morris' "Feelings" and "The Lord's Prayer" by Sister Janet Mead) to disco diva classics ("Hot Stuff," "I Will Survive" and my personal favorite, "Come to Me," originally recorded by the not gone but certainly forgotten France Joli); from classic rock songs with a twist ("All Right Now" and "25 or 6 to 4") to some of the worst tunes to ever graze the Billboard Hot 100 charts ("Muskrat Love," Really????)
The jukebox musical parody is like a full-length version of "Mr. Jaws," a top-40 hit by Dickie Goodman from 1975 where fragments of popular songs of the time were spliced throughout a forced storyline. DISASTER works much better than another campy cult take-off, Return to the Forbidden Planet, partly because the writers smartly don't play the full songs, just snippets here and there. And partly because Return to the Forbidden Planet is just not very good. DISASTER, on the other hand, is a hoot. In Sensurround, no less.
I would expect a company like Jobsite or Stageworks to be the first in the area to get the rights to this vehicle. Instead, a community theatre--mad--beat them and every local theatrical organization to the punch. And their production boasts some of the strongest actors in our area, three of whom received some of the finest reviews I have written in the last couple of years: Lauren Buglioli, Michael Silvestri and Eric Lamont Newman. It's quite a coup that these immeasurably talented souls find themselves in the same show.
Buglioli plays Sister Mary, loosely based on Helen Reddy's singing nun in Airport '75. I didn't recognize Buglioli onstage at first, and I wondered, who is this amazing talent? When I realized it was indeed Buglioli--her Sally Bowles in mad's Cabaret is still locally legendary--then I knew we were in great hands. Once again she is a standout. Her habit-donning character finds herself "torn between two lovers"--God and a slot machine. Buglioli's feverish gyrations, her writhing and caressing of the one-armed bandit to the tune of "Never Can Say Goodbye" is one of the funnier sequences I have seen in recent years. What she does to the phallic slot machine lever is hilariously hardcore, like Tina Turner attempting to fellate a microphone in Gimme Shelter.
The versatile Michael Silvesti, so meta-fabulous in La Cage Aux Folles at the Carrollwood Players earlier this year that people still talk about his performance, is stellar as Ted, a disaster expert who is not unlike the Professor on "Gilligan's Island" lost in the disco era. His so-serious-it's-funny rendition of "Feelings" and heroics to "Nadia's Theme" earned some of the show's biggest laughs.
Eric Lamont Newman, so good in mad's Next to Normal, has a smaller role as Scott, but he's always electric onstage, always giving his all to the proceedings.
In the ultimate disaster movie, The Poseidon Adventure, Shelley Winters and Jack Albertson were the heart of the upside-down voyage, especially with Ms. Winters' oft-imitated underwater death scene. In DISASTER, their counterparts are Shirley and Maury, played respectively by Justin Batten and Rick Faurote. I had misgivings when I heard that the part of Shirley was going to be played by a man. The show was already full-tilt camp; did it need to push it any further, especially if it would somehow lessen the heart of the musical?
But Batten's Shirley turned out to be an audience favorite. Jane Lynch tall and donning a blonde Dina Merrill wig, he resembles the strange synthesis of Angela Lansbury, Bea Arthur and Buffalo Bill from The Silence of the Lambs. His big moment, a convulsive survival tap routine to "A Fifth of Beethoven," was certainly memorable. Funny as Batten is, he brings much heart to the show (some of this thanks to the likable Rick Faurote, whose duet with Batten, "Still the One," left the audience cheering). But is having a man in the role completely necessary? This isn't like Hairspray, where a man plays Edna as a loving homage to the late great Divine, who originated the role in the 1988 movie. In some ways, this reminded me of freeFall's 2015 production of Mame, where Matthew McGee played the iconic title role. It worked because viewers were able to majorly suspend their disbelief, but did it make the musical better, or even as good? Were we able to get past the man-playing-a-woman aspect while watching it? Regarding Batten, the audience would answer that question with a resounding YES; they loved him. I am still up in the air.
DISASTER touches upon everything Seventies, like Blaxploitation movies with the character of Levora (Lindsay MacConnell with a stuffed animal dog) in a frizzy Foxy Brown wig, or Carol Lynley's lounge singer, Nonnie, in Poseidon (Melissa A. Doell as lounge singer Jackie, who utters "Hey hey" all the time, and only near the show's end do we figure out why). There's the groaning love story between Chad (Peter A. Belk) and Marianne (Anna Morris) that keeps purposely stopping all the action. Belk gets to belt the classic "Without You" and show off his vocal chops. The two of them also get to sing one of the 1970's most underrated pop singles, England Dan and John Ford Coley's "I'd Really Love to See You Tonight."
The rest of the cast offers some fine assistance, hilarious moments and nice harmonies, including Marcus Blake, Thomas Brown, Britney Cuilty, Miranda Harrison-Quillin, Stephen K. Huff, and Shannon Wright.
Special mention must go to Dakota Gagliano, who is making her stage debut as the twins, Ben and Lisa. Gagliano is a joy to watch, and the ingenious twin shtick never gets old, especially with Gagliano's precision (we're always surprised when one of them shows up immediately after the other one just left).
R. James Faurote directs with gusto and leads the revelry that only seems to go on too long near the end. At this point the show seems like a party guest, once so much fun, who just doesn't know when to leave. Jarrett W. Koski's choreography is full of life and appropriate for the disco era. Amy J. Nickerson's musical direction serves the show quite well, and the songs were given a Grade-A treatment thanks to the band, including Nickerson and Barb Huling on the keyboards, Gordon Bonnett on guitar, Michael Smith on trumpet, Alex Pasut on electric bass and P.J. Lalka on percussion. They sounded amazing, although the band was way too ear-bleeding loud at the start of the show. I initially worried that the uncomfortable loud volume in the intimate Shimberg would be a problem throughout, but it was soon fixed and sounded fine for the duration.
The set is relatively no-frills, but an aquarium puppet show turns into a thing of beauty where less is more; it's almost worth going just to experience that.
The show is delightfully sick quite often, and the scene where body parts are being tossed into the sea to the tune of the Commodores means just one thing: I will never be able to listen to "Three Times a Lady" the same way again.
You will never mistake DISASTER: THE MUSICAL for a remake of Miss Julie.
For those who endured the 1970's, the jokes come a mile a minute. If one doesn't work, then another one is right behind it that does. Rudetsky and Plotnick shove a bit too many plotlines at us and too many random song choices. (Other than making us relive our 1976 Captain & Tennille radio nightmares, is the "Muskrat Love" scene really necessary?) The show oftentimes seems to force its camp; it pushes too hard and sometimes seems desperate in squeezing out laughs. But in the end, who cares? DISASTER: THE MUSICAL is a veritable giggle fest, one of the goofiest shows I've ever seen. It has hot molten rocks in its head, and it proudly wears its vapidity on its burning sleeves. Yes, it's stupendously stupid, remarkably ridiculous, but it's also entertaining as hell.