HUGH GRANT LOST HIS SECOND MATCH IN SWEDISH OPEN at Båstad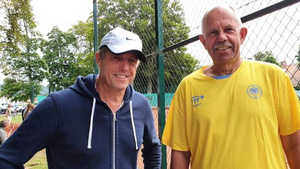 Hugh Grant lost his second match in Sweden Open, Veteran class.
Hugh Grant won his first match with 6-3,6-1 and said to Swedish Television that it was fun to win in Sweden. Today he met Per-Anders Lindeborg, Karlskrona, who is seeded as number one in the veteran tournament. Once a again the match was moved due to high publicity interest. It was moved to another tennis court in the harbour, but still some spectators watch Hugh Grant loose. Hugh succeeded to win at least one game. Per-Anders Lindeborg won with 6-0, 6-1. After the game Per Anders Lindeborg said that Hugh Grant had a good serve, forehand and volley. It was a fun to play with him, the sun shined and it was some spectators who watched and enjoyed the game.
Hugh Grant was invited to play the international tournament in Karlskrona next year by Per-Anders Lindeborg.
Hugh Grants wife Anna Grant (Eberstein) is a keen tennis player and she has won the mixed double with her brother in class 40 twice in a row (2018 and 2019).
As the Grant family has a house in Torekov it is possible that he is back in the tournament next year.
Photo:Privat