Class in Session This Winter for SCHOOL OF ROCK in St. Louis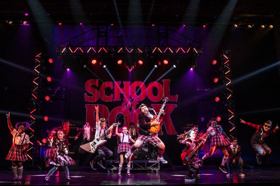 Broadway legend Andrew Lloyd Webber's high-octane Broadway and West End hit School of Rock - The Musical is coming to St. Louis at the Fabulous Fox Theatre January 16-28!
Tickets for School of Rock - The Musical at the Fabulous Fox are on sale now at MetroTix.com, by calling 314-534-1111 or in person at the Fabulous Fox Box Office. Ticket prices start at $35. Prices are subject to change; refer to FabulousFox.com for current pricing. School of Rock - The Musical is part of the U.S. Bank Broadway Series.
Performances of School of Rock - The Musical at the Fabulous Fox run January 16-28. Show times are Tuesday through Saturday evenings at 7:30 p.m., Saturday afternoons at 2 p.m. and Sunday afternoons at 1 p.m. There will also be an evening performance on Sunday, January 21 at 6:30 p.m. and a matinee performance on Thursday, November 25 at 1 p.m.
School of Rock - The Musical is based on the smash hit 2003 film of the same, featuring music from the movie, as well as an original score by Andrew Lloyd Webber, lyrics by Glenn Slater, a book by Julian Fellowes, choreography by JoAnn M. Hunter and direction by Laurence Connor.
Rocking the roofs off of theaters across America, the School of Rock - The Musical national tour stars Rob Colletti as Dewey, Lexie Dorsett Sharp as Rosalie, Matt Bittner as Ned, Emily Borromeo as Patty, Merritt David Janes as Dewey Alternate, Deidre Lang as Ms. Sheinkopf, Olivia Bucknor as Shonelle, Theodora Silverman as Katie, Chloe Anne Garcia as Marcy, Carson Hodges as Mason, Gianna Harris as Tomika, Gilberto Moretti-Hamilton as Freddy, Phoenix Schuman as Zack, John Michael Pitera as Billy, Theo Mitchell-Penner as Lawrence and Ava Briglia as Summer. The adult ensemble features John Campione, Patrick Clanton, Christopher Deangelis, Kristian Espiritu, Melanie Evans, Liam Fennecken, Kara Haller, Elysia Jordan, Jameson Moss, Sinclair Mitchell, Tim Shea and Hernando Umana. The kid's ensemble features Rayna Farr, Bella Fraker, Alex Louis, Tommy Ragen, Gabriella Uhl and Aiden Niklas Villa.
School of Rock - The Musical opened on Broadway to rave reviews on Sunday, December 6, 2015. School of Rock - The Musical was nominated for four 2016 Tony Awards, including Best Musical, Best Score (Lloyd Webber and Slater), Best Book (Fellowes), and Best Leading Actor in a Musical (Alex Brightman). School of Rock - The Musical also won the 2017 Oliver award for Outstanding Achievement in Music.
Based on the hit film, School of Rock - The Musical is a hilarious new musical that follows Dewey Finn, a failed, wannabe rock star who decides to earn a few extra bucks by posing as a substitute teacher at a prestigious prep school. There he turns a class of straight-A students into a guitar-shredding, bass-slapping, mind-blowing rock band. While teaching these pintsized prodigies what it means to truly rock, Dewey falls for the school's beautiful, but uptight headmistress, helping her rediscover the wild child within.
School of Rock - The Musical features scenic and costume design by Anna Louizos, lighting design by Natasha Katz, sound design by Mick Potter and music supervision by John Rigby.
School of Rock - The Musical is produced on Broadway by Andrew Lloyd Webber for The Really Useful Group, Warner Music Group & Access Industries, The Shubert Organization and The Nederlander Organization. Nina Lannan and Madeleine Lloyd Webber serve as Executive Producers.