BWW Review: TIME STANDS STILL is Harsh and Tender Contemplation on War and Relationships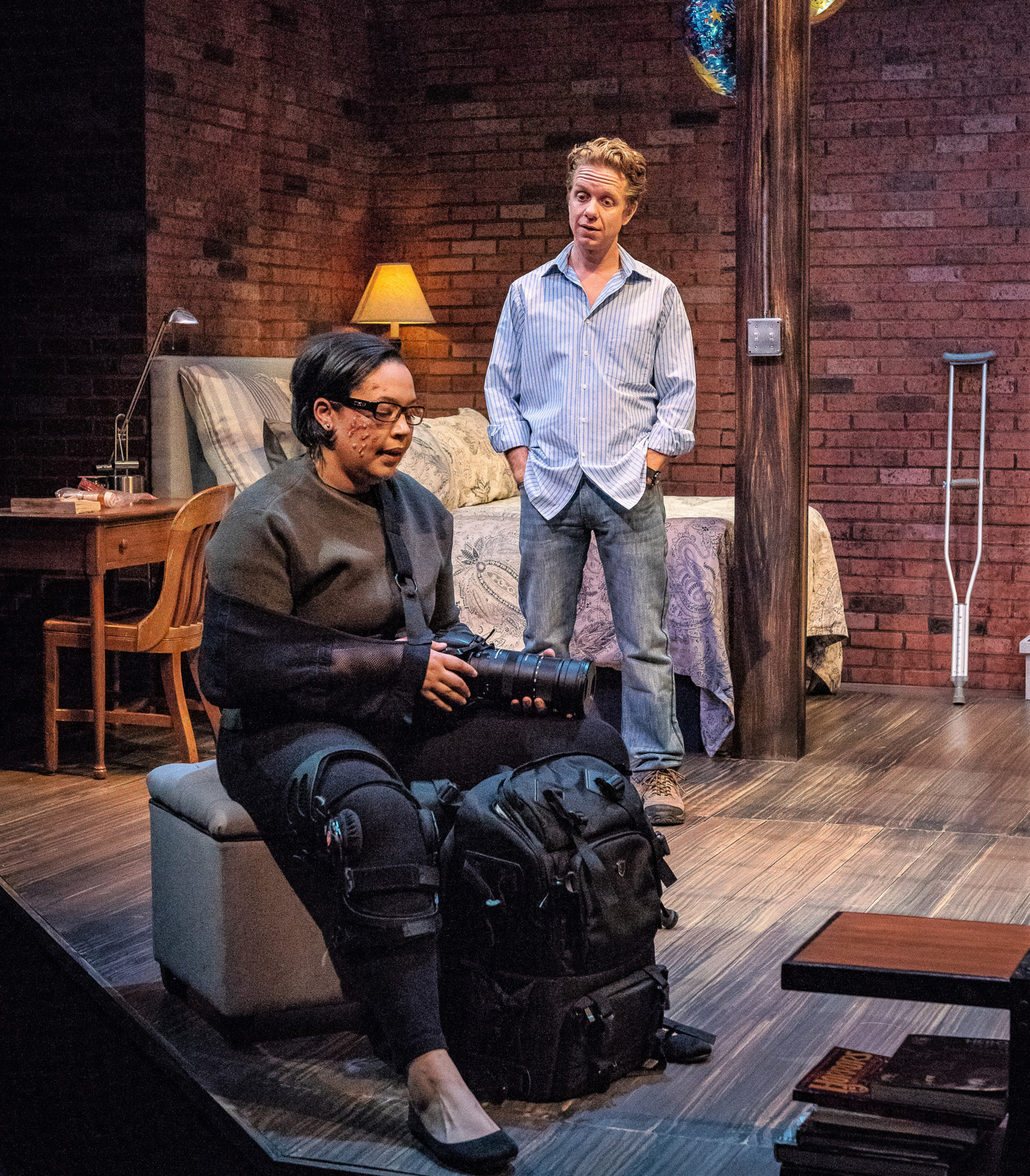 An exposed-brick studio apartment in Brooklyn in 2009 is the setting for Time Stands Still, a moving play by Donald Margulies, directed by Doug Finlayson, playing now at The New Jewish Theatre. Romantic partners for 8 ½ years, photojournalist Sarah (Wendy Greenwood) and war correspondent James (Ben Nordstrom), return home, Sarah's face bandaged, her arm in a sling, and her leg bound with a brace as she struggles to maneuver on crutches. We don't know exactly what has happened just yet, but we know it's bad, as the play opens with poignant silences, emerging compromises, and a shared consideration for anguish. We soon learn that the couple has covered the horrors of combat, famines, and genocides; that they have nearly died several times, and that as Sarah begins recovering from the physical wounds from a roadside bomb, James has already been home and is on meds recovering from his emotional ones. The question associated with a recovery of this magnitude is, "What happens next?" And what happens after that and after that?
When their magazine's photo editor (who is also Sarah's ex-lover and their long-time friend Richard [Jerry Vogel]) shows up for a visit with his new much younger, naively perky girlfriend Mandy (Eileen Engel), the contrasts between the hard-bitten journalists and this delightfully "normal person" start to cause conflicts. As the foursome begins navigating the war zone of human connection, new questions are raised. What is a journalist's obligation during crisis? Is it simply to document the carnage, or is it to do something more humane? Can something desensitizing also be cathartic? Can one who chooses to see misery also choose to feel joy? What eventually happens to people who build careers on the sorrows of strangers?
While this is clearly Sarah's story, each in this cast of characters experiences a satisfying change. The writing is exceptionally thoughtful, featuring smart, textured female characters, and this production's cast is simply magnificent in delivering performances that are passionate and intellectually meaty. Greenwood, whose character recovers during the course of the play on a grander scale, is also a master of conveying Sarah's many small recoveries. Her character, a woman who has frequently been trapped in small, uncomfortable spaces, is practiced in breathing and staring ahead to re-center, a skill she has no doubt used throughout a turbulent life as well as in war. It is how she copes, and it is so wonderful to witness again and again. Nordstrom is believable as a man whose real-life horrors are quieted by legitimizing of the most horrific of films, and Vogel does a nice job of bringing depth and complexity to what could have easily delved into "dirty-older-man" territory. In fact all, especially Engel, do a nice job of breathing life into their characters without ever hovering anywhere close to caricature.
There seemed to be a couple of sticky light switches on set, but despite that, Michael Sullivan's lighting design is excellent in this show. There's even a thin strip of light seeping in underneath the door from the hall outside the wonderfully naturalistic apartment that John Stark has designed. Zoe Sullivan's sound design also deserves note, as it works in flawless concert with the lighting. This show features one of the most lifelike thunderstorms I have ever seen on a stage.
Time Stands Still excels in illuminating both the harshness and tenderness of the battlegrounds in life-the kind of work that makes you think and continue asking questions long after the lights go down. Time Stands Still runs through April 14 at the J's Wool Studio Theatre (2 Millstone Campus Drive, St. Louis, MO 63146). Tickets for this thought-provoking evening are $42-45, available through the NJT Box Office, 314-442-3283 or at newjewishtheatre.org.
Related Articles View More St. Louis

Stories

Shows