BWW Review: FIDDLER ON THE ROOF at The Fabulous Fox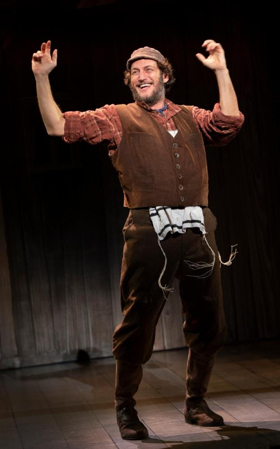 On a very chilly Tuesday night, Fiddler on the Roof opened and warmed the hearts of the enthusiastic audience at the Fabulous Fox. This Broadway revival was full of new energy and more emotion than expected with this beloved classic.
Fiddler on the Roof is a story of fathers and daughters, husbands and wives, and life, love, and laughter. It tells the tale of Tevye, a Jewish dairyman from the little town of Anatevka, who struggles with holding onto his traditions in a changing world.
Yehezkel Lazarov (Tevye) demonstrated the depth of his character with a genuine sincerity throughout the performance. He found moments of humor, fatherly love, and passion towards his faith that were unique from the "traditional" portrayal of this role. Maite Uzal (Golde) was demanding as the wife and mother, yet sensitive and tender expressing the complexity of this character.
Mel Weyn (Tzeitel), Ruthy Froch (Hodel), and Natalie Powers (Chava), Tevye's eldest three daughters, gave youthful performances with a balance of respect for their papa and their desire to make their own choices about their future. The men who would win the hearts of Tevye's daughters, Jesse Weil (Motel), Ryne Nardecchia (Perchik), and Joshua Logan Alexander (Fyedka), interpret their individual roles with the purity that comes with new relationships.
The additional characters and ensemble members brought Anatevka to life with their authentic performances, from the joy in their dynamic dancing, and the sorrow in their final song.
The direction by Tony Award-winner Bartlett Sher brought a freshness to the production, finding new ways to interpret the script and further explore the relationships between the characters. The dazzling choreography by acclaimed Israeli choreographer Hofesh Shechter, inspired by the original choreography Jerome Robbins, was explosive and lively, but held true to the "traditional" elements, especially the memorable Bottle Dance during Tzeitel and Motel's wedding. The
music direction by Ted Sperling, with a quicker tempo throughout, kept the spirit alive and successfully incorporated the additional orchestrations.
Performances of Fiddler on the Roof at the Fabulous Fox run from January 29 - February 10. Show times are Tuesday through Saturday evenings at 7:30pm, Saturday afternoons at 2:00pm, and Sunday afternoons at 1:00pm. There will also be a 6:30pm evening performance on February 3 and a matinee performance on Thursday, February 7 at 1:00pm.
On one hand, this Broadway revival delivers what is expected from Fiddler on the Roof - emotion, love and humor in the face of changing times. On the other hand, this production brings so much more energy and life to the story - L'Chaim!
Photo Credit: Joan Marcus
Related Articles View More St. Louis

Stories

Shows
Amy Scheers served as the Executive Director of the Fox Performing Arts Charitable Foundation. During her time with the Foundation, Amy produced many performances at (read more...)