UN DÍA COMO HOY: GUYS AND DOLLS se estrenaba en Broadway
El musical de 1950 ha continuado teniendo revivals por todo el mundo hasta la actualidad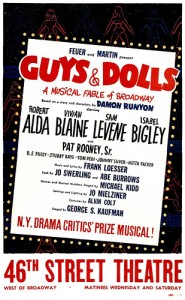 Tras un breve paso por Philadelphia, GUYS AND DOLLS se estrena en Broadway el 24 de noviembre de 1950 en el 46th Street Theatre, actualmente conocido como Richard Rodges Theatre.
Basada en dos historias breves de Damon Runyon, THE IDYL OF MISS SARAH BROWN y BLOOD PREASSURE, la obra contaba con el libreto Jo Swerling y Abe Burrows y con la música de Frank Loesser.
Dirigida por George S. Kaufman, la obra estaba protagonizada por Robert Alda, como Sky Masterson, Sam Levene como Nathan Detroit, Isabel Bigley en el papel de Sarah y Vivian Blaine como Miss Adelaide.
La producción original de Broadway llevó a escena 1.200 representaciones y fue galardonada con cinco premios Tony, entre ellos el de Mejor Musical, Mejor Coreografía y Mejor Dirección.
Tras su arrollador éxito, la obra fue llevada a Londres tres años después, donde llegó a ser representada para la Reina Isabel. El cast londinense contaba con gran parte del elenco original de Broadway con Sam Levene y Vivian Blaine, junto a las incorporaciones de Lizbeth Web como Sarah y Jerry Wayne como Masterson.
Posteriormente, y acompañado por Leven y Blaine, Robert Alda volvía a interpretar a Sky en la producción de 1955 de Las Vegas.
5 años después de su estreno, en 1955, GUYS AND DOLLS llegaba a la gran pantalla de la mano de Joseph L. Mankiewicz y protagonizada por Marlon Brando en el papel de Sky Masterson, Frank Sinatra como Nathan Detroit, Jean Simmons interpretando a Sarah Brown y Vivian Blaine, de nuevo, como Miss Adelaide.
La producción cinematográfica fue premiada con el Globo de Oro a mejor actriz y mejor película comedia o musical, e incluía tres nuevos temas de Frank Loesser: "Pet Me Poppa", "A Woman in Love", y "Adelaide". Esta última fue escrita especialmente para Sinatra. Sin embargo, su participación no agradó a todo el mundo, especialmente a Stephen Sondheim quién escribió: "Sinatra afina cantando, pero sin color; Levene desafinaba cantando, pero actuaba mientras cantaba".
En España, en 1998 Mario Gas dirigió una adaptación un tanto polémica debido a la situación de la acción de la obra dentro de una cárcel, donde los presos representarían GUYS AND DOLLS como excusa para poder escapar. El elenco estaba compuesto por Abel Folk, Vicky Peña, Mónica López y Pep Molina.
GUYS AND DOLLS ha continuado presente en las marquesinas de todo el mundo hasta la actualidad y ha seguido alzándose con galardones, con cuantiosos revivals en Broadway y en Londres, llevándose a cabo en este último una versión compuesta exclusivamente por un elenco negro. Cabe destacar que el revival de 1992 de Broadway, protagonizado por Nathan Lane en el papel de Nathan, fue nominado a ocho premios Tony, de los que se llevó cuatro, entre ellos el de mejor reposición de un musical.
GUYS AND DOLLS narra la historia de Sky Masterson, un adicto al juego quien es retado por Nathan Detroit a conquistar a Sarah Brown, una hermana del Ejército de Salvación. Masterson utilizará entonces todos sus trucos y artimañas para ganar esta apuesta.