Summer Escool presenta sus intensivos en Madrid y Barcelona
En estos cursos podrás disfrutar a ritmo de IN THE HEIGHTS y WEST SIDE STORY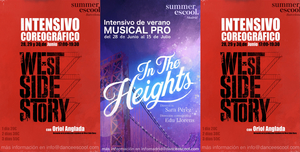 Ya está aquí el verano y desde Sumer Escool han lanzado varios cursos en Madrid y Barcelona para hacernos bailar a ritmo de grandes musicales como IN THE HEIGHTS y WEST SIDE STORY.
En la capital tendrá lugar el intensivo coreográfico de WEST SIDE STORY los días 2,3 y 4 de julio de 17:00h a 19:30h con Oriol Anglada, quien interpreta a Bernardo en la producción española del musical. El precio ronda de los 20 a los 55€, ya que cuenta con la flexibilidad de poder elegir cuántos días quieres ir. Este mismo curso llegará a la ciudad condal los días 28, 29 y 30 de junio.
También en Madrid se llevará a cabo un intensivo de verano Musical Pro a ritmo de IN THE HEIGHTS del 28 de junio al 15 de julio de lunes a jueves de 16h a 20h. El curso se trata de un acercamiento a la música, escenas, personajes y coreografías del musical de Lin Manuel Miranda y Quiara Alegría Hudes.
La metodología de trabajo consistirá en la división en grupos, donde cada cual realizará dos horas de trabajo coreográfico y dos horas de trabajo musical y actoral de lunes a miércoles. Los jueves, el trabajo será grupal para trabajar todas las disciplinas a la vez.
Sara Pérez será la encargada de dirigir este curso. La trayectoria de la actriz y directora catalana destaca por proyectos tanto de teatro musical como de zarzuela, destacando LA REVOLTOSA, SPAMALOT, RENT y LOS MISERABLES como actriz y DIRY DANCING como directora. Además, es la directora de La Coja Producciones.
Edu Llorens, director coreográfico, se ha formado en Danza Jazz, Contemporáneo, Clásico, Moderno y Latino. Destacan sus trabajos en DIRTY DANCING, GREASE, EL MUSICAL o DISNEY LIVE.
Por su parte, Oriol Anglada, coordinador artístico, tras formarse en Coco Comín completa su formación en danza clásica, Modern Jazz y canto en diversas escuelas. Entre sus últimos trabajos destacan WEST SIDE STORY, DIRTY DANCING, CABARET o PRISCILLA, REINA DEL DESIERTO.
Para más información sobre cualquiera de los cursos, contactar con info@danceescool.com