KINNES To Debut at Artscape Theater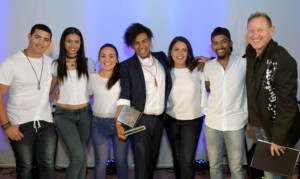 Kinnes, one of South Africa's highly anticipated theatre productions is set to wow audiences at the Artscape Theatre in April 2018. It will enjoy a short run at next month's Klein Karoo Nasionale Kunstefees in Outdshoorn, before making its theatrical début in The Mother City.
This riveting theatre piece, written by performance artist and scriptwriter Chase Rhys, introduces audiences to a variety of Cape Town-centric characters from the Cape Flats featured in a world of fame, fortune, gangsterism and those trying to perfect the art of being a "Cape Kardashian".
According to play director Hennie van Greunen from Wordsmith's Theatre Factory, Distell has unearthed a literary treasure in Kinnes, which was the worthy winner of the Adam and Rosalie Small Award and the best debut script he has encountered since Rachelle Greeff's Die Naaimasjien.
Kinnes, Rhys' first play and winner of last year's inaugural Adam and Rosalie Small Award for debut writers, is dedicated to young victims of violence on the Cape Flats. The play interrogates and creates awareness around the lack of adequate protection for the most vulnerable in our communities. "Wining this competition is an exceptional achievement, particularly because it affords me the opportunity to use this platform to share the stories of those who have been voiceless in the past," says Rhys.
'We live in invigorating times and with Kinnes, Rhys has unlocked the deep well of the Cape Town narrative and long may the stories continue to flow. His work reflects a deep understanding of the absolute desperation in which his characters find themselves and blatantly refuse to give in to hopelessness," adds van Greunen.
Kinnes kicks off at the Artscape Theatre from 10 - 19 April 2018. Tickets for this much-anticipated show can be purchased via Computicket at www.computicket.com, or via Checkers and Shoprite retail stores, countrywide, and are priced at R100 each.
Anwaar gets a taste of fame when he plays a gangster in a movie but what happens when the fame dries up. Nicole is doing well at school and wants to make a success of her life, but first love is a hard teacher. Derrick wants to write poetry, but words do not pay the bills. Mary looks after her child, after all, he has everything she has, but when he buys a flat screen and builds vibracrete walls around the house, she does not ask where the money comes from. With a flat iron in her pocket, Rolanda wants to be a 'Cape Kardashian', but the Cape Flats are hard on chicks' dreams and real life means you have to do what you can to survive.
Kinnes features some of Cape Town's top acting talent, including, Lee-Ann van Rooi, Dustin Beck, Lindsey Abrahams and Shannon Williams. Dean John Smith from Suidooster fame rounds up this cast.
Chase Rhys is a writer and performance artist from Ocean View, outside Cape Town. He is the winner of the inaugural Adam and Rosalie Small Award for Debutant/Debutante Writers for his debut play Kinnes. The play was written to honour the lives of the children who are victims of violence on the Cape Flats and to interrogate why the most vulnerable people in our communities are not adequately protected. The Adam and Rosalie Small Award for Debutant/Debutante Writers was launched in November 2016 in partnership with Distell and to honour the late poet and writer, Adam Small and his wife Rosalie, for their contribution to South African literature, philosophy, education, and advocacy against social injustice.
Aspirant writers were required to focus their scripts on South African themes that support diversity in language and promote social cohesion. Rhys received a cash prize of R10 000 for his efforts.
Distell, SA and Africa's leading producer of fine wines, spirits and ready to drink alcoholic beverages, supports a wide range of community projects that include alcohol harm reduction and socio economic development. Please visit www.distell.co.za