BWW Review: Astounding 'MASTER HAROLD'... AND THE BOYS at Fugard Theatre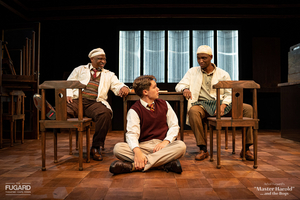 Premiered in 1982, the staying power of Athol Fugard's 'MASTER HAROLD'... AND THE BOYS proves itself in its multiple revivals over the years, and Eric Abraham and The Fugard Theatre's latest 2020 production is one for the history books.
An exposé of how institutionalized prejudice affects those living under it, young white high schooler Hally (Kai Luke Brummer) spends a rainy afternoon at the St. George's Park Tea Room with two middle-aged black men who work for his parents. With the threat of his drunken, crippled father returning home from hospital, Hally takes out his anger in unbecoming ways on Sam (Desmond Dube) and Willie (Siya Mayola), as friendships are unraveled and rationales collide in the 90 minute piece.
All three actors of MASTER
HAROLD are perfectly cast and have been excellently directed in their roles. Desmond Dube is so passionate in his role that I found myself unexpectedly tearing up at one of Sam's more mundane monologues - purely from being enveloped by Dube's acting. Siya Mayola adds a more lighthearted feel to times of tension and provides an almost mirror to and of the audience's emotion. There is a well-developed relationship between these actors.
I'll have to hold myself back from writing multiple paragraphs about young actor Kai Luke Brummer because simply: wow. There was doubt that he may look too old in the role of schoolboy Hally, but as soon as he enters on stage in the school uniform, he is wholly believable and painfully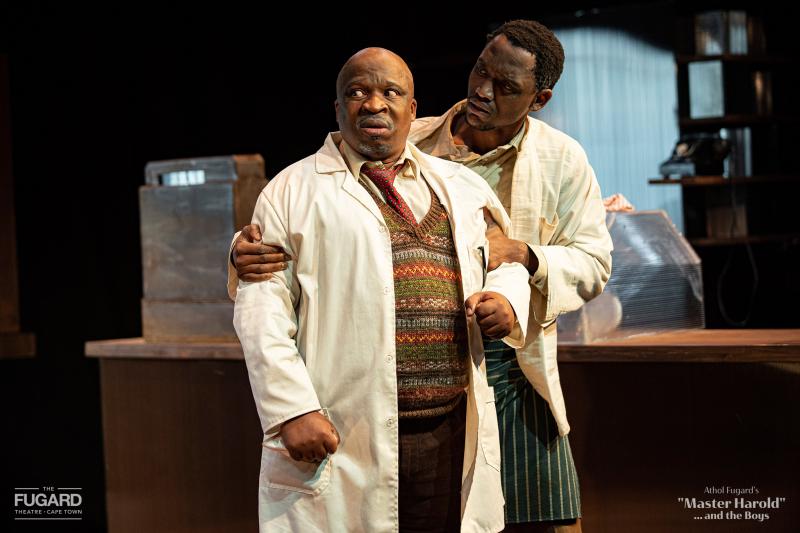 empathetic. Even in the simplest of vocal intonations or where he focuses his eyes, Brummer is clearly immersed in his character. With a starring role in the film Moffie (screening at The Fugard Bioscope next month), be sure to watch Brummer in SA before international stages snap up his talent.
Greg Karvellas as director has a knack for directing Fugard. While there is a clear style to Karvellas' vision and direction, there's something consistently fresh about his take on productions that adds layers to an already-layered script. Fugard's real-time narratives can sometimes feel slow moving for some, but the direction in this production is well-timed and drawn out. The way the cast delivers the direction and the private intimacy of the Studio Theatre leads MASTER HAROLD to feel like both an intrigue and an intrusion.
Adding to the space is Wolf Britz's set and lighting design, which is subtle yet expert. The palette of the set and the nondescript containers behind the counter create a contrast to the colourful tension played out around it. The way lighting is used to suggest the rain bucketing down outside the tea room and how it ever-so-
slightly dims when Hally is on the phone is what makes the effort of detail put into MASTER HAROLD stand out.
I've been privileged to see three stagings of this Fugard play, but never have they stayed with me as much as this production has. Heartbreaking - and yet satisfyingly poignant - 'MASTER HAROLD'... AND THE BOYS should go down as a triumph in the history of the Fugard's last ten years, and a paragon of the decade to come.
Photo credit: Claude Barnardo
---
'MASTER HAROLD'... AND THE BOYS will be performed in The Fugard Studio Theatre on Tuesday to Saturdays at 8pm with a matinee on Saturday and Sunday at 3pm. Tickets from R210 to R250 can be booked through The Fugard Theatre box office on 021 461 4554 or through The Fugard Theatre's website at www.thefugard.com.
Related Articles View More South Africa

Stories

Shows