Washington Pavilion Announces its 2018-19 Pavilion Performance Series, THE KING AND I, SPAMALOT, And More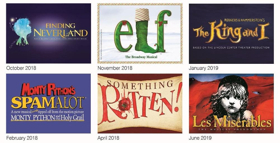 The Washington Pavilion is pleased to announce the 2018-19 Pavilion Performance Series, as part of its 20th performing arts season. In honor of the special year, the Washington Pavilion has selected an amazing collection of new and returning favorite productions.
The all-Broadway Series opens with FINDING NEVERLAND in October 2018 and ends with LES MISERABLES in June 2019. ELF, THE KING & I, SPAMALOT and SOMETHING ROTTEN round out the remainder of the Series.
Regina Ruhberg, Director of the Husby Performing Arts Center, couldn't be more excited to announce the 2018-19 Series shows. Ruhberg shared, "Never before have we been afforded the opportunity to share this great news so early. This is a testament to the continued growth of Sioux Falls and its surrounding area. We want to thank the community, because without their support, having the Series confirmed this early would not be possible."
In addition to the Pavilion Performance Series, two additional shows are available to be added on as a 'Bonus Bundle' package: JERSEY BOYS and ROCK OF AGES.
2018-19 Pavilion Performance Series:
SHOW
PERFORMANCE DATES
FINDING NEVERLAND
October 2018
ELF
November 2018
THE KING AND I
January 2019
SPAMALOT
February 2019
SOMETHING ROTTEN
April 2019
LES MISERABLES
June 2019

Bonus Bundle Package:
SHOW
PERFORMANCE DATES
ROCK OF AGES
March 2019
JERSEY BOYS
May 2019
The season continues to be programmed, with additional shows to be announced. Single tickets to individual shows will go on sale in July. Subscriptions to our Pavilion Performance Series package are currently available. To purchase or renew a Series, and add-on the Bonus Bundle package, visit the Pavilion Box Office at 301 S. Main Avenue or call (605) 367-6000.
The 2018-19 Pavilion Performance Series Sponsors are: Avera, First National Bank, First Premier Bank & Bankcard, Howalt McDowell and Sanford Health.
The Washington Pavilion is the region's home for the arts, entertainment and science. Located in a beautifully renovated historic building in downtown Sioux Falls, it is one of only a few facilities in the world to bring together under one roof the performing arts, visual arts and interactive science. The vast array of high quality programming and educational activities available through the Husby Performing Arts Center, Kirby Science Discovery Center, Visual Arts Center and the Community Learning Center ensures that people of all ages and walks of life can rely upon the Washington Pavilion to inspire, educate, entertain and enrich. There is, indeed, something for everyone here. For information about our programs, please call (605) 367-7397 or, (toll free) at 1-877-Wash Pav or visit our website at www.washingtonpavilion.org.