Rocky - 2014 - Broadway
Somewhere in downtown Philadelphia, a down-and-out fighter named Rocky Balboa struggles to stay on his feet. But when the chance of a lifetime comes along, he takes his best shot at becoming a champion... and his last shot at finding first love.
The iconic underdog story Rocky has inspired an innovative new stage production, brought to extraordinary life by a five-time Tony Award-winning creative team, including director Alex Timbers (Peter and the Starcatcher), songwriting team Lynn Ahrens and Stephen Flaherty (Ragtime), and book writers Thomas Meehan (The Producers) and Sylvester Stallone (Rocky, the Oscar-winning Best Picture).
Both an adrenaline-infused spectacle and a surprising tale of blossoming romance between two lonely outsiders, Rocky is a visceral and heart-stopping theatrical experience for everyone brave enough to follow their dream.
Video preview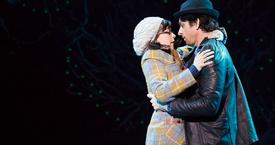 Schedule
Running Time: Two hours and 20 minutes
Featured Reviews For Rocky
'Rocky' Theater Review: Sylvester Stallone's Boxer Comes Out Swinging and Singing - The Wrap
It's never a good sign in a stage musical when the most rousing numbers are not written by the credited songwriters, in this case Stephen Flaherty and Lynn Ahrens for their Broadway version of "Rocky," which opened Thursday at the Winter Garden...Stallone and Meehan are faithful to that script, and on stage the dialogue plays even weaker than on screen. The corny jokes and meet-cute lines don't land or define character; they just sit there surrounded by dead air. Flaherty and Ahrens have merely punctuated that lame dialogue with their songs - or other people's songs...The show's Rocky is a bright spot in the production. Andy Karl has been in and out of a lot of Broadway shows, often as a replacement. Unlike Stallone's performance, there's nothing sentimental about Karl's Rocky, except the dialogue he's been stuck with. He's tough, resilient and displays a real macho edge, which isn't always the easiest task for a boxer singing on stage in a big Broadway musical.
Rocky, Winter Garden Theatre, New York – review - Financial Times
This new musical version of Rocky premiered last year in Germany, an appropriate choice: the 1976 movie and its five sequels are their own kind of Ring cycle. And that is, in fact, the key word here, as the main reason to see this spectacle is the stately Act Two emergence, from the proscenium into the audience, of a boxing ring. What precedes that coup is, in Broadway terms, an unexpectedly intimate affair -- a well-acted, occasionally dull and sometimes touching story of two wounded souls: Rocky Balboa, a piddling club fighter, and Adrian, a bespectacled clerk at a pet store...it becomes apparent that the musical Rocky subscribes to the method of Mamma Mia!...for ensuring a hit: wallop the audience for the final 15 minutes. The fight, which includes movement by choreographers Steven Hoggett and Kelly Devine, draws in the audience. By then, Andy Karl's painstaking performance as Rocky disappears among the cheers.