Rocky - 2014 - Broadway
Somewhere in downtown Philadelphia, a down-and-out fighter named Rocky Balboa struggles to stay on his feet. But when the chance of a lifetime comes along, he takes his best shot at becoming a champion... and his last shot at finding first love.
The iconic underdog story Rocky has inspired an innovative new stage production, brought to extraordinary life by a five-time Tony Award-winning creative team, including director Alex Timbers (Peter and the Starcatcher), songwriting team Lynn Ahrens and Stephen Flaherty (Ragtime), and book writers Thomas Meehan (The Producers) and Sylvester Stallone (Rocky, the Oscar-winning Best Picture).
Both an adrenaline-infused spectacle and a surprising tale of blossoming romance between two lonely outsiders, Rocky is a visceral and heart-stopping theatrical experience for everyone brave enough to follow their dream.
Video preview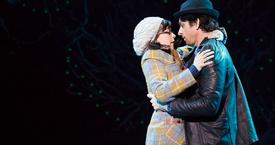 Schedule
Running Time: Two hours and 20 minutes
Featured Reviews For Rocky
Broadway 'Rocky' offers the thrill of a fight - Chicago Tribune
Broadway's mostly doomed attempts at capturing the boundless American enthusiasm for professional sports, and the billions of associated dollars, have been handicapped by one crucial, constant failing -- an inability to really depict the playing of the actual game. "Rocky," the massive theatrical spectacle that opened Thursday night at the Winter Garden Theatre, certainly is a broadly realized story told with bold punches and too much nonperiod video, and it has a reflective, low-key score that reaches too often for songs of nervousness, or of past regret, when it should also convey the red blood that courses through a fighter's veins. But there will be no question in theatergoers' minds as they leave the theater that they have experienced the thrill of a fight.
Theater Review: Why Rocky Doesn't Fly Now - Vulture
Take the score, by Stephen Flaherty and Lynn Ahrens, who (as Ragtimedemonstrated) know their way around iconic Americana. They work very carefully here, slowly developing a general musical atmosphere with shards of sung dialogue before allowing the emergence of a straight-up song. But, boy, do you feel the work. Ahrens, scrambling for hooks that won't sound musical theaterish and twee, has actually found some, but they come at the cost of a certain outlandishness, like Rocky's introductory solo "My Nose Ain't Broken." Similarly, Flaherty has identified a reasonable sound for the gritty story: guitar-heavy, with throbbing-headache bass, and bright chrome-on-a-used-car flugelhorning as suggested by Bill Conti's original movie scores...But within that compelling sound Flaherty mostly fails to make compelling songs...But because garage-band writing, however apt for the material, doesn't develop but rather repeats in torpid cells, the songs don't lift: they barely even move. Instead, the set does.