Rocky - 2014 - Broadway
Somewhere in downtown Philadelphia, a down-and-out fighter named Rocky Balboa struggles to stay on his feet. But when the chance of a lifetime comes along, he takes his best shot at becoming a champion... and his last shot at finding first love.
The iconic underdog story Rocky has inspired an innovative new stage production, brought to extraordinary life by a five-time Tony Award-winning creative team, including director Alex Timbers (Peter and the Starcatcher), songwriting team Lynn Ahrens and Stephen Flaherty (Ragtime), and book writers Thomas Meehan (The Producers) and Sylvester Stallone (Rocky, the Oscar-winning Best Picture).
Both an adrenaline-infused spectacle and a surprising tale of blossoming romance between two lonely outsiders, Rocky is a visceral and heart-stopping theatrical experience for everyone brave enough to follow their dream.
Video preview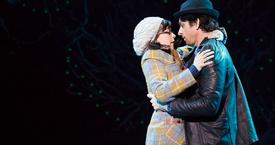 Schedule
Running Time: Two hours and 20 minutes
Featured Reviews For Rocky
Rocky: Theatre Review - Hollywood Reporter
"Nobody leaves the theater humming the scenery." That old Broadway wisecrack, often attributed to Richard Rodgers, implies that no amount of eye-popping visuals in a show can overcome an unmemorable score. Rocky may be the exception. While the songs in this musicalization of the career-making 1976 Sylvester Stallone movie come and go without leaving much of an impression, the stage magic that director Alex Timbers and set designer Christopher Barrecawork with the finale fight is so visceral and exhilarating that it sends the audience out on a high. Of course, having an indestructible story with underdog characters worth rooting for doesn't hurt either...The ace up the show's sleeve, however, is...talented lead Andy Karl, who sticks close enough to the Stallone model in his characterization as Rocky Balboa while at the same time injecting fresh vitality and humor into the role...The delicate chemistry between Karl and Seibert breathes warmth into their outsider romance, and Adrian's solos, the melancholy "Raining" and "I'm Done," in which she finally asserts herself and stands up to overbearing Paulie, are among the better numbers. But aside from the central couple, none of the other characters comes close to recapturing the colorful personality they had onscreen.
'Rocky' looks like Broadway's next heavyweight champ - Philadelphia Daily News
Taking on such an iconic and deeply-ingrained character is a courageous, if somewhat dangerous, move. Stallone's characterization is so rooted in our collective consciousness that it would be easy for Karl to hang Rocky's beat-up fedora on mere impersonation. But the Broadway vet ("Legally Blonde," "Jersey Boys") manages the near-impossible: He pays homage to Stallone's prototype but makes the character his own. He's not Stallone, but he is Rocky. That means he should start working on his acceptance speech for his inevitable Best Actor in a Musical Tony Award.