Rocky - 2014 - Broadway
Somewhere in downtown Philadelphia, a down-and-out fighter named Rocky Balboa struggles to stay on his feet. But when the chance of a lifetime comes along, he takes his best shot at becoming a champion... and his last shot at finding first love.
The iconic underdog story Rocky has inspired an innovative new stage production, brought to extraordinary life by a five-time Tony Award-winning creative team, including director Alex Timbers (Peter and the Starcatcher), songwriting team Lynn Ahrens and Stephen Flaherty (Ragtime), and book writers Thomas Meehan (The Producers) and Sylvester Stallone (Rocky, the Oscar-winning Best Picture).
Both an adrenaline-infused spectacle and a surprising tale of blossoming romance between two lonely outsiders, Rocky is a visceral and heart-stopping theatrical experience for everyone brave enough to follow their dream.
Video preview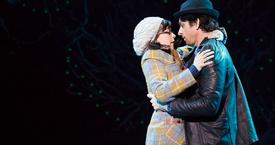 Schedule
Running Time: Two hours and 20 minutes
Featured Reviews For Rocky
STAGE REVIEW Rocky - Entertainment Weekly
Despite the high-tech stagecraft, director Alex Timbers remains faithful to the indie spirit of the 1976 Oscar winner that made a star of Sylvester Stallone...At times the show plays less like a splashy Broadway musical than a Clifford Odets revival...The real trouble is that, unlike 'Eye of the Tiger' or the snatches of Bill Conti's triumphal theme, Stephen Flaherty's bland new songs merely shadowbox at melody and never land the pop-rock punch they often seem to be seeking...Even so, Rocky delivers edge-of-your-seat thrills - particularly in the final 15 minutes - that underscore the fact that fans of boxing and live theater share some DNA: They love to see their stars battered, bloodied, but still standing. B
Swinging at Fighters and Serenading Turtles - New York Times
The creators of "Rocky" the musical - which features a book by Thomas Meehan and Mr. Stallone, and songs by Stephen Flaherty and Lynn Ahrens, with Alex Timbers as the director - have perhaps gone overboard in capitalizing on this legend. For what they have given us is a show that at first feels like such a flat liner that you can't imagine that it could pull itself into any kind of competitive shape, even in a lackluster season for Broadway musicals. The doubts that plague and paralyze its title character (the appealing, deliberately underwhelming Andy Karl) seem to have informed the show as well. The governing sensibility isn't just underdog; it's hangdog...Every tool at the disposal of the creative team (and probably much of the show's budget) is brought into play now for an all-out, multimedia assault on the senses that forces much of the audience to its feet. And I won't say more, because why should I spoil the one real pleasure this show provides? The fight, for the record, lasts 16 minutes. With front orchestra tickets costing $143 (and you'll want to sit close), that comes to about $9 per heart-racing minute. Such is the price of excitement on Broadway these days. Hey, it's healthier than steroids.