Rocky - 2014 - Broadway Tickets, News, Info & More
Somewhere in downtown Philadelphia, a down-and-out fighter named Rocky Balboa struggles to stay on his feet. But when the chance of a lifetime comes along, he takes his best shot at becoming a champion... and his last shot at finding first love.
The iconic underdog story Rocky has inspired an innovative new stage production, brought to extraordinary life by a five-time Tony Award-winning creative team, including director Alex Timbers (Peter and the Starcatcher), songwriting team Lynn Ahrens and Stephen Flaherty (Ragtime), and book writers Thomas Meehan (The Producers) and Sylvester Stallone (Rocky, the Oscar-winning Best Picture).
Both an adrenaline-infused spectacle and a surprising tale of blossoming romance between two lonely outsiders, Rocky is a visceral and heart-stopping theatrical experience for everyone brave enough to follow their dream.
Video preview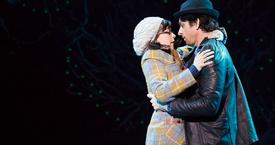 Schedule
Running Time: Two hours and 20 minutes
Featured Reviews For Rocky
NY1 Theater Review: 'Rocky' - NY1
But whoa Andy Karl! Channeling Stallone's star-making performance, he is a marvel. As a triple threat actor, singer and boxer, no one works harder on Broadway. Pound for pound, he ranks number 1. Theatre purists may balk at the flaws, but give the fans a guy to cheer for and a thrilling fight to the finish, and "Rocky" is sure to emerge victorious.
Broadway Review: 'Rocky' the Musical - Variety
Whatever your expectations going into "Rocky," you come out rocking the technology. No mystery about where the $16.5 million capital investment went in this musical iteration of the 1976 movie that made an iconic hero of Rocky Balboa. Stephen Flaherty and Lynn Ahrens no doubt took their pittance for scoring the book by Thomas Meehan and Sylvester Stallone. But the real coin for helmer Alex Timbers' extravagant production went into the spectacular projections, sound and lighting effects, and into the scenic showpiece - a regulation-size boxing ring that puts the audience ringside for the big fight. Looks like it was worth every penny.