Orphans - 2013 - Broadway
In ORPHANS, two orphaned brothers are living in a decrepit North Philadelphia row house. Treat, the eldest, (Foster), supports his damaged younger sibling Phillip (Sturridge) by petty thievery, and makes the house a virtual prison for the seemingly simple-minded Phillip. One night he kidnaps a rich older man, Harold (Baldwin), who turns out to have his own motives and becomes the father figure the boys have always yearned for.
Video preview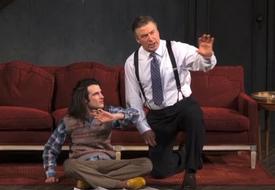 Featured Reviews For Orphans
Skinny Baldwin Pales in 'Orphans'; Booming 'Hyde': Stage - Bloomberg
Without a menacing atmosphere, "Orphans" -- with its hermetically sealed environment and elliptical story-telling -- now plays like cut-rate Pinter.
STAGE REVIEW Orphans - Entertainment Weekly
First mounted in 1983, Kessler's three-man drama remains a vibrant exploration of masculinity and the challenge of forming and maintaining family connections. And Sullivan, by design and happy accident, has assembled a cast that manages to strike the tricky balance of playing the allegory with hard-earned authenticity. They make this simple story feel both real and somehow larger than life. A-