Orphans - 2013 - Broadway
In ORPHANS, two orphaned brothers are living in a decrepit North Philadelphia row house. Treat, the eldest, (Foster), supports his damaged younger sibling Phillip (Sturridge) by petty thievery, and makes the house a virtual prison for the seemingly simple-minded Phillip. One night he kidnaps a rich older man, Harold (Baldwin), who turns out to have his own motives and becomes the father figure the boys have always yearned for.
Video preview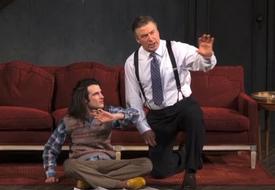 Featured Reviews For Orphans
Tom Sturridge steals 'Orphans' from Alec Baldwin in the play's belated Broadway premiere - NY Post
Considering its agitated gestation, it's amazing how smooth "Orphans" is. During rehearsals, actor Shia LaBeouf had well-publicized - by himself - arguments with co-star Alec Baldwin and director Daniel Sullivan. In short order, LaBeouf was out and Ben Foster was in.
Theater Reviews: Orphans and Jekyll & Hyde - Vulture
You can see why actors are attracted to it: The roles, with their various stylistic references and physical demands, are almost like five-finger exercises for drama students. And audiences enjoy watching them flex. I did too: It's undeniably a pleasure to hand yourself over to Baldwin for two hours. And under Daniel Sullivan's typically impeccable direction, Ben Foster and Tom Sturridge are also excellent as Teach and Phillip, the former giving a more naturalist performance and the latter pulling out all the expressionistic stops...But roles, even as well filled as they are in this production, don't make theater, and the question that lingers after the swift little dream of Orphans passes is: What just happened?