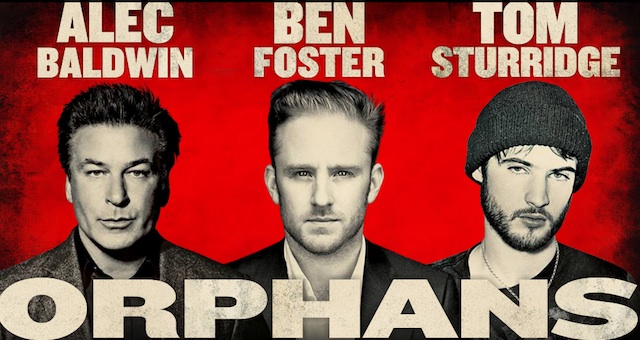 Click Here for More Articles on ORPHANS
Review Roundup: ORPHANS Opens on Broadway - All the Reviews!
The Broadway production of Lyle Kessler's Orphans starring Alec Baldwin, Ben Foster and Tom Sturridge and directed by Daniel Sullivan, opens tonight, April 18, at the Gerald Schoenfeld Theatre (236 West 45th Street). This production will mark the first Broadway staging of the play.
In Orphans, two orphaned brothers are living in a decrepit North Philadelphia row house. Treat, the eldest, (Foster), supports his damaged younger sibling Phillip (Sturridge) by petty thievery, and makes the house a virtual prison for the seemingly simple-minded Phillip. One night he kidnaps a rich older man, Harold (Baldwin), who turns out to have his own motives and becomes the father figure the boys have always yearned for.
Let's see what the critics had to say...
Ben Brantley, The New York Times: Perhaps the participants in this revival felt that they had had enough of fireworks for a while, so they decided to make nice, tread gently and, in the case of Mr. Baldwin, keep a respectful distance from the proceedings. In "Orphans," knives, guns, fists, rope and duct tape are all deployed to violent ends. Yet this version somehow plays like a sentimental sitcom, perhaps a low-rent "Modern Family."...The first problem with Mr. Sullivan's production is that nobody exudes a sense of, or even a sense of hunger for, power. The arguable exception is Mr. Sturridge...Mr. Foster doesn't do intimidating rage so well. His performance feels so inwardly concentrated that Treat seems like a danger only to himself...I assume that Harold was written as a slippery character, but Mr. Baldwin's performance eludes the possibility of our getting any kind of grip on it at all...It's a mutating cartoon of a performance, with only hints of the requisite menace.
Elysa Gardner, USA Today: It's a shame that it took 30 years to bring this briskly entertaining, deeply affecting play to Broadway; but at least Orphans has arrived in good hands.
Joe Dziemianowicz, NY Daily News: Baldwin, never shy about speaking his own mind offstage, is fully in his comfort zone. He delivers a wily magnetic star turn.
Jeremy Gerard, Bloomgberg: Without a menacing atmosphere, "Orphans" -- with its hermetically sealed environment and elliptical story-telling -- now plays like cut-rate Pinter.
Terry Teachout, Wall Street Journal: For all the fluency of its craftsmanship, "Orphans" gives the impression of having been knocked together out of spare theatrical parts. Not only is its premise self-evidently derived from Harold Pinter's "The Caretaker," but Mr. Kessler has pinched other elements of the play from sources as diverse as "The Glass Menagerie," "Our Town" and Sam Shepard's "True West." But it's still an exceptionally effective vehicle for three strong actors, and Mr. Baldwin is both strong and moving, playing Harold as if he were Tennessee Williams's Gentleman Caller grown up, gone to seed and stripped of all illusion.
Elisabeth Vincetelli, NY Post: Considering its agitated gestation, it's amazing how smooth "Orphans" is. During rehearsals, actor Shia LaBeouf had well-publicized - by himself - arguments with co-star Alec Baldwin and director Daniel Sullivan. In short order, LaBeouf was out and Ben Foster was in.
Mark Kennedy, Associated Press: Lyle Kessler's play "The Orphans" is apparently the kind of thing movie stars fight to be in. But it's not always clear why we have to fight to get a ticket. It's a testosterone-laden darkly humorous piece that offers three great parts - a mentally challenged young man, a bubbling eruption of male anger and a cool-as-ice older dude - but generates little light. This is a play more fun to act in than watch...The biggest problem here is that the three actors are determined to be in different plays and director Daniel Sullivan hasn't been able to make them gel. Perhaps there wasn't enough time.
David Rooney, The Hollywood Reporter: ...this dynamite production of Lyle Kessler's play needs no assist from offstage friction to galvanize attention. Packaged as a post-30 Rock return to the stage for Baldwin, this is a scorching display of ensemble acting in which the star is evenly matched by riveting performances from Ben Foster and Tom Sturridge, making the descent from black comedy into tragedy a bracing theatrical thrill ride.
Erik Haagensen, Backstage: When I saw the original Off-Broadway production of Lyle Kessler's "Orphans" back in 1985, I found the play to be a tiresome mix of pilfered Pinter and stolen Shepard...Nearly 30 years later the play is getting its Broadway debut, but time hasn't altered my assessment. "Orphans" remains as synthetic as ever, only now Tom Sturridge, Ben Foster, and Alec Baldwin do the bravura thesping...In a fearlessly physical turn, Sturridge gives Phillip sweetness and vulnerability, emphasizing his all-but-smothered intelligence and wide-eyed desire to learn. Foster's Treat is at first a boiling cauldron of rage, his lid ready to blow at the slightest provocation...Broadway veteran Baldwin snaps with paternal authority as Harold and is amusingly sentimental in the man's desire to help these two boys...The actor misses, however, the edgy sense of menace that Mahoney brought to the role.
Jesse Green, Vulture: You can see why actors are attracted to it: The roles, with their various stylistic references and physical demands, are almost like five-finger exercises for drama students. And audiences enjoy watching them flex. I did too: It's undeniably a pleasure to hand yourself over to Baldwin for two hours. And under Daniel Sullivan's typically impeccable direction, Ben Foster and Tom Sturridge are also excellent as Teach and Phillip, the former giving a more naturalist performance and the latter pulling out all the expressionistic stops...But roles, even as well filled as they are in this production, don't make theater, and the question that lingers after the swift little dream of Orphans passes is: What just happened?
David Cote, Time Out NY: Director Daniel Sullivan makes the fatal mistake of trusting a play that is just an excuse for actors to fling themselves around a squalid set and out-emote each other. The airy, far-too-clean space only shows up Orphans' contrivances. Foster and Sturridge are both commendable-physically robust, emotionally raw yet assured-but in the service of what? Baldwin coasts on his natural charisma and comic timing, assuming a weirdly stilted delivery, a mix of Edward G. Robinson and Clark Gable. It's a dull, mechanical night.
Thom Geier, Entertainment Weekly: First mounted in 1983, Kessler's three-man drama remains a vibrant exploration of masculinity and the challenge of forming and maintaining family connections. And Sullivan, by design and happy accident, has assembled a cast that manages to strike the tricky balance of playing the allegory with hard-earned authenticity. They make this simple story feel both real and somehow larger than life. A-
Matt Windman, AM New York: Kessler's play attempts to combine traditional family drama with raw, kitchen-sink realism and absurdist logic. Although the unusual scenario that it explores is engaging at first, it eventually runs out of steam and inspiration. Nevertheless, under Sullivan's direction, all three cast members deliver tremendous performances with ensemble unity. It also can't be denied that Baldwin's Harold is reminiscent of the outsized persona of Jack Donaghy on "30 Rock." 2.5 stars.
Robert Kahn, NBC New York: The comic timing we've come to associate with the Tony-nominated Baldwin is on grand display...Foster's shady Treat vacillates between menacing and childlike; at any point, you fear he may knife Harold, or hug him...Sturridge is phenomenal as Phillip, the type of fellow we'd think of today as falling somewhere on the autistic spectrum, though such classifications likely weren't part of Kessler's vernacular back in the day. His Phillip inhabits the tiny confines of the row house like a cat, leaping lithely from sofa to stairs to windowsill (the appropriately glum set is by John Lee Beatty).
Linda Winer, Newsday: How terrific to have Baldwin back onstage and in such sly command of every nuance. Though he is hardly the steamy beauty who captured theatergoers with offbeat romances and scary Joe Ortonplays in the mid-'80s, there is no hint of the sluggish actor who dragged himself through "Macbeth" in 1998.David Rooney,
Brendan Lemon, Financial Times: On Broadway in 2013, Orphans is not so much menacing as meagre. A larger, Broadway stage has robbed the two-act work of its claustrophobic thrills...The actors provide us with most of the production's scattered pleasures. Tom Sturridge wrings laughs from Phillip's every dazed discovery...Ben Foster...gives Treat tremendous swagger...The role of Harold exposes Baldwin's limitations as an actor. The character does allow him to show off his gift for fast-talking Irish blarney...But too much of Baldwin's charm relies on our acknowledging that he's the smartest guy in the room.