On Your Feet - 2015 - Broadway
ON YOUR FEET! is the story of two people who-through an unwavering dedication to one another and their pursuit of the American dream-showcased their talent, their music and their heritage to the world in a remarkable rise to global superstardom. Set to Gloria's chart-topping, smash hits such as "Rhythm Is Gonna Get You," "1-2-3," "Mi Tierra," and "Conga," in addition to new music penned by the Estefans, the show will be choreographed by four-time Drama Desk nominee Sergio Trujillo (Jersey Boys, Memphis) with a book by two-time Drama Desk nominee Alexander Dinelaris (The Bodyguard Musical, Zanna Don't).
Video preview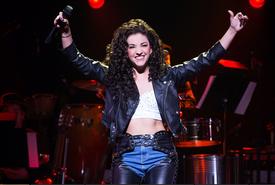 Schedule
Running Time: Two hours and 15 minutes, with one intermission
Featured Reviews For On Your Feet
Gloria and Emilio Estefan Make It Happen, in 'On Your Feet!' - NBC New York
"On Your Feet!" is uneven and occasionally long-winded. It's also sometimes inspiring and uplifting. The two lead performers, Ana Villafañe and Josh Segarra, are charismatic, in different ways. Numerous jukebox musical tropes are at work in "On Your Feet!"...What the musical does best, though, is illustrate the sacrifices it took for the Estefans to succeed...Villafañe, also a Cuban immigrant from Miami, looks and sounds like Estefan...As Grammy-winning producer Emilio Estefan, Segarra ("Lysistrata Jones") sings in a subdued way. His acting is more engaging, and his entrance, in a pair of only-in-Miami shorts, is charming. Dinelaris's book does some unnecessary pandering..."On Your Feet!" isn't quite "Jersey Boys," but in places, the rhythm is gonna get you.
Theater review: 'On Your Feet,' the musical about Gloria and Emilio Estefan - The Record
Despite its unenthralling dramatics, the show does have an underlying warmth, in showing the closeness and caring of a family across generations, and also a sympathetic, good-natured marital relationship. Its chief assets, though, are those musical routines, which, in addition to "Conga," include "Get on Your Feet," "Rhythm Is Gonna Get You" and many other energized numbers, as well as several sweet ballads used as character songs. "On Your Feet!" is not going to revolutionize Broadway, but, alongside a bland story, it does offer some musical fireworks.
On Your Feet Broadway Cast