On Your Feet - 2015 - Broadway
ON YOUR FEET! is the story of two people who-through an unwavering dedication to one another and their pursuit of the American dream-showcased their talent, their music and their heritage to the world in a remarkable rise to global superstardom. Set to Gloria's chart-topping, smash hits such as "Rhythm Is Gonna Get You," "1-2-3," "Mi Tierra," and "Conga," in addition to new music penned by the Estefans, the show will be choreographed by four-time Drama Desk nominee Sergio Trujillo (Jersey Boys, Memphis) with a book by two-time Drama Desk nominee Alexander Dinelaris (The Bodyguard Musical, Zanna Don't).
Video preview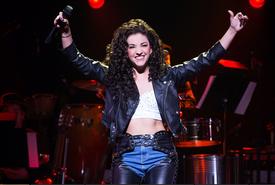 Schedule
Running Time: Two hours and 15 minutes, with one intermission
Featured Reviews For On Your Feet
'On Your Feet!': Theater Review - Hollywood Reporter
As for the star, her seeming effortlessness is also a distinguishing quality of the perfectly cast Villafane. She's a natural, not only bearing a more-than-passing resemblance to the young Gloria Estefan, but also producing a fine facsimile of the original's vocal power. Balancing softness with a feisty side, she provides a captivating human center to this enjoyable show, helping to elevate it above the more workmanlike aspects of its assembly.
Gloria Estefan Musical 'On Your Feet!' Brings A New Star To Broadway; Trump That! – Review - Deadline
As story-telling, On Your Feet! can be as clunkily generic as the title. But there's a deep well of life in the music that comes across powerfully in the staging - especially in that central supernova performance by a young actress I hope we'll be seeing a lot more of.
On Your Feet Broadway Cast