Magic Mike Live - West End Tickets, News, Info & More
Conceived and directed by Channing Tatum, MAGIC MIKE LIVE is an unforgettably fun night of sizzling, 360-degree entertainment based on the hit movies. It's hot. It's hilarious. It's the great time you've been waiting for!
This first-class experience features some of the world's sexiest, most talented guys performing heart-racing dance routines in front of, above and all around you. Equal parts empowering and exhilarating, the 90-minute show is punctuated by unexpected, temperature-raising acts from a thrilling range of acrobatic and musical talent. In other words, it's got basically everything.
If you're looking for the ultimate girls' night out or an electrifying date night, look no further than MAGIC MIKE LIVE. If you're NOT into letting your hair down, laughing out loud and really hot guys, then it's probably not for you.
It's time to FREE YOUR MAGIC. So stop looking… and start booking!
Guests must be at least 18 years to attend and each individual patron will be asked to present valid photographic ID before being permitted entrance to the show. If valid ID is not presented, they will not gain access to see the show nor any refund or exchanges of ticket or travel expense incurred.
Schedule
Running Time: 90 minutes, no interval
Wednesdays: 7pm
Thursdays: 7pm
Fridays: 7pm & 10pm
Saturdays: 4pm, 7pm & 10pm
Sundays: 7pm
(London, )
Cranbourn Street & Charing Cross Road
London,
Magic Mike Live West End Cast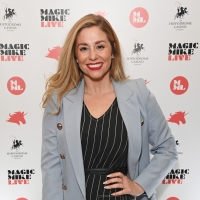 by Stephi Wild - August 25, 2021
Magic Mike Live is a complete evening of unparalleled entertainment for guests aged 18 and up.  Audience members enter Magic Mike's mythical club and marvel as a group of extraordinary artists from around the world perform a 360-degree dance and acrobatic spectacular in front of, behind, and above them. 
by Stephi Wild - August 17, 2021
The cast for the revamped production of Magic Mike Live in London includes Daniel Blessing, Courtenay Brady, Jake Brewer, Harry Carter, Ellie Clayton, Hannah Cleeve, Matt Jordan, Charlie Knight, Mark Lace, Sophie Linder-Lee, Jack Manley, David Morgan, Theophillus 'Godson' Oloyade, Ross Sands, Josie Scamell, Manny Tsakanika and Aaron Witter.