Jitney - 2019 - US Tour Tickets, News, Info & More
The production was produced on Broadway by Manhattan Theatre Club in association with Eric Falkenstein, Ron Simons, John Legend/Mike Jackson and Ken Wirth.
August Wilson's Jitney opens Arena Stage's season-long Festival celebrating the Pulitzer Prize-winning giant with Ruben Santiago-Hudson directing his 2017 Broadway production — recipient of the 2017 Tony Award for Best Revival of a Play. The dramatic story of a Pittsburgh jitney station, a symbol of stability, struggles against an oppressive lack of opportunity and unnerving neighborhood gentrification that threatens the way they live and work. The drivers resist powerful forces while coming to grips with their pasts to fulfill their own hopes and dreams for the future. Arena Stage's presentation kicks off the National Tour of one of this great master's masterpieces.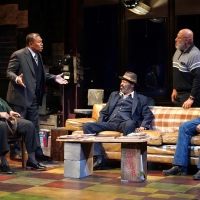 by Katie Laban - November 14, 2019
When a play is called a?oea must see,a?? I get a little nervous, but August Wilson's Jitney was exactly that. It's healthy to question your peers, but the Huffington Post was spot on with that description. Broadway in Detroit is currently presenting the show in partnership with The Detroit Public Theatre at The Music Hall until November 16th in Detroit. Winner of the 2017 Tony Award for Best Revival of a Play, the show is set in the early 1970s and this richly textured piece follows a group of men trying to eke out a living by driving unlicensed cabs or jitneys. When the city threatens to board up the business and the boss' son returns from prison, tempers flare, potent secrets are revealed and the fragile threads binding these people together may come undone at last. Directed by Ruben Santiago-Hudson with an extremely talented group of performers, Wilson's poignant story to life on stage in a magnificent way.