Jesus Christ Superstar Broadway
Jesus Christ Superstar, the ground-breaking rock opera which reinvented musical theatre for the modern age, tells the story of the last week of Christ's life. The zeal with which Christ's followers are hailing him as the Son of God becomes a source of dismay to his disciple Judas Iscariot. Fearing that this tide of religious fervor will provoke brutal repression by the occupying Romans, Judas must make his fateful choice between faith and betrayal.
This production opened at Canada's Stratford Shakespeare Festival and transferred to the La Jolla Playhouse for a run in 2011.
Video preview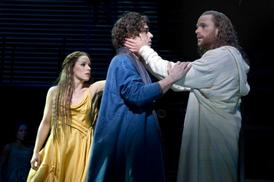 Photo preview