Jesus Christ Superstar - 2012 - Broadway
Jesus Christ Superstar, the ground-breaking rock opera which reinvented musical theatre for the modern age, tells the story of the last week of Christ's life. The zeal with which Christ's followers are hailing him as the Son of God becomes a source of dismay to his disciple Judas Iscariot. Fearing that this tide of religious fervor will provoke brutal repression by the occupying Romans, Judas must make his fateful choice between faith and betrayal.
This production opened at Canada's Stratford Shakespeare Festival and transferred to the La Jolla Playhouse for a run in 2011.
Video preview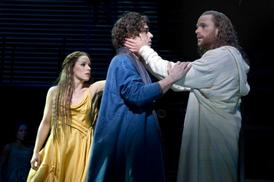 Photo preview
Featured Reviews For Jesus Christ Superstar
Jesus Christ Superstar: Theater Review - Hollywood Reporter
The hit of last summer's Stratford Shakespeare Festival, where McAnuff is artistic director, the production's key onstage asset is its Judas Iscariot, Josh Young. And given that this account of the final week in the life of Jesus of Nazareth is told from his betrayer's point of view, it's fitting that Young's electrifying vocals and brooding presence dominate. ... The 1971 religious rock opera remains a psychologically lite relic of its time, but it gets propulsive treatment in this energized, vocally robust revival.
Jesus Christ Superstar Resurrected: My Review - Village Voice
McAnuff's presented the show in a sleek, clean way that reduces gimmicks and makes it all move very quickly, while getting to the heart of the betrayed-icon rock operatics.
Jesus Christ Superstar Broadway Cast