Click Here for More Articles on GROUNDHOG DAY
If I Had My Time Again: GROUNDHOG DAY Plays Final Performance Today
After 176 performances and 32 previews, Olivier Award-winning Best New Musical Groundhog Day will play its final performance at the August Wilson Theatre today, September 17th.
An 18-month National Tour has been scheduled starting next year and details of a London production will be announced soon. Groundhog Day won the 2017 Olivier Award for Best Musical and was nominated for seven Tony Awards including Best Musical.
Groundhog Day tells the story of Phil Connors (Andy Karl), a disgruntled big-city weatherman mysteriously stuck in small-town America reliving the same day over and over and over again. But when he gets to know associate TV producer Rita (Barrett Doss), he discovers that a day of second, third and fourth chances just might bring him the promise of a lifetime. It's a classic boy meets girl... boy meets girl... boy meets girl story.
Based on the iconic film, Groundhog Day was re-imagined by the award-winning creators of the international hit Matilda The Musical- including director
Matthew Warchus
and songwriter
Tim Minchin
- with a book by original screenwriter
Danny Rubin
.
Now, like Phil Connors, let's turn back the clock, and take a look back at this musical's time on Broadway.
---
Groundhog Day's official press day was on, none other, than Groundhog Day! After giving a sneak preview of the show, set to start previews on March 16th, NYC's resident forecaster Staten Island Chuck stopped by the August Wilson Theatre to help open the box office!
Photo Credit: Walter McBride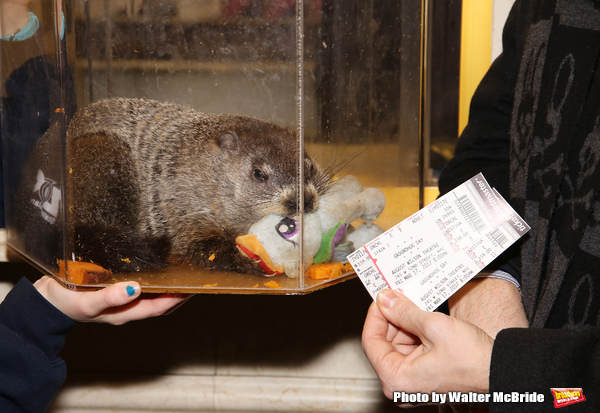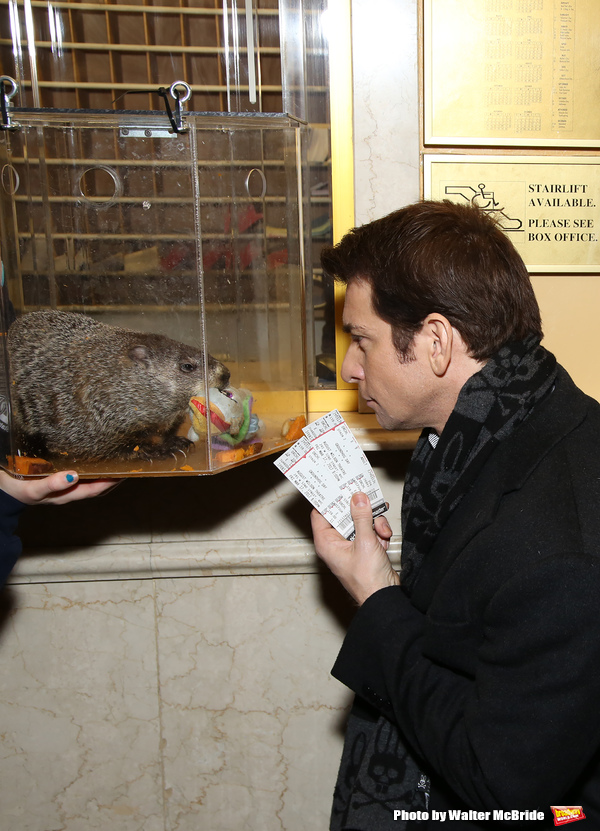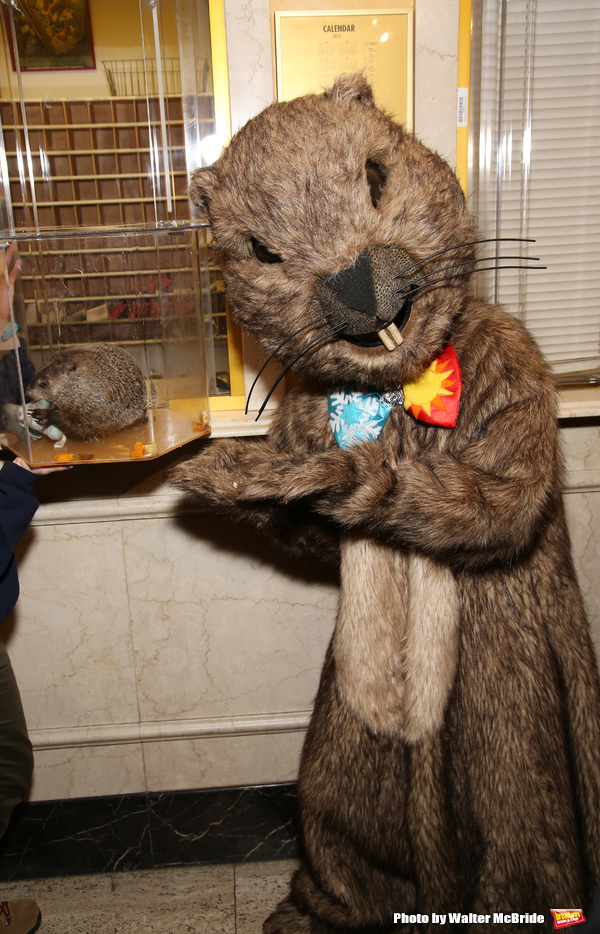 ---
Audiences attending the show's first preview of GROUNDHOG DAY got to see a special, one-night-only concert version of the musical after a technical issue (a turntable malfunction) halted the show during Act I. Scroll down to watch director Matthew Warchus talking to theatergoers following the show's technical difficulties!
---
During the last week of March, the cast of Groundhog Day hit the recording studio to finish up work on the show's Original Broadway Cast Recording. The album was released digitally on April 14 and was in stores by May 5. The album was produced by Chris Nightingale, Michael Croiter, and Tim Minchin.
Check out some photos from inside the studio, below!
Photo Credit: Jimmy Asnes, © 2017 Sony Music Entertainment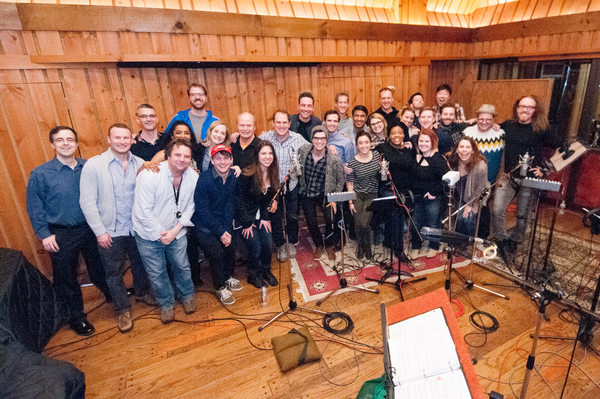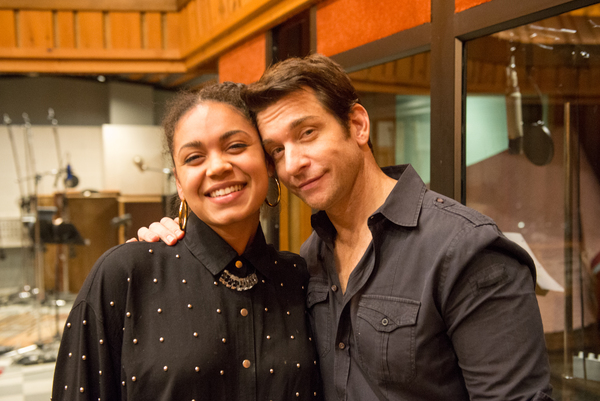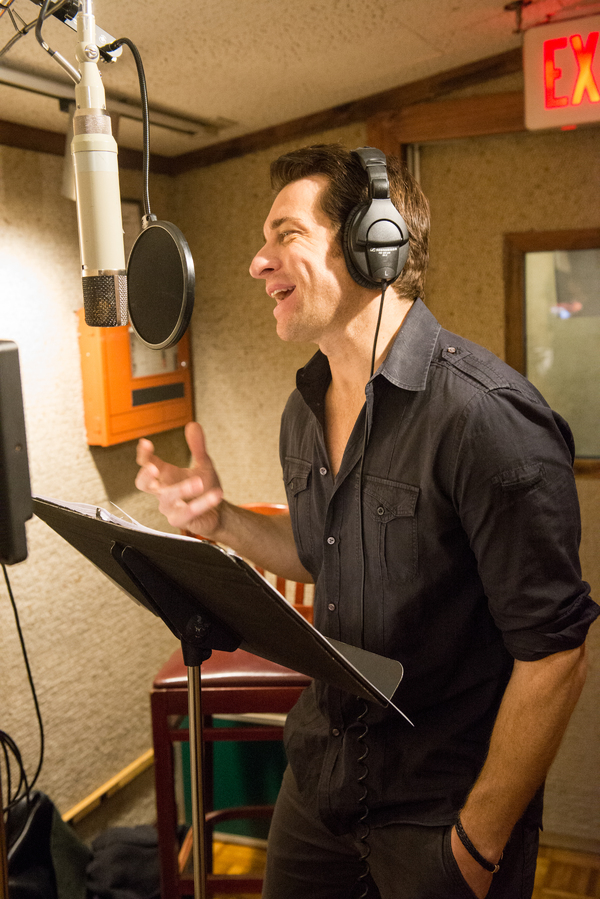 ---
Despite injuring himself during a Friday Night performance, and finishing the show off with a cane, Groundhog Day's leading man, Andy Karl was able to perform on opening night, Monday, April 17th.
Check out some photos from opening night, below!
Photo Credit: Walter McBride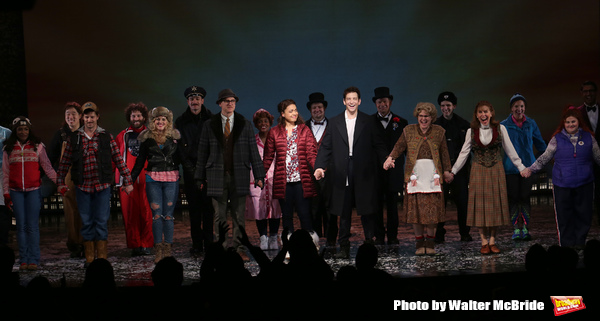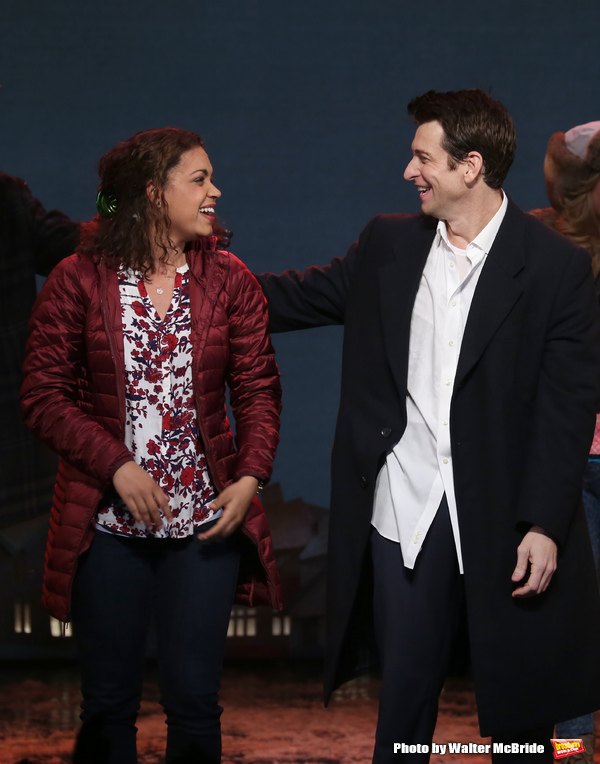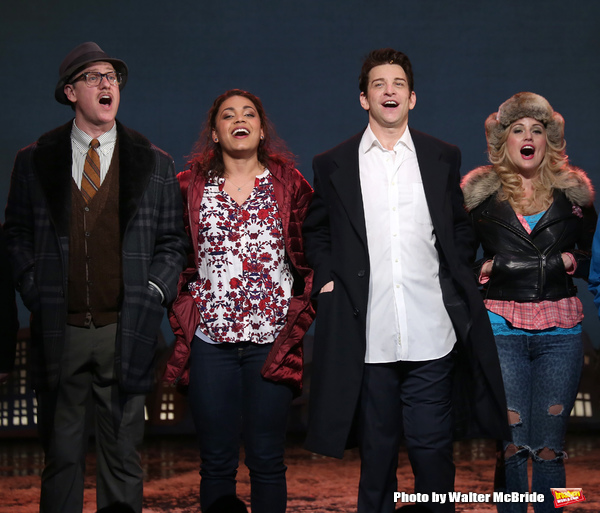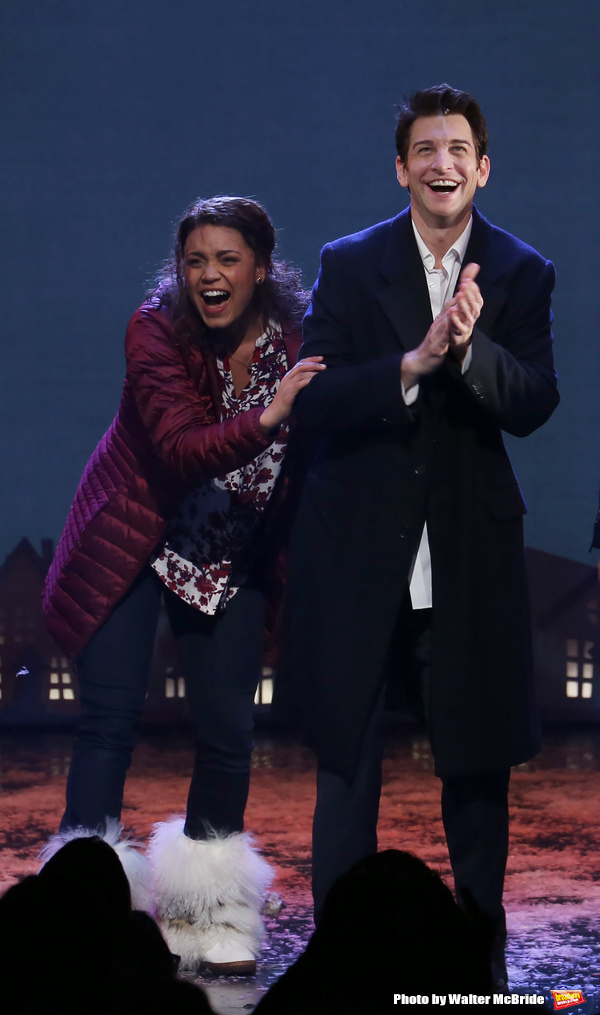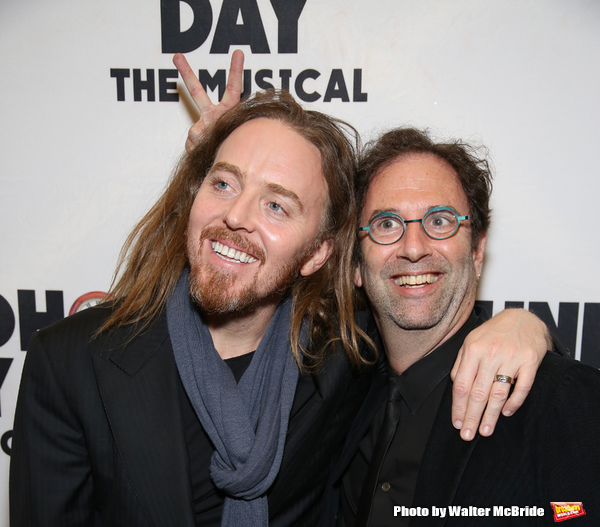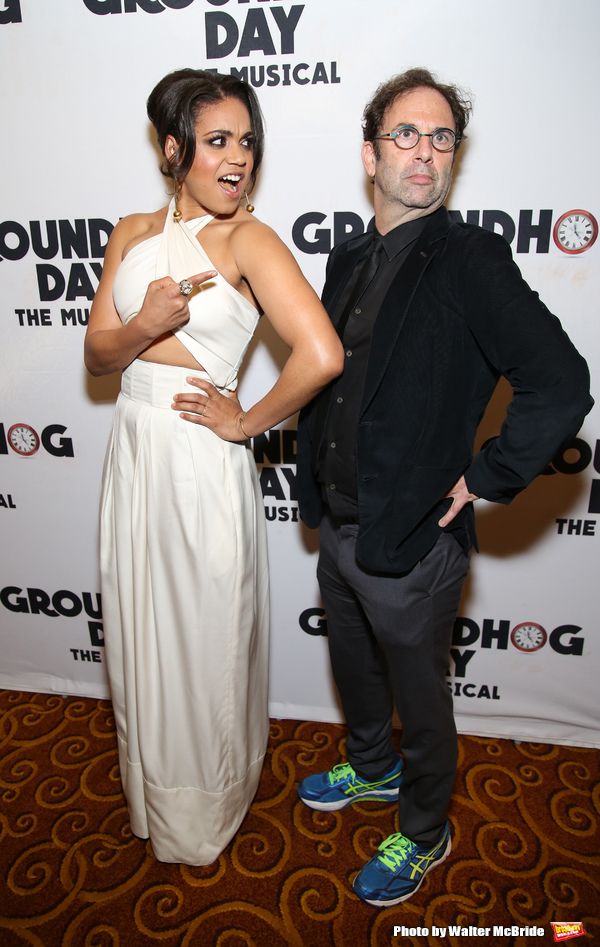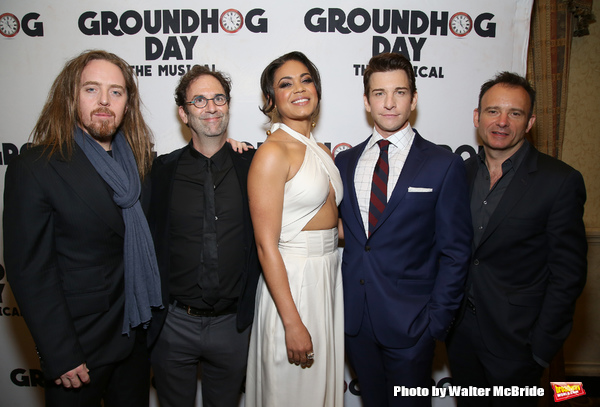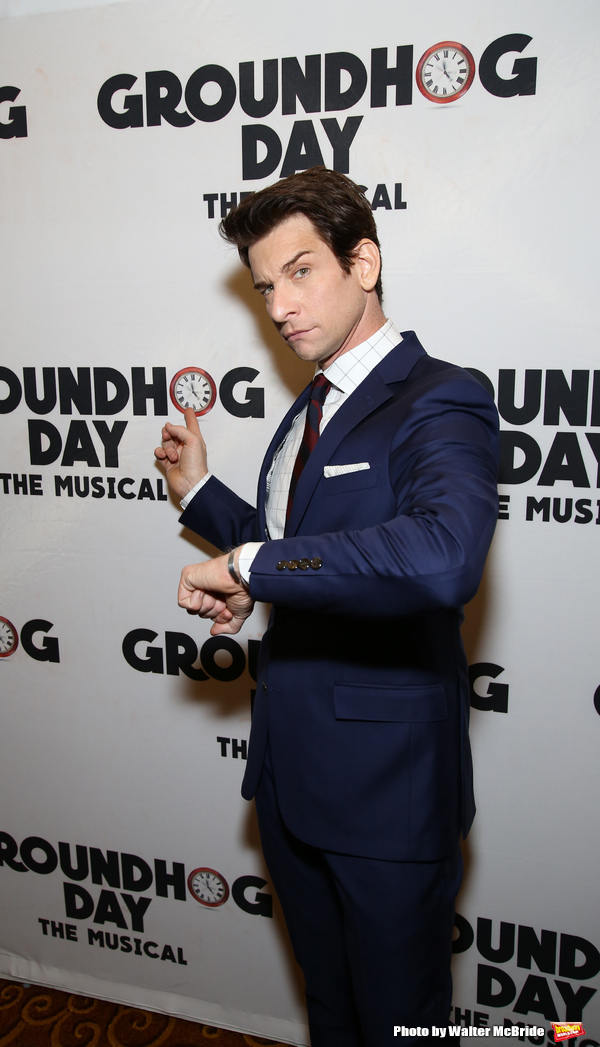 ---
In early August, legendary actor Bill Murray took a page out of Phil Connor's book by taking the trip back to Punxsutawney not once, but twice.
The New York Times' Sopan Deb was also at the show and kept up an entertaining Twitter thread, keeping followers up-to-date on the evening from the actor's reactions, to Murray talking with fans after the show.
It's intermission. Murray let out a fist pump during the show when Phil Connors meets Ned Ryerson for the first time.

- Sopan Deb (@SopanDeb) August 9, 2017
The bows are happening. Murray is sobbing from what I can tell. I'm sitting right behind him.

- Sopan Deb (@SopanDeb) August 9, 2017
At the end of the night, Murray addressed the entire cast on stage, saying, "As actors, I can't respect enough how disciplined you are and how serving you are of the process. There's nothing worse than seeing someone that's out for themselves. And you are all in it for each other. When you ever feel you don't know what to do, sing to the person next to you. And that person will sing to the person next to that person, and then you will have this force that's even stronger."
Murray told The New York Times that message behind the story brought to life on the stage brought him to tears, saying, "The idea that we just have to try again. We just have to try again. It's such a beautiful, powerful idea."
---
You can read what critics had to say about Groundhog Day here!