Fela! - 2009 - Broadway
Fela!, directed and choreographed by Tony Award winner Bill T. Jones, welcomes audiences into the extravagant, decadent and rebellious world of Afrobeat legend Fela Anikulapo Kuti. Using his pioneering music (a blend of jazz, funk and African rhythm and harmonies), the musical explores Kuti's controversial life as artist, political activist and revolutionary musician.
Fela! features a multi-cultural cast led by Sahr Ngaujah (recipient of an Obie Award for his performance in the title role Off- Broadway) and Kevin Mambo (MTC's Ruined), alternating in the role of Fela Anikulapo-Kuti. Tony Award-winner Lillias White plays Funmilayo Ransome Kuti (Fela's mother) and Saycon Sengbloh (Hair) plays Sandra, Kuti's love interest.
Video preview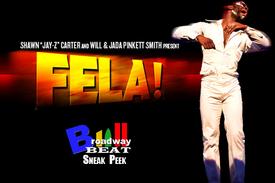 Schedule
Running Time: 2 hours and 40 minutes, with one intermission
Featured Reviews For Fela!
Fela! - New York Daily News
"Fela!" is one of the most original and exciting shows to come around in a long while. It deserves its berth on Broadway — and that exclamation point.
Lost in the Stars (scroll down for Fela!) - Wall Street Journal
The music and dancing are so good that if "Fela!" had been a half-hour shorter, I wouldn't have been overly troubled by its shapelessness. Alas, it plays for 2½ hours, and by the time the festivities draw to a close, you'll feel as though you'd lingered too long at a Thanksgiving table piled high with goodies. Even so, "Fela!" is tremendous fun, and anyone with curious ears and an eye for first-class dancing won't want to miss it.