Fela! - 2009 - Broadway
Fela!, directed and choreographed by Tony Award winner Bill T. Jones, welcomes audiences into the extravagant, decadent and rebellious world of Afrobeat legend Fela Anikulapo Kuti. Using his pioneering music (a blend of jazz, funk and African rhythm and harmonies), the musical explores Kuti's controversial life as artist, political activist and revolutionary musician.
Fela! features a multi-cultural cast led by Sahr Ngaujah (recipient of an Obie Award for his performance in the title role Off- Broadway) and Kevin Mambo (MTC's Ruined), alternating in the role of Fela Anikulapo-Kuti. Tony Award-winner Lillias White plays Funmilayo Ransome Kuti (Fela's mother) and Saycon Sengbloh (Hair) plays Sandra, Kuti's love interest.
Video preview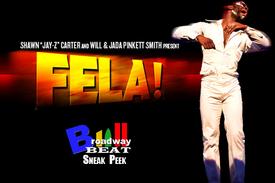 Schedule
Running Time: 2 hours and 40 minutes, with one intermission
Featured Reviews For Fela!
'Fela!' dance party finds its way to B'way - Associated Press
Tony-winning choreographer Bill T. Jones has shaped a stirring production around Kuti's outsize personality and key events from his rebellious, unconventional life, set to the percussive Afrobeat music Kuti invented. The result is "Fela!," a terrific dance party of a musical, an exuberant celebration that also drives home a spirited message of human resilience.
Fela! Gives a Pop Star the Once-Over - Village Voice
For all the fierce enthusiasm that Ngaujah brings to the evening (presumably equaled by Kevin Mambo, who plays the strenuous role at selected performances), the end result still seems scattershot and disconnected, a scrapbook with high points rather than a theatrical event.