Bengal Tiger at the Baghdad Zoo - 2011 - Broadway
Oscar® and Emmy® Award winner Robin Williams makes his Broadway debut in the New York premiere of BENGAL TIGER AT THE BAGHDAD ZOO.
In Rajiv Joseph's new American play, a tiger haunts the streets of present day Baghdad seeking the meaning of life. As he witnesses the puzzling absurdities of war, the tiger encounters Americans and Iraqis who are searching for friendship, redemption and a toilet seat made of gold.
The New York Times says, "This boldly imagined, harrowing and surprisingly funny drama is wonderfully daring." A finalist for the 2010 Pulitzer Prize, this groundbreaking play comes to Broadway for a strictly limited, sixteen-week engagement directed by Tony Award® nominee Moisés Kaufman.
The cast also features Glenn Davis, Brad Fleischer, Hrach Titizian, Sheila Vand, Necar Zadegan and Arian Moayed, with Hend Ayoub, Corey Brill, Daoud Heidami and Sherman Howard.
Video preview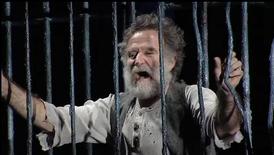 Featured Reviews For Bengal Tiger at the Baghdad Zoo
Bengal Tiger at the Baghdad Zoo - The Hollywood Reporter
Williams has not given a performance this subdued in years. He commits to being part of an ensemble, never ramping up into a star turn. There's no comic shtick in his thoughtful Tiger, yet...the ripples of humor are rich and flavorful. This is not a predigested moral treatise that delivers bite-size conclusions, but a provocative and hauntingly surrealistic play from a distinctive voice.
'Bengal Tiger at the Baghdad Zoo' on Broadway - Los Angeles Times
Williams submits himself wholly to the play's utterly natural surrealism. Concerns that the actor might turn this into a vehicle for his signature shtick are dispelled right way: Williams is in complete sync with the blasted tragicomic vision of the playwright, whose ample humor is far too sneaky for stand-up showboating...He's put himself at the drama's service, and if that means ceding the stage to Moayed, whose poignancy has only deepened, so be it.
Bengal Tiger at the Baghdad Zoo Broadway Cast