Anything Goes - 2011 - Broadway
ALL ABOARD for this saucy and splendid new production of Cole Porter's musical romp across the Atlantic! When the S.S. American heads out to sea, etiquette and convention head out the portholes as two unlikely pairs set off on the course to true love... proving that sometimes destiny needs a little help from a crew of singing sailors, an exotic disguise and some good old-fashioned blackmail. Peppering this hilariously bumpy ride are some of musical theater's most memorable standards, including "I Get a Kick out of You," "You're the Top," "It's De-lovely," and of course, "Anything Goes."
Video preview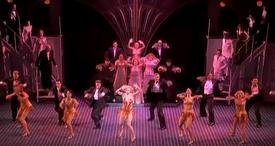 Photo preview
Schedule
Running Time: 2 hours 45 minutes
Featured Reviews For Anything Goes
Sutton Foster's Got the Zowie - Wall Street Journal
Ms. Marshall, who did so well by "The Pajama Game" and "Wonderful Town," takes a while to get going this time around, perhaps because the book is stale..."Anything Goes" has the air of a safe option, a risk-free show designed to take the minimum number of chances and please the maximum number of people. That it succeeds in the latter goal is mainly due to Ms. Foster (and, of course, Cole Porter). Her Reno Sweeney is definitely worth the price of two tickets.
Anything Goes - Variety
Why, one wonders, should Roundabout see fit to trot out "Anything Goes," the frequently produced 1934 musical chestnut? Turns out it has a compelling reason: Sutton Foster. She doesn't just deliver those Cole Porter hits, she knocks 'em out of the park. Joel Grey gives his happiest performance in years as Public Enemy #13, and director-choreographer Kathleen Marshall has a field day, outdoing herself with several rousing dance numbers. This new "Anything Goes" is a daffy, shipshape romp.
Anything Goes Broadway Cast