Anything Goes - 2011 - Broadway
ALL ABOARD for this saucy and splendid new production of Cole Porter's musical romp across the Atlantic! When the S.S. American heads out to sea, etiquette and convention head out the portholes as two unlikely pairs set off on the course to true love... proving that sometimes destiny needs a little help from a crew of singing sailors, an exotic disguise and some good old-fashioned blackmail. Peppering this hilariously bumpy ride are some of musical theater's most memorable standards, including "I Get a Kick out of You," "You're the Top," "It's De-lovely," and of course, "Anything Goes."
Video preview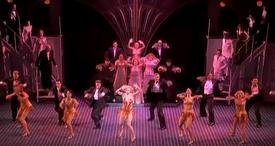 Photo preview
Schedule
Running Time: 2 hours 45 minutes
Featured Reviews For Anything Goes
Anything Goes - Time Out New York
Below the title, things start looking up. Colin Donnell is a deft, full-voiced and romantically persuasive Billy; as Hope, the pretty young lady he pines for, Laura Osnes knows how to give an ingenue some spine. The gangling Adam Godley nearly steals the show as her befuddled British fiancé—he's a terrific comic dancer—and Arrested Development's Jessica Walter is enjoyably tart as her mother. Rounding out the cast with aplomb are Jessica Stone as a sailor-friendly floozy and the invaluable John McMartin as a perpetually sloshed millionaire.
"Anything Goes" - NY1
Bathed in lush lavender lights it's all very inviting up there. Director/choreographer Kathleen Marshall completes the picture with her knockout staging of the two biggest numbers "Anything Goes" and "Blow Gabriel Blow" featuring some fancy dancing from her star. My favorites though were the deliciously delightful duets, "You're The Top" and "It's De-Lovely."
Anything Goes Broadway Cast