Washington Ensemble Theatre Presents Erin Markey's SINGLET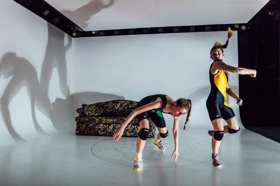 This month Washington Ensemble Theatre (WET) will present a limited engagement of Singlet, a critically acclaimed new theatre work by the genre-defying performer and creator Erin Markey. Singlet is the inaugural show in The GUSH Series, WET's new program that presents theatrical works from outside Seattle that are curated by the Ensemble and performed on its mainstage. Called "Transgressive and illuminating" by The New York Times, Singlet had its world premiere in 2018 at the Bushwick Starr in Brooklyn.
Singlet plays April 25 - May 5, 2019 at 12th Avenue Arts (1620 12th Avenue in Capitol Hill). Tickets are on sale now at www.washingtonensemble.org.
Markey's Singlet draws on their longstanding friendship and working relationship with actor Emily Davis to create a performance that maps the bonds and hysteria of earned intimacy. Combining Markey's singular style with a host of influences-spanning Genet's The Maids, celebrity psychotherapist Esther Perel's available-on-Audible couples counseling sessions, Notes on a Scandal, Elena Ferrante's Neopolitan Quartet, and Precious Moments® Collectible Dolls-this kaleidoscopic production grapples with the desire, rivalry, vulnerability, and subterfuge that bind two people together. By turns tenacious and tender, Singlet reimagines the economies of power between friends, families, and wrestlers.
"Erin Markey is basically the reason GUSH was created," said WET's Artistic Director Samie Spring Detzer. "Singlet is a funny, kaleidoscopic journey into the relationship of two artists who have never before presented work in Seattle. WET could not be prouder to be the home for this fever dream of a performance, and we're excited to be part of moving the conversation about contemporary performance forward."
With GUSH, WET will continue to seek vibrant new artists, fearless contemporary performance, and form-breaking theatrical experiences once a year as part of its mainstage season. WET is thrilled to be able to expand its yearly offerings, to invest in internationally acclaimed artists, and to give Seattle audiences the change to experience new kinds of creative perspective.
Through collaborative artistic leadership, Washington Ensemble Theatre fearlessly creates audacious stories for adventurous Seattle audiences. A resident company at 12th Avenue Arts in Seattle's Capitol Hill neighborhood, WET is committed to maintaining an environment wherein its members, as well as artists from the community, are challenged to grow through its work as an ensemble. For more information about Washington Ensemble Theatre, please visit www.washingtonensemble.org.
The 2018/19 Ensemble is Samie Spring Detzer, Jeffrey Azevedo, Maria Manness, Rachel Liuzzi, Bobbin Ramsey, Tristan Roberson, Joceline Wynn, Jenn Oaster, Ryan Dunn, Erika Bailey, Maggie Rogers, Sophie Franco, Rachel Guyer-Mafune, and Erin Bednarz.
Thanks to 2018/19 season sponsors 4Culture, Seattle Office of Arts & Culture, The Raynier Foundation, Portage Bay Cafe, and media sponsor The Stranger.
Please visit www.washingtonensemble.org to purchase tickets.
Related Articles View More Seattle

Stories

Shows