The 5th Announces 4 Inaugural First Draft Commissions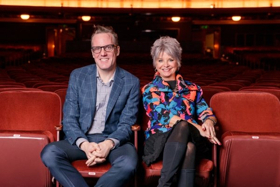 The 5th Avenue Theatre proudly announces that four writing teams representing womxn, gender non-conforming and non-binary voices have been selected to receive a First Draft Commission (a commission that will support writers solely through the development of the first draft of their script) following the inaugural First Draft: Raise Your Voice Story Summit. The commissioned teams will have one year to complete a first draft of their script with the support of The 5th Avenue Theatre. At the end of the cycle, The 5th will produce a one-week reading with a final presentation in New York City, giving the commissioned teams the opportunity to showcase their work to national industry leaders.
The four writing teams include Emily Chiu (she/her) and Lauren Taslitz (she/her); Jasmine Joshua (they/them), Alexei Cifrese (she/her, he/him), and Heather Ragusa (she/her); Kit Yan (he/him, she/her, they/them) and Melissa Li (she/her); and Tidtaya Sinutoke (she/her) and Isabella Dawis (she/her). Over the course of the next year, The 5th will give each team two writer's retreats, a table read with a professional cast, and one-week reading with a presentation in New York City.
Selected from more than 80 submissions, nine teams participated in a Story Summit that took place at The 5th Avenue Theatre September 24 - 28, 2018. The teams had one week of intensive writing time at The 5th with the support of three dramaturgs. At the end of the week, each team had ten minutes to pitch their musical to a panel of industry professionals representing both regional non-profit theater and commercial theater. The panel made recommendations to The 5th on the four teams to advance to a full first draft commission.
About the First Draft Commissions
Bha Zhang
Emily Chiu (music & lyrics)
Lauren Taslitz (book & lyrics)
After the death of her Ah Ma (grandmother), Alice (a 25-year-old Taiwanese-American) is determined to make her grandma's special bha zhang (a glutinous rice dumpling wrapped in bamboo leaves) for her mother for Mother's Day but cannot track down the recipe among her Ah Mah's family and friends. Desperate for connection both to her Ah Ma and to her own heritage, Alice sets out on a fevered quest to discover the recipe, which forces her to wade into the pool of her own grief.
Here and Their
Jasmine Joshua (book, music, and lyrics)
Alexei Cifrese (book and lyrics)
Heather Ragusa (music and lyrics)
Local writing team
In a small town in Big Sky Country, Sam O'Malley's grandma has requested a family reunion with everyone there-including Aunt Meredith. In an attempt to get to know this estranged relative through traditional means (Google), Sam discovers that Aunt Meredith is, in fact, '80s lesbian punk rock icon, Vicki Vektor. As Sam tumbles down the internet rabbit hole, new and confusing concepts like "your gender isn't the same as your sex" and "trans umbrella," unearth a lot of personal realizations and questions. Questions that can't be asked in a conservative Catholic family. But maybe Aunt Meredith can help...
MISS STEP
Kit Yan (book and lyrics)
Melissa Li (book, music, and lyrics)
Pam is an unremarkable transgender woman in her mid-forties living a basic life in a one-bedroom apartment in New Jersey. After her estranged father suddenly passes away, she discovers his secret passion for competitive aerobics. Determined to get closer to the man she never knew, she convinces a ragtag group of trans friends to compete in the regionals with her, but in order to win, she must defeat her high school arch nemesis.
Half the Sky
Tidtaya Sinutoke (music)
Isabella Dawis (book and lyrics)
A Thai American woman sets out to fulfill her dream of summiting Mount Everest. With the company of a precocious teenage Sherpa and other hopeful climbers from around the world, she is constantly tested by the demands of the climb. As she comes face to face with the mountain's frozen history, the borders between countries and cultures, past and present, and waking and dreaming begin to blur.
About the Story Summit Selection Committee
The Story Summit selection committee was comprised of Marleen Alhadeff (with her husband Kenny, she is a producing partner of The 5th Avenue Theatre and a producer with Junk Yard Dog productions, Tony Award-winning producers of Memphis and Come From Away), Erin Craig (producer with La Vie Productions developing and mentoring new artists and projects for over 20 years), Ken Davenport (Tony Award-winning producer of Once On This Island, Spring Awakening, and Kinky Boots), Gabrielle Greene (Director of New Play Development at La Jolla Playhouse), Rosa Joshi (Seattle-based director and co-founder of upstart crow collective and Chair of the Department of Performing Arts and Arts Leadership at Seattle University), Margaret Layne (Director of Casting at ACT - A Contemporary Theatre), Karen Lund (Associate Artistic Director of Taproot Theatre Company and Vice President of the Board of Theatre Puget Sound), Olivia O'Connor (Manager of New Work Development at Pittsburgh CLO overseeing the SPARK Festival of New Musicals), and Dr. Beth Porter (long-time 5th Avenue Theatre new musical development supporter and musical theater fan).
About The 5th Avenue Theatre
The 5th Avenue Theatre is one of America's leading musical theater companies. We enrich the community we love with the art form we love-giving the Pacific Northwest a front-row seat to original powerhouse productions that go on to light up marquees and audiences all the way to Broadway. From the page to the stage, we bring passion and epic scale to every musical we create. With big talent. Bigger-than-life productions. And did we mention dazzle? As a nonprofit theater company and our region's largest performing arts employer, we spread the joy of great musicals with people of all ages across our region and state. Each year, we reach 75,000 young people through our nationally acclaimed education programs. Programs designed to develop new musicals ensure that the next generation of great musicals will be there to tell the stories that captivate tomorrow's audiences. On the national stage, we are a leading voice for the power of this American art form to lift the human spirit.
For more information about The 5th Avenue Theatre, its season and its programs, please visit www.5thavenue.org.