Photo Flash: Sixth Annual Island Theatre's Ten-Minute Play Festival Opens 8/18
Ten original plays. Three shows. Two days. Island Theatre presents its Sixth Annual Ten-Minute Play Festival featuring local playwrights at Bainbridge Performing Arts on August 18 and 19. Out of 57 submissions from established and emerging Kitsap County playwrights, ten were selected by a jury of theatre professionals for production by Island Theatre directors and actors: "Bloody Mary" by Aleks Merilo, "Flight of the Valkyrie" by Noah Barfield, "Gel Us" by Paige Zubel, "Jellyfish Apocalypse" by Karen Polinsky, "Lessons Learned" by Jenny Weaver, "Memories of an American Occupation" by Paul Lewis, "Moving On" by Caroline Smith, "Of a Feather" by Wendy Wallace, "Roadsides" by Betsy Dorfman, and "Spreadsheet Me" by Jeffrey Brown.
Island Theatre's 2012, 2013, 2014, 2015, and 2016 Ten-Minute Play Festivals played to packed BPA houses. Besides the delight of seeing entertaining plays written, directed, and performed by their friends and neighbors, audience members know that even if they aren't crazy about one play, another is just ten minutes away!
Now celebrating its twenty second anniversary, Island Theatre's regular schedule includes bi-monthly staged play readings at the Bainbridge Public Library plus, in intervening months, potluck dinners in privately hosted homes at which all guests are welcome to join in a selected play reading. Island Theatre is an all-volunteer nonprofit IRS Section 501(c)(3) organization. Its motto is "Can we rehearse at your house?"
Island Theatre's Ten-Minute Play Festival appears Friday and Saturday, August 18 and 19 at 7:30 p.m. plus Saturday at 3:00 p.m. Please join Island Theatre in the BPA lobby an hour before showtime for refreshments. The theater doors open 30 minutes before showtime. Visit Island Theatre online at www.islandtheatre.org for more information.
Reserved seat tickets, $15 for adults and $10 for Seniors, Youth, Students, Military, and Teachers, may be purchased online at www.bainbridgeperformingarts.org, by phone at 206.842.8569 or in person at BPA, 200 Madison Avenue North, Bainbridge Island. BPA Box Office hours are 1:00 to 4:00 p.m. Wednesday through Friday, and one hour prior to each performance.
BPA is supported, in part, by Bainbridge Community Foundation and One Call for All. Bainbridge Performing Arts is pleased to offer an "Open Doors" program. Free and reduced-cost tickets to most events are available to community members in need through our partner Helpline Housethanks to grants from BCF, the Mabee Family Foundation, and the Alder Fund at the Bainbridge Community Foundation.
Find out more about BPA at www.bainbridgeperformingarts.org, or check us out on Facebook (www.facebook.com/BPAonline and www.facebook.com/BainbridgeSymphonyOrchestra), follow Bainbridge Performing Arts on LinkedIn (www.linkedin.com/company/bainbridge-performing-arts) and Twitter (@BPAPresents). Check online for the latest on theatre and symphony auditions, complete theatre school and adult class offerings, performance listings, tickets, promos, and more. Go to "About BPA" and click on "Get Our Newsletter" to receive electronic performance announcements and behind-the-scenes news.


Three teen friends attempt to conjure spirits in a secret midnight ceremony, in "Bloody Mary� by Aleks Merilo, directed by Pete Benson. Left to right: Tori Konig, McKenna Sanford, Olivia Vassenes.

Karla Cole (left) and Shannon Sheehan prepare for a friendship-testing marathon in "Gel Us� by Page Zubel, directed by James E. Anderson, III.

Parents at a Little League ball game in "Lessons Learned" by Jenny Weaver, one of ten local plays featured in the 2017 Island theatre Ten-Minute Play Festival, August 18 & 19, at BPA. (L to R: Kimberly Parker, Wayne Purves, Geoff Schmidt, Jeffery Brown, Bronsyn Foster, Tyler Weaver). Photo by Steve Stolee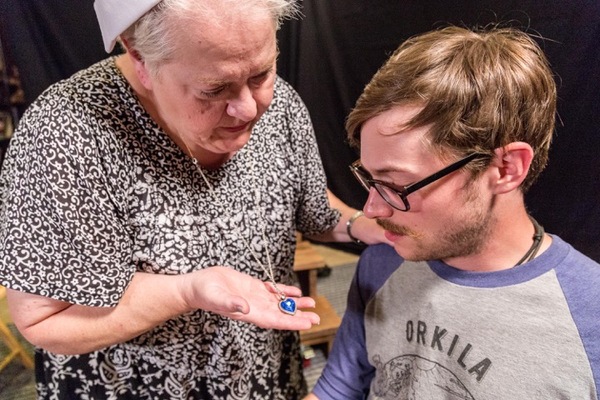 A GI nurse (Karen Hauser) shares a special story with a wounded WWII soldier (Matt Howe) in "Memories of the American Occupation� by Paul Lewis, directed by Fred Saas.

Tyler Weaver, as a nebbish husband, seeks to please his goddess of a wife, Jennifer Pippin-Montanez, in "Flight of the Valkyrie� by Noah Barfield, directed by Todd Erler.
More Hot Stories For You