Photos: 5th Avenue's ON THE TOWN
The 5th Avenue Theatre's production of Leonard Bernstein's madcap musical On The Town continues performances through May 2, 2010.
Seattle actors Greg McCormick Allen (Ozzie) and
Matt Owen
(Chip) are joined by New York actor
Joe Aaron Reid
(Gabey) as the
Three Sailors
on a riotous 24-hour-trip to the Big Apple, and New York actress Courtney Iventosch (Ivy) joins 5th Avenue favorites
Sarah Rudinoff
(Hildy) and Billie Wildrick (Claire) as the trio of aggressive city dames who beguile our heroes.The cast includes a star-studded roster of local actors, including
Allen Fitzpatrick
(Judge Pitkin),
Suzy Hunt
(Madame Dilly),
Jennifer Sue Johnson
(Lucy Schmeeler),
Ekello Harrid
Jr. (Workman),
Richard Gray
(Bill Poster, MC, and others), and Frances Leah King (Old Lady, Nun).The rest of the ensemble is: David Alewine, Jeffrey Alewine, Kelly Ann Barton, Ty Alexander Cheng, Gabriel Corey, Geneva Jenkins,
Brittany Jamieson
, Kylie Lewallen,
Nikki Long
,
Vincent Lopez
, Amber Mayberry, Mia Monteabaro, Joel Myers, Kasey Nusbickel, Tory Peil, Patrick Pulkrabek, Marissa Quimby and Dane Stokinger, and with Dana Blasingame,
Brian Scott
Kerrick, Arwen Morgan and Sage Price as our performance interns. The 5th is also delighted to partner again with Spectrum Dance Company, Washington's largest professional contemporary dance company. Founded in 1982 and led since 2002 by Artistic Director
Donald Byrd
, Spectrum last partnered with The 5th for West Side Story in 2007, also directed by The 5th's Producing Director
Bill Berry
. "We are excited to grow the partnership with The 5th Avenue Theatre this season with On The Town, and explore another classic Bernstein and Robbins production," says Anne Derieux, Executive Director of Spectrum. "Why collaborate? The short answer is that we cannot achieve our mission alone. That mission is to make dance accessible, without limitations, to the community. In order to fulfill this we must bring dance outside the walls of the dance studio and into other theaters and venues."
The company includes five performers who were featured in The 5th's 2006 production of Bernstein's Wonderful Town, also directed by Berry. Greg McCormick Allen, Richard Gray and Matt Owen are all back for another run at Bernstein, as well as Billie Wildrick, who's again joined by her co-star from Wonderful Town, local singing sensation Sarah Rudinoff. Wildrick was nominated for a TPS Gregory A. Falls Award for her performance in The 5th's production of Sunday in the Park with George last year, and Rudinoff continues to sing around town with her band "We Are Golden."
On The Town was Bernstein's first musical, written in 1944 with book and lyrics by
Betty Comden
and
Adolph Green
, and choreography by
Jerome Robbins
. This madcap comedy follows the fortunes of a trio of sailors on 24 hour shore leave in New York City, where they dance, joke and sing their way through misadventures, marvels and romance. Director
Bill Berry
's production of On the Town earlier this year for New Jersey's
Paper Mill Playhouse
received critical raves, including The Star Ledger ("a magnificent revival"), Curtain Up ("For the sheer number of belly laughs and for simply having a helluva good time, you can't beat the jovial and rambunctious carrying on by the
Three Sailors
...") and The Wall Street Journal ("....gets everything right, all the way down to the last detail, and the results are lovely and amazing to behold.... better than any musical now playing on Broadway.") Tickets for On The Town, as well as season tickets to the newly-announced 2010-2011 Season, are available over the phone by calling 206-625-1900/toll-free 888-5TH-4TIX (584-4849), in person at the box office at 1308 5th Avenue, Seattle, WA 98101, or online at
www.5thavenue.org
. The
5th Avenue Theatre
is Seattle's premier musical theater. In 1980, the non-profit
5th Avenue Theatre
began producing and presenting top-quality live musical theater for the cultural enrichment of the Northwest community. The
5th Avenue Theatre
maintains a subscription audience of over 25,000 and an annual attendance of more than 287,000. It ranks among the nation's largest and most respected musical theater companies. The Theatre is committed to encouraging the next generation of theatergoers through its Educational Outreach Program which includes: The Adventure Musical Theatre Touring Company, The 5th Avenue High School Musical Theatre Awards, the Student Matinee Program and Spotlight Nights. Unique in its Chinese-inspired design, the exquisite theater opened in 1926 as a venue for vaudeville and film. Today, under the leadership of Executive Producer and Artistic Director
David Armstrong
, Managing Director Bernie Griffin and Producing Director
Bill Berry
, The
5th Avenue Theatre
continues to achieve the highest standards in all aspects of artistic endeavors and facility operations, while preserving its artistic, architectural and historic legacy. Visit
www.5thavenue.org
.
Photo Credit: Chris Bennion


Newly-arrived sailors Ozzie (Greg McCormick Allen, left), Gabey (Joe Aaron Reid, center) and Chip (Matt Owen, right) are ready for New York and 24 hours On The Town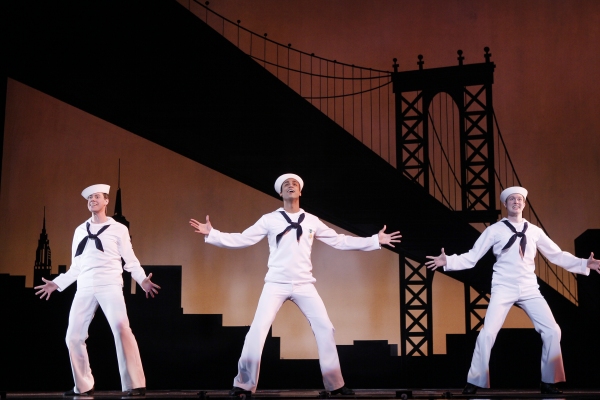 "New York, New York! It's a helluva town!" for sailors Ozzie (Greg McCormick Allen, left), Gabey (Joe Aaron Reid, center) and Chip (Matt Owen, right), who want to take it all in during one day's shore leave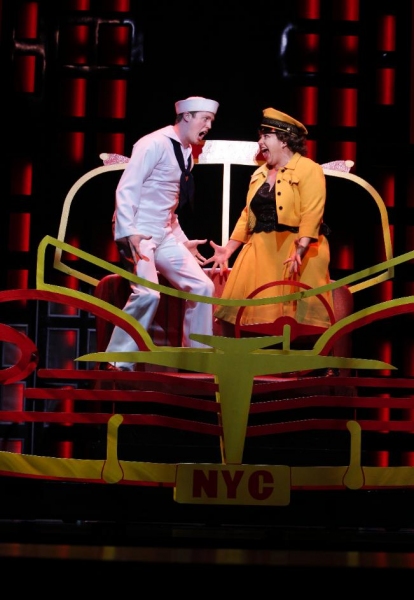 It's not the fare that Chip (Matt Owen) and Hildy (Sarah Rudinoff) are arguing about, it's whether or not their destination is a New York landmark or her apartment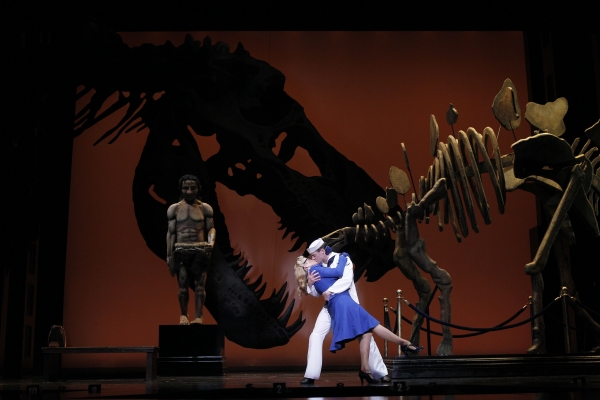 The Natural History Museum is an educational experience for Claire (Billie Wildrick) and Ozzie (Greg McCormick Allen) when science meets romance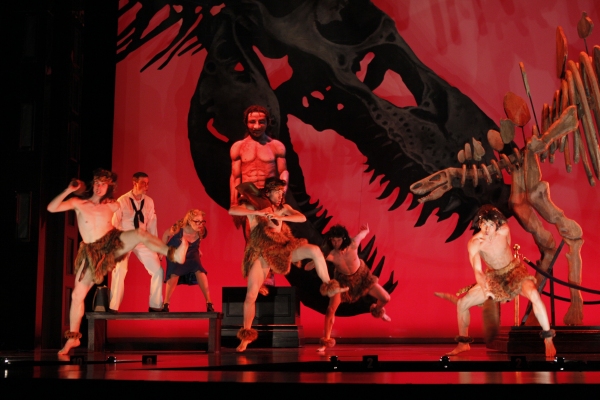 Sailor Ozzie (Greg McCormick Allen, left) and Anthropologist Claire (Bille Wildrick, left) get in touch with their primitive side along with a quartet of dancing cavemen

Sailor Gabey (Joe Aaron Reid, far right) finds New York can be a "Lonely Town" when you're the only boy who doesn't have a girl

Ivy (Courtney Iventosch, left) has problems retaining her decorum around her vocal teacher Madame Dilly (Suzy Hunt, right) when the subject of sex comes up

When you're waiting for a date with the most beautiful girl in the world, everyone seems to be in on your romance, as Sailor Gabey (Joe Aaron Reid, center) learns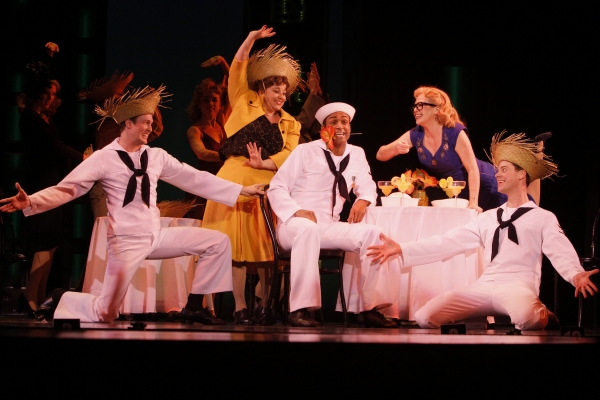 What are friends for? They're for cheering up a lonely guy, as Sailor Gabey (Joe Aaron Reid, center) finds out thanks to (left to right) Chip (Matt Owen), Hildy (Sarah Rudinoff), Claire (Billie Wildrick) and Ozzie (Greg McCormick Allen)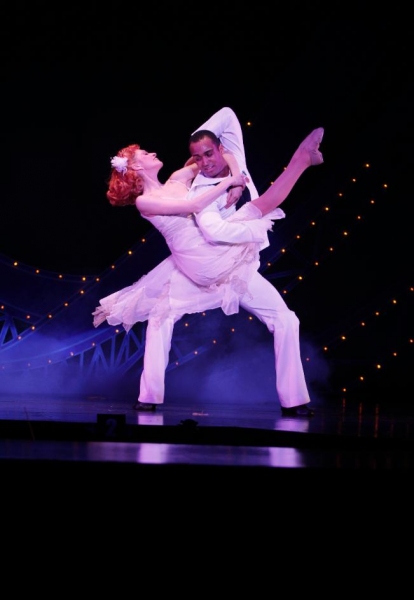 Sailor Gabey (Joe Aaron Reid) and Ivy (Courtney Iventosch) dance like a dream-or more specifically like a dream ballet