MEASURE FOR MEASURE An Off The Shelf Staged Reading Announced At Tacoma Little Theatre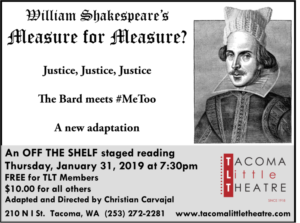 Tacoma Little Theatre's Off the Shelf program presents a workshop performance of Measure for Measure, a drama by William Shakespeare, adapted and directed by Christian Carvajal and read by a "who's who" list of South Sound thespians. This production will play Thursday, January 31, 2019 at 7:30pm.
The Bard's poetic language has been preserved, with only a few outdated words swapped for modern synonyms. Written around the same time as Othello and King Lear, Measure for Measure has long been regarded as a "problem play," in that its conclusion seems to lack the justice its heroine demands. ("Some rise by sin," Lord Escalus observes, "and some by virtue fall.") The rise of the #MeToo movement makes it painfully clear, however: In the real world, justice for women is an ideal our civilization seldom achieves. A play Shakespeare wrote over 400 years ago can only now be appreciated as his most trenchant commentary on our quest for sociopolitical equality.
Measure for Measure features the talents of: Andrew Fry, John Pratt, Andrew Gordon, Xander Layden, Jed Slaughter, Gabriel McClelland, Amanda Stevens, Drew Doyle, MASON QUINN, Chris Serface, Robert McConkey, Cassie Jo Fastabend, Silva Goetz, James Wrede, Jess Allan, and Kathryn Philbrook.
Tickets for the January 31, 2019 performance at 7:30pm are $10.00 for non TLT Members, and FREE for those who are members. Tickets may be purchased online at www.tacomalittletheatre.com, or by calling our Box Office at (253) 272-2281.
We know that there is a tremendous amount of wonderful theatre that deserves to be heard but sometimes just doesn't get an opportunity. With "Off the Shelf", local directors and actors will be bringing some scripts to life that we hope you will find entertaining, challenging and educational to our stage. We hope that you'll sit back and enjoy an evening of theatre. You never know, you might see one of these shows on our mainstage in the future.