Full Cast Announced for THE HUNCHBACK OF NOTRE DAME Starring Deaf Actor Joshua Castille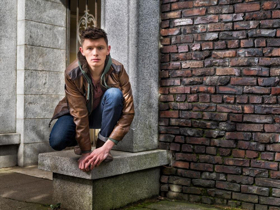 The full cast for The 5th Avenue Theatre's spectacular new production of The Hunchback of Notre Dame, which stars Deaf actorJoshua Castille as Quasimodo, has been announced. Castille will use American Sign Language (ASL) throughout his performance, bringing new life and perspective to Quasimodo, who is deaf in the novel by Victor Hugo. Replacing the previously announced Justin Gregory Lopez is E.J. Cardona, who joins the cast as the Voice of Quasimodo, one of Notre Dame's gargoyles who conveys Quasimodo's thoughts through song. The 5th is excited to introduce Dan'yelle Williamson in her 5th Avenue Theatre debut as Esmeralda and welcome back to the stage Allen Fitzpatrick as Dom Claude Frollo, Brandon O'Neill as Phoebus and Dane Stokinger as Clopin. Additionally, The Pacific Lutheran University Choral Union will serve as the 30-person choir that fills out the epic, mesmerizing music of Alan Menken at every performance.
Playing June 1-24, 2018 (press opening Friday, June 8, 2018), tickets for The Hunchback of Notre Dame start at $29 and are on sale now. They can be purchased at www.5thavenue.org, by phone at 206-625-1900 or at the Box Office at 1308 5th Avenue in Downtown Seattle.
"The 5th is committed to storytelling of the highest caliber and we are very excited for this opportunity to tell The Hunchback of Notre Dame in a new way," said The 5th Avenue Theatre's Producing Artistic Director Bill Berry. "I have no doubt that our fantastic cast, which features faces that impress Seattle audiences time and time again and new ones that will completely sweep them off their feet, will help shape this inspiring tale of friendship and acceptance like it has never been told before."
The 5th is working closely with Deaf Spotlight, a Seattle-based nonprofit organization that inspires, encourages and showcases creative works of, by and for Deaf people in the Pacific Northwest, to provide access, educational resources and more for Deaf and hard of hearing audiences. There will be eight ASL interpreted performances ofThe Hunchback of Notre Dame, in addition to one open captioned performance and one audio described performance. Accessible performance dates are listed below.
A glorious retelling of Victor Hugo's epic masterpiece, The Hunchback of Notre Dame is a powerful tale of love, faith and prejudice that will leave audiences utterly spellbound. Its lush, beautiful score, which is complete with a 30-person choir at every performance, is unlike anything in musical theater today, featuring songs from the Disney animated feature and new music from legendary composers Alan Menken (The Little Mermaid, Aladdin and Newsies) and Stephen Schwartz (Wicked, Godspell and Pippin).
About the Cast
Joshua Castille makes his 5th Avenue Theatre debut as Quasimodo. Castille is a Deaf performance artist based out of Los Angeles, CA who strives to form meaningful collaborations that explore the boundaries of art. He has worked on various projects in different roles including ASL master, director, actor, set designer and more. Notable acting credits include Tribes at ACT Theatre and Deaf West's Spring Awakening on Broadway. His ability to communicate and deliver performance art to both hearing and Deaf audiences allows him to connect people in a way that is unique and entertaining.
E.J. Cardona makes his 5th Avenue Theatre debut as the Voice of Quasimodo. He has performed in regional productions of In The Heights, Finding Nemo: The Musical, Les Misérables, Porgy and Bess and West Side Story. He appeared on The X Factor and has been a backup singer for the following artists: SuperFruit, Jordan Fisher, Shoshana Bean, Ace Young, Kirstie Maldonado, Jackie Evancho and Sandi Patti. Cardona can currently be seen in one of the country's premier acapella groups, Voctave.
Dan'yelle Williamson makes her 5th Avenue Theatre debut as Esmeralda. She was last seen as Jory in Disgraced at Northern Stage. Williamson has performed on Broadway in Memphis, Scandalous and Roc and Off-Broadway in Soul Doctor. She toured nationally in Disney's The Lion King and her regional credits include Wicked,Dreamgirls, The Drowsy Chaperone and Sister Act.
Allen Fitzpatrick returns to The 5th Avenue Theatre stage as Dom Claude Frollo. Hunchback marks his 26th appearance at The 5th. A Footlight Award winner for his 2005 portrayal of Sweeney Todd, his Broadway appearances include Les Miserables, Scarlet Pimpernel, Memphis, 42nd Street, Driving Miss Daisy, Damn Yankees,Gentlemen Prefer Blondes, Boys from Syracuse and Sweet Smell of Success. Fitzpatrick starred opposite Petula Clark in Sunset Boulevard and opposite Patti LuPone inPassion (sharing an Emmy). He was in the national tours of Disney's The Little Mermaid, Aspects of Love, 6 Degrees of Separation, Guys and Dolls and the Hal Prince-directed Whistle Down the Wind. He has performed 12 Off-Broadway leading roles, held more than 200 roles at regional theaters and had multiple appearances on Law & Order.
Brandon O'Neill returns to The 5th as Phoebus. He performed on Broadway in Disney's Aladdin (Original Broadway Cast) and A Bronx Tale and was in world premieres at Asolo Rep: Beatsville; ACT Theatre: First Date (Gregory Award nomination), Ramayana (BroadwayWorld Award, Seattle Times Footlight Award); The 5th: Aladdin,Saving Amy (Scandalous), A Christmas Story (Cast Album). Select regional credits include Pride & Prejudice, A View From the Bridge (Seattle Rep); Cat on a Hot Tin Roof, Assassins, A Christmas Carol (ACT Theatre); Beatrice and Benedict (Seattle Opera); Peter and the Starcatcher (CDAST); Carousel, Pirates of Penzance (Gregory Award nomination), Guys and Dolls (Seattle Times Footlight Award), Rent, Cinderella, Candide (The 5th). He has performed with Seattle Symphony in: Sondheim at the Pops (conductor: Marvin Hamlisch), Tribute to Marvin Hamlisch (conductor: Larry Blank). O'Neill is the voice of Uldren Sov in Bungie's video game franchise Destiny.
Dane Stokinger joins the cast as Clopin. His 5th Avenue Theatre credits include Disney's The Little Mermaid (Chef Louis), A Christmas Story (Old Man) and Monty Python's Spamalot! (Lancelot). He has performed regionally at Seattle Children's Theatre in The Wizard of Oz (Tin Man) and Chitty Chitty Bang Bang (Caractacus Potts) and at Village Theatre in Full Monty (Jerry), Trails (Mike) and No Way To Treat A Lady (Morris Brummell).
The ensemble includes Eric Ankrim, Kody Bringman, Kristin Burch, Jade Solomon Curtis, Candice Donehoo, Davione Gordon, Corinna Lapid Munter, Taylor Niemeyer, Richard Peacock, Zoe Raphael, Aaron Shanks, Greg Stone, Jordan Iosua Taylor, Carolyn Willems Van Dijk and Matt Wolfe.
The Pacific Lutheran University (PLU) Choral Union is conducted by Richard Nance for this production. It was established in 1984 to bring together singers from the surrounding community, faculty, staff, alumni and students. The choir has a membership of 75 singers, with a touring choir of 40-50 singers. The choir performs three or four concerts annually, covering a wide range of repertoire, including choral/orchestral works. Choral Union was the chorus for The 5th Avenue Theatre's concert production of Titanic in 2012 and performed Carmina Burana with the Pacific Northwest Ballet in 2015. The choir has performed for important professional choral conferences, and has done six European tours.
About the Director
Glenn Casale returns to The 5th Avenue Theatre to direct The Hunchback of Notre Dame after previously directing the smash, sold out hit Disney's The Little Mermaid in 2016. He directed the Broadway production of Peter Pan starring Cathy Rigby (Tony Award nomination for Best Revival) which was filmed by A&E and garnered two Emmy Awards. He directed the Off-Broadway production of The Property Known as Garland starring Adrienne Barbeau and Dragapella at Studio 54 (Drama Desk and Lucille Lortel Award nominations for Best Production). Internationally, he directed Disney's The Little Mermaid, Beauty and the Beast (Netherlands, Germany, Italy, Spain, Japan and Russia) and The Wiz. Regional credits include The Hunchback of Notre Dame, The Little Mermaid, Ballroom and Camelot with Rachel York and Lou Diamond Phillips, Wrestlers starring Mark Harmon and George Clooney, Bingo!, From the Top starring Carol Burnett, the Los Angeles Ovation Award-winning Best Musical Anything Goes starring Rachel York, Brent Barrett, Sally Struthers and Fred Willard, Camelot starring Michael York and The Prisoner of Second Avenue with Jason Alexander. His television credits include ABC's The Faculty starring Meredith Baxter and The Wayans Brothers. Casale served as the Artistic Director for the California Musical Theater in Sacramento.
About the Choreographer
Dana Solimando makes her 5th Avenue Theatre debut with The Hunchback of Notre Dame. Her choreography credits include the national tour of Jesus Christ Superstar,Cabaret, American Idiot (2016 Ovation nominee), RENT, Spring Awakening and Billy Elliot (2015 LADCC Award nominee). Other favorites include choreographingRagtime (2015 Ovation nominee), Parade (2013 Ovation nominee), Damn Yankees (2014 Ovation nominee), The Addams Family and Hairspray at 3D Theatricals and All Shook Up at O.C. Pavilion. Other credits include Hair, La Cage Aux Folles and The Wizard of Oz at Sacramento Music Circus and the world premiere of Little Miss Scrooge at Rubicon. Solimando is also co-writer, co-director and co-choreographer for MAESTRO and Rt. 66 on Crystal Cruises and director and choreographer for the world premiere and national tour of Rudolph the Red Nosed Reindeer The Musical. She made her Broadway debut in Cats as Rumpleteazer and went on to perform in other Broadway productions including Swing! as Country Girl and in Peter Pan as Tiger Lily. She has also performed in numerous other national tours and regional theatre productions including Jesus Christ Superstar, A Chorus Line, Grease, Sugar Babies, Gypsy, Oklahoma! and Radio City Music Hall's Christmas Spectacular in New York City.
About the Music Director
Dennis Castellano has mounted two previous renditions of The Hunchback of Notre Dame and makes his 5th Avenue Theatre debut with this production. Castellano is the Musical Supervisor for Sacramento Music Circus where he conducted their recent productions of Sister Act, Seussical, The Hunchback of Notre Dame, Hair, Sweeney Todd, Mary Poppins, La Cage aux Folles, Show Boat and Sugar. Other credits include The Light in the Piazza, A Little Night Music, Sunday in the Park with George andOrdinary Days for South Coast Repertory, Dreamgirls, Seven Brides for Seven Brothers, My Fair Lady, The Unsinkable Molly Brown and Annie Get Your Gun for McCoy/Rigby Entertainment and Nice Work If You Can Get It, In the Heights, Carousel and South Pacific for Musical Theatre West. Castellano also served as the head of music theatre for the University of California, Irvine.
About the ASL Master
Ryan Schlect makes his 5th Avenue Theatre debut with The Hunchback of Notre Dame. He performed on Broadway in Deaf West Theatre's Big River, which received a Tony Honor for Excellence in Theatre. His regional credits include Azeotrope Theatre's Sound (Gregory Award Nomination for Outstanding New Play, Gypsy Rose Lee Award nomination for Excellence in Performance of a Play as a Supporting Actor) and Deaf West Theatre's OLIVER! (L.A. Ovation Award) and Big River (L.A. Ovation Award). Ryan currently serves as Artistic Director for Deaf Spotlight's theatre program and directed their first two productions, Broken Spokes and God of Carnage. Ryan is also an ASL master and consultant for Seattle's regional theaters for ASL interpreted performances.
About the Creative Team
The Hunchback of Notre Dame showcases scenic design by Stephen Gifford, costumes based on the designs of Marcy Froehlich and coordinated by Cathy Hunt, lighting design by Jared Sayeg, sound design by Kevin Heard, hair and makeup design by Mary Pyanowski Jones and fight direction by Cathan Bordyn.
Additional staff includes Hattie Claire Andres (assistant director), Richard Peacock (assistant choreographer), Tim Symons (associate music director), Chris Reay(assistant lighting designer), Johnny Baca (assistant sound designer) Michael Notestine (assistant costume coordinator), J.R. Welden (production stage manager) andRachael Dorman and Shellie Stone (assistant stage managers).
About the Writers
Alan Menken (Music) has written the stage musicals God Bless You Mr. Rosewater, Attina: Evil Queen of the Galaxy, Real Life Funnies, Little Shop of Horrors, Kicks,The Dream on Royal Street, Beauty and the Beast, A Christmas Carol, Weird Romance, King David, The Little Mermaid, Sister Act, Leap of Faith, Newsies, Aladdin, The Hunchback of Notre Dame, The Apprenticeship of Duddy Kravitz and A Bronx Tale. His film work includes The Little Mermaid, Beauty and the Beast (animated), Newsies,Aladdin, Pocahontas, The Hunchback of Notre Dame, Hercules, The Shaggy Dog, Home on the Range, Enchanted, Tangled, Mirror Mirror and Beauty and the Beast (live action). His television credits include Sesame Street, Lincoln, The Neighbors, Galavant and Tangled: The Series. He has received many awards including the 2012 Tony®, Drama Desk, 8 Oscars®, 11 Grammy® Awards, 7 Golden Globes®, London's Evening Standard and the Olivier and Outer Critics Circle. Other credits include Songwriters Hall of Fame, Billboard's #1 single and album, Disney Legend and a star on Hollywood Walk of Fame. Menken holds Doctorates from NYU and the North Carolina School of the Arts.
Stephen Schwartz (Lyrics) wrote the music and lyrics for the current Broadway hit Wicked and has also contributed music and/or lyrics to Godspell, Pippin, The Magic Show, The Baker's Wife, Working (which he also adapted and directed), Rags and Children of Eden. He collaborated with Leonard Bernstein on the English texts for Bernstein's Mass and wrote the title song for the play and movie Butterflies Are Free. For children, he has written songs for two musicals, Captain Louie and My Son Pinocchio. He has also worked in film, collaborating with Alan Menken on the songs for Disney's Enchanted as well as the animated features Pocahontas and The Hunchback of Notre Dame and writing the songs for the DreamWorks animated feature The Prince of Egypt. His first opera, Séance on a Wet Afternoon, was produced at Opera Santa Barbara and New York City Opera. A book about his career, Defying Gravity, has been released by Applause Books. Schwartz has been inducted into the Theatre Hall of Fame and the Songwriters Hall of Fame and has been given a star on the Hollywood Walk of Fame. Awards include three Academy Awards, four Grammy Awards and a tiny handful of tennis trophies.
Peter Parnell (Book) most recently wrote the new book for the Broadway revival of Lerner and Lane's On A Clear Day You Can See Forever, starring Harry Connick Jr. and Jessie Mueller. His plays include Trumpery (Atlantic Theatre Company); QED starring Alan Alda (Mark Taper Forum, Vivian Beaumont, LCT); a two-part stage adaptation of John Irving's The Cider House Rules (Seattle Rep, Taper, Atlantic, American Theatre Critics Association Award). His other plays, Sorrows of Stephen, The Rise and Rise of Daniel Rocket, Romance Language, Hyde in Hollywood, Flaubert's Latest and An Imaginary Life, were first produced by The Public Theater and at Playwrights Horizons. For television, Parnell was a co-producer for The West Wing (two Emmy Award citations) and a producer for The Guardian, Inconceivable and Six Degrees. His children's book And Tango Makes Three, co-authored with Justin Richardson, was an American Library Association Notable Book, a Henry Bergh Award winner and has either headed or been on the ALA's Top Ten List of Most Banned Books from 2006-2012. Parnell has served on the Literary Award Committee of PEN, and has taught writing at Dartmouth, the New School, Columbia, the Yale School of Drama and currently at NYU. He proudly serves as Vice President of The Dramatists Guild.
ASL PERFORMANCES
Saturday, June 2 at 8:00 PM
Saturday, June 9 at 2:00 PM
Saturday, June 9 at 8:00 PM
Friday, June 15 at 8:00 PM
Sunday, June 17 at 7:00 PM
Friday, June 22 at 8:00 PM
Saturday, June 23 at 8:00 PM
OPEN CAPTIONED PERFORMANCE
Thursday, June 21 at 7:30 PM
AUDIO DESCRIBED PERFORMANCE
Saturday, June 23 at 2:00 PM