Wonder Fools to Bring THE COOLIDGE EFFECT to the Tron This September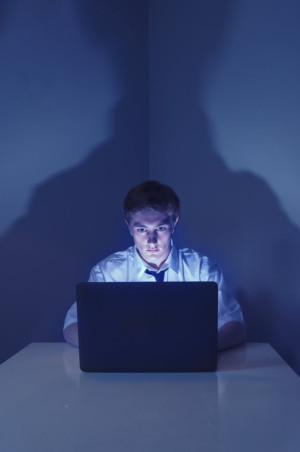 As part of its autumn season, Wonder Fools will be bringing THE COOLIDGE EFFECT to the Tron, written by Jack Nurse and Robbie Gordon, and performed by Robbie Gordon, running 27 Sept - Sat 30 Sept 2017.
Wonder Fools want to talk about porn. Specifically, an open and honest dialogue about sex and the internet - away from silence, taboo and stigmatisation. This is THE COOLIDGE EFFECT.
Blending storytelling, poetry and science, THE COOLIDGE EFFECT examines how pornography affects our mental health, relationships and sexual experiences. First performed as a work-in-progress at the Into the New Festival at Glasgow's Peace Institute in 2016, the show has since travelled to Camden People's Theatre and PULSE Festival, where it received a Special Commendation as part The Suitcase Prize 2017 at the New Wolsey Theatre, Ipswich.
With over 10 million porn videos being watched every day in the UK alone - and this number growing exponentially - pornography is all around us. But as our access to porn increases, so too does our unwillingness to talk about it. The Coolidge Effect seeks to break this taboo. The piece is devised from interviews with porn advocates, addicts, mental health experts and scientists, whose unique stories and viewpoints are told through four intertwining narratives: George, a Gameboy wielding teenage boy; Gary, a father lost in the depths of his own addiction; pioneering porn producer Gail and Retrospect, an ex-porn addict who wants you to understand. Through these characters, the piece hopes to instill a changed perception of addiction in its audiences, challenging the vicious cycle that comes from silence and stigmatisation.
IF YOU GO:
Wonder Fools present
THE COOLIDGE EFFECT
At Changing House, Tron Theatre, 63 Trongate, Glasgow G1 5HB
27 - 30 Sept, 8pm
£8.50 - £11
0141 552 4267 or www.tron.co.uk
Wonder Fools are an emerging theatre company based in Glasgow. Since beginning in 2014, we have taken theatre productions, performance installations and drama workshops to over 2000 people across Scotland, performing in pubs and nightclubs, fields and festivals, not to mention conventional studios and theatres. Wonder Fools are one of the New Diorama Theatre's six Graduate Emerging Companies, and the only one of this group to be based in Scotland. The Coolidge Effect is supported by the Royal Conservatoire of Scotland and the Reward Foundation. For further information, visit www.wonderfools.org.
Tron Theatre has been a major player in Glasgow's cultural scene for over twenty years, producing and receiving an eclectic collection of new writing, reinvigorated contemporary classics, dance, comedy and music. Tron specializes in staging new and contemporary classic theatre across our two theatre spaces-our Main House theatre and the smaller Changing House studio-curating an eclectic programme of work throughout the year which responds to the cultural interests and needs of the diverse community of Glasgow and beyond.
More Hot Stories For You