EDINBURGH 2019: BWW Review: GUY MONTGOMERY: I WAS PART OF THE PROBLEM BEFORE WE WERE TALKING ABOUT IT, Assembly George Square Studios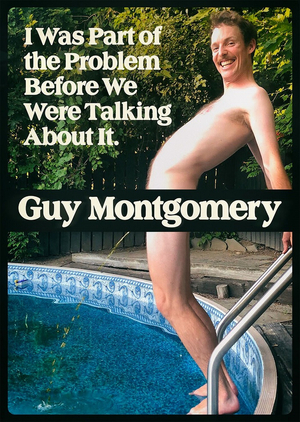 shame /ʃeɪm/
noun
1.1. a painful feeling of humiliation or distress caused by the consciousness of wrong or foolish behaviour.
I Was Part of the Problem Before We Were Talking About It starts with Guy Montgomery encouraging you to write down a moment in your life that you're ashamed of before putting it into the plastic container on the stage.
A little bit of a scary start for us, but it's all anonymous and evens the playing field a bit for the comic. Montgomery is here to examine the situations and learnt behaviours that led him to a moment in Toronto that he's ashamed of and wants to address. That makes it sound way worse than it is, but Montgomery's such a talented storyteller that I want you to wait to hear it from him.
I hasten to add that this is definitely not an hour of Montgomery preaching about how woke he is - absolutely nobody needs that. And it's not wallowing either; he recognises the privilege he's been handed and he actively wants to do something about it.
Mostly, it's a bloody funny hour of comedy. Montgomery manages to mesh his goofy, childlike behaviour (his showing-off dance is an absolute sight to behold - how he did not win over his sister's friend Holly with it, I will simply never know) with this thoughtful, intelligent point about checking your privilege.
There seems to be a real theme at the Fringe this year about recognising that people are complex individuals, and it turns out that, in the right hands, it makes for excellent stand-up. It's also the second show I've seen which references the Kelly Clarkson smash hit "Since U Been Gone".
Finally, I thought it important to confirm that there is absolutely no pissing at any point during Guy's set. Sorry if that's what you came to see. And that, two decades later, I am still enormously ashamed of eating Laura Hind's apple Nutri-Grain bar...
https://tickets.edfringe.com/whats-on/guy-montgomery-i-was-part-of-the-problem-before-we-were-talking-about-it
Related Articles