EDINBURGH 2018: BWW Interview: Tom Lenk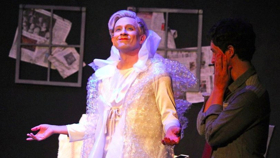 BWW caught up with Tom Lenk to chat about performing in Tilda Swinton Answers An Ad On Craigslist at the 2018 Edinburgh Festival Fringe.
Tell us a bit about Tilda Swinton Answers An Ad On Craiglist.
It's best described as an absurd and hilarious play in which Tilda Swinton is a modern day Mary Poppins who swoops in to change a depressed gay man's life.
It is a comedy but it does follow a narrative- it's not just completely random.
We are saving seats for Tilda Swinton every night of the run.
Have you issued a formal invitation to her? I'm assuming she's not on Twitter.
No, she's not on any of the things.
She has friends that have come to see the show in LA. A producer friend of hers came and said he enjoyed it. Also, some friends that were in movies with her and they all loved it. I think she would enjoy it and I think that she would have a sense of humour about it.
I do have this dream that she invites us to her castle to do a command performance. Or that she buys all the tickets to one show and just sits there and doesn't laugh at all but at the end, she's like "I loved it!". I have thought of many scenarios.
Was the show based around Tilda Swinton or did Byron (Lane, the writer of the play) have the idea for an actress and then decide to put Tilda in it?
No, Byron was genuinely just a fan of her work. He has a one-eyed dog named Tilda Swinton because she's blonde and beautiful and mysterious. He had written a couple of others things and he's an actor as well obviously because he plays Walt in the show. He just wrote this weird play and last year he sent it to me to ask if I wanted to do a reading of it and I got three pages in and said yes.
To me, there are so many parallels to the Mary Poppins story and that just made me laugh so hard. It turned out Byron wasn't even aware it paralleled Mary Poppins and he hasn't even seen it so we're still trying to figure out how he absorbed that. It wasn't until last year that a reviewer pointed out that the characters name is Walt and I didn't even notice that.
I just thought it was so funny and it worked out that this theatre I knew in LA had cancelled a show so I thought they might have availability. It's just been so fun and audiences love it and I love doing it. You get to do everything because its funny and sad.
Why bring it to Edinburgh?
Our friend Jane who plays the female characters in the show- other than me- was like "we have to bring it to Edinburgh!". I was here like six or seven years ago with my one-man show and did it one night only. I really regretted not doing the whole month because once I got here I was like "oh man this is so cool".
When Jane started talking about it I started thinking it would just be such a great fit here because of the absurd nature of the show and the writing. Also because Tilda is from sort of close to here audiences will know who she is.
A friend of ours referred us to someone who put us in touch with someone else and it all just worked out.
Which Lenk Lewk For Less has been most popular online and which has been your favourite?
A few of them have gone really viral but the one I just put up has gone up to like 12 million views today and that's the JLo jean boots.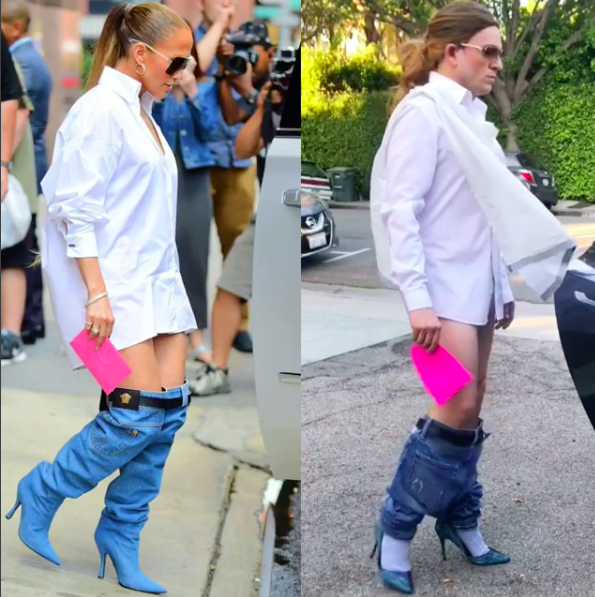 Credit @tommylenk Instagram
They're all fun. I love doing the Teen Witch ones with my friend Robin. One of the first things I did with Eliza Dushku the which was the Huntsman and Snow White thing which was really fun.
The most fun one to make recently was the one I did for Tilda making the dress out of our flyers. It was maybe the second time I have made an original because I'm usually working off another design. It was super fun to just sort of freestyle and see what happens if I just start glueing stuff together.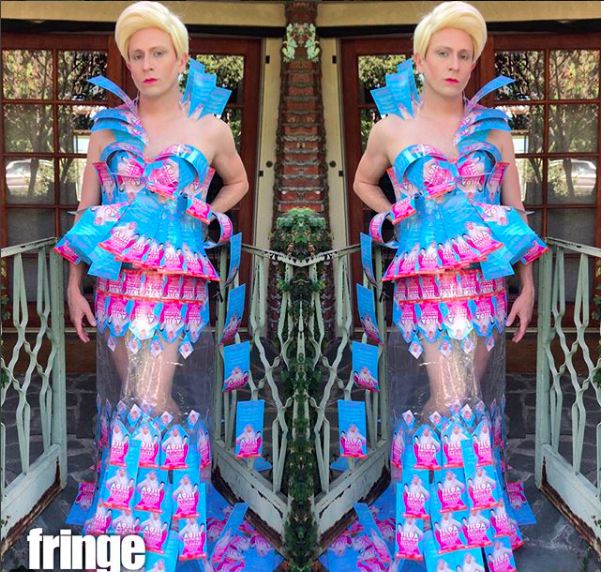 Credit @tommylenk Instagram
It's a good thing to put out on Instagram which is a format which is like, everyone is trying to project the most perfect version of themselves and curate it. You look at these peoples feed and its like, do they have photographers following them around every day?
I like to use that format for this sort of synthetic perfection. I like to put things out that aren't perfect. They're usually thrown together and I don't really spend a long time making them.
The most recent convention I did I went and did a talk called The Lewk For Less and I just wanted to talk about creativity and how to keep making things. It was just really cool and a completely separate audience to people that know my acting work.
Acne studios which is a high-end fashion forward fancy brand hired me to make fun of them and I got to choose five outfits from their fall runway campaign. They used that as their digital campaign but also printed cardboard cutouts of me and put them in their stores worldwide. They used one of me in my crazy garbage outfit and then me in the real outfit. They sent me to Paris to their fashion show last year.
The Tilda bubble wrap dress looks really fragile- have you brought backups?
The first few nights my director Tom went on as me so he made that one. The bubble wrap takes up too much space so we don't travel with it. We just got some bubble wrap and made it here and I made some adjustments on it. Once that one dies we can do a new one. It'll fall apart at some point.
Are there any plans to tour Tilda anywhere else?
We're not touring but people keep saying to come to the Adelaide Fringe or come to the Melbourne Fringe and obviously if producers want to bring us out then great! We raised money in LA doing this show before we left which paid for our housing. Because I've been here before I know the average show here loses so much money and they're really doing it for the sake of doing it so you have to be smart about it.
It's just so much fun to do and I love my cast and we all get along so great. I was friends with Byron and Jane and my director Tom and then Byron was friends with Mark who plays the other characters in the show. It's really fun because it feels like we're in college again. it's a really great adventure and it's so nice that people are responding to it.
In having the Instagram thing, which was a total accident it has been a great tool in being able to promote this and it really ties in with what I'm doing with the show.
It's been so fun because Byron is obviously such a huge fan of her work. And I've really loved everything I've seen her in.
I think its interesting that she's one of these of these actors who is completely different in everything she does. You just never know what Tilda Swinton is going to be in a role and that's why I love toying with the masculine and feminine. Also, there's a lot of both Eddie and Patsy from Ab Fab because I watch that a lot. It's just fun to play with all of those.
Tilda Swinton Answers An Ad on Craigslist runs at the Assembly George Square Theatre until August 26th.
Related Articles