EDINBURGH 2017: BWW Q&A- Thinking Drinkers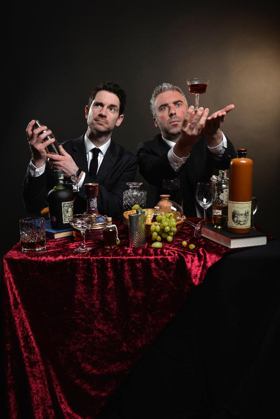 Tell us a bit about History of Alcohol.
In previous shows we've used people and places to celebrate certain drinks, but this show is all about how drink has influenced our history. As alcohol experts, we will definitely prove that alcohol has influenced everything that has ever happened. Ever. So we'll take the audience through a time-travelling adventure of of mankind's most monumental moments in history and show how alcohol played it's part in making us who we are today.
The natural phenomenon of the creation of alcohol (the fermenting of sugars on fruit) is one of the most important chemical reactions in the history of our planet, and, as with fire, when man came to understand this, drinking became a foundation for everything we did - from religious worship, to the writing of laws and birth of democracy, from scientific endeavour to artistic expression and indeed learning to have a good time.
In our show, we're going to celebrate this and we're going to do that while wearing some stupid outfits and dropping some puns, while providing audiences with the sort of pub ammo we all crave when we're with friends. And as we do it, each audience member is going to be able to sample five free drinks that further endorse alcohol's epic role in history.
What kind of free drinks?
So yes, to re-iterated, every member of the audience gets a sample of five free drinks. These are likely to include a bit of beer and four sips of neat spirits. The spirits this year will definitely include Adnams Copper House Gin, Talisker single malt whisky and Diplomatico rum, so this it properly high end gear. We've selected them based on their role in history, so they all have a context in the show. But we also wanted people to try them neat and understand them consequently appreciate them a little more. The rum for example actually tastes like chocolate, most people would say no to a neat rum, but when you learn about the social context and the affection and dedication applied to producing this spirit, you start to approach it in a more discerning way.
It's our view that if we have a healthy relationship with alcohol, we should all be able to enjoy it without a sense of shame. As a society we seem to be slowly chipping away at the things that make lie a little easier, we should remember that there's no shame in enjoying a drink, it has played a fundamental role in so many important moments in human history, and frankly, having a drink is moment to stop thinking about all the other nonsense and do something for ourselves.

What sets it apart from other shows at the Fringe?
This is our seventh Fringe and in that time we'd like to think we've gone from 'that free drinks show', to a show that educates and makes people laugh, and gives you free drinks. It's supposed to be an hour of escapism and fun, we want people to laugh, but after nearly two decades as drinks writers we know a lot of stuff about drink and people enjoy that element too.
It's remarkable to learn how much of alcohol's history is linked to ours, so we like bringing up weird facts. In ancient India for example, they enjoyed honey beer, or mead, which they believed aided the process of baby making. On the night of a wedding a bride's father gave the groom a lunar month supply of this honey beer in the hope he would conceive an heir. Lunar month, honey beer... and this is where we get the term 'honey moon'.
There is an endless supply of these stories, put them in a sketch with two mates wearing unusual outfits, delivering terrible puns and giving you a free drink, and it's a recipe for a show.

Having had six sell out runs previously at the festival are you feeling any pressure?
Yes. Always. It makes us feel sick. The sort of sick you do in your mouth on a busy commuter train but have to swallow back down so no one notices. Not least since we have audiences in who have seen it every year, from the 60-seater in the freight container in year one to the 200-seater Ermintrude lecture theatre at the Med Quad this year. They come with expectations... But we'd be complete arseholes if we were complaining about this.
The Fringe is flippin' hard, everyone goes into it with pressure, and it's not like we're previous award-winners with a difficult second album - those guys must be absolutely shitting their pants. Besides, it's brilliant fun. We get to jump around on stage in our underpants while drinking and people actually clap at us - few people in life can argue they've cheated the system quite as effectively.
Who would you recommend comes to see you?
The show is for anyone who enjoys a drink and wants a moment in life where they don't have to feel bad about it. So anyone from 18 up. If you like comedy, we do that; if you like infotainment in the form pub ammo to share with friends, we do that; if you want to see two grown, out of shape men wear weird costumes, we do that; if you want to learn about five interesting drinks but ignore us for the other carry on, we do that. It's a show for everyone, in an hour we tick a lot of boxes and for a remarkably cheap ticket price.
Timings and ticket information for The Thinking Drinkers: History of Alcohol are available on the edfringe website.
Photo Credit: Steve Ullathorne