EDINBURGH 2017: BWW Q&A- Naz Osmanoglu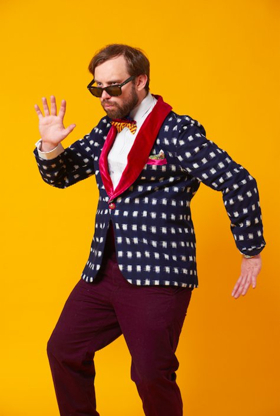 Tell us a bit about The Naz Show.
It's a character show with a sketchy feel. I always loved retro American talk shows with sketches and infomercials and bands and lots of acts and I'm trying to do that with a one man show.
Having done ten festivals already with WitTank how does it feel going it alone?
Strange. We basically all used to live together during writing and rehearsals before the Fringe. Whilst having people around you constantly certainly helped with focus it was exhausting. The run up to the fringe has been different and perhaps I've tried things I wouldn't have if I was in a group. It feels more challenging and sometimes limiting as writing dialogue for one is hard, but it feels like its more creative. Also now all I do is talk to myself on my own. So that's weird.
What sets it apart from other shows at the Fringe?
I feel its like it's a blend of stand up, character and sketch comedy: a strange conglomeration of all but with just one sweaty Turkish guy with a beard. And a dinner jacket. There's nothing else like it.
Who would you recommend comes to see you?
Ivo Graham. Matt Winning. Jack Barry. Tom Houghton. Kieran Boyd. Luke Kempner And ME!
Are there any other shows you're hoping to catch at the festival?
I want to try and soak up as many sketch shows as possible as I miss it. That's my jam (never ever used that phrase before in my life).
Timings and ticket information for The Naz Show are available on the edfringe website.