North Coast Extends Stay at Florida Studio Theatre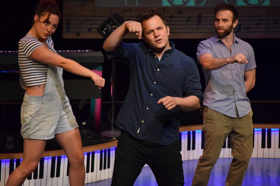 Florida Studio Theatre is proud to announce that New York City's premier hip-hop comedy team, North Coast, is extending their stay in Sarasota following the 10th Anniversary Sarasota Improv Festival. After the three-day Festival (July 12, 13, and 14) ends, North Coast will be in residence at FST for an additional week, leading workshops and delivering special encore performances on July 20 and 21 in FST's Bowne's Lab Theatre at 7:30 pm each night. Tickets for these performances are $15 each and can be purchased at www.floridastudiotheatre.org or (941) 366-9000. Workshops are $35 and are limited to 16 people. Those interested in discovering their own creative spontaneity can register for workshops by calling Pamela Smith, Education Administrator, at (941) 366-1350.
Named one of the "Top Ten Best Comedy Shows" by Time Out New York, North Coast is a favorite among festivalgoers. The group is a New York Times Critics Pick and this year marks North Coast's fifth year at the Sarasota Improv Festival. The troupe's members are known for their ability to smoothly blend freestyle rap with long-form improv. The group blurs the lines of comedy show and concert, attracting fans of comedy, hip-hop, and theatre fans alike. Inspired by a single audience suggestion, North Coast crafts one-of-a-kind shows on the spot, featuring full-blown hip-hop songs with backup performed by one of the group's impressive and internationally-ranked beat boxers. Kaila Mullady, one of North Coast's beatboxers, is the 2015 World Beatbox Champion, American Vice Beatbox Champion, and the three-time, reigning Beatrhyme Champion.
"What sets North Coast apart is that they are the original hip-hop improv group. Their encyclopedic knowledge of hip-hop and their ability to channel its various styles is awesome," explains FST's Director of Improvisation, Will Luera. "Their recent foray into Broadway hip-hop as defined by Lin-Manuel Miranda is another example of their ability to replicate this complex genre of music."
"It is an honor and a privilege to be the Resident Artist for the 10th Anniversary Sarasota Improv Festival," says North Coast. "Year after year, Will Luera and Rebecca Hopkins curate a spectacular line-up of improv comedy from all over the world. Sarasota has some of the most energizing and loyal audiences around and we are beyond thrilled to be back for the Festival We love sharing our art and spunk with this beautiful community."
On Friday, July 20, North Coast will perform their acclaimed improvised historical hip-hopera, Anybody. In Anybody, the group takes a historical figure-like Nikola Tesla, Ida B. Wells, or Louisa May Alcott-who is suggested by the audience and performs a full, historically accurate improv set about the suggested person. Mike Pesca from NPR's The Slate, said, "North Coast's new musical show [Anybody] simultaneously makes you marvel at the genius of North Coast, and question the work ethic of actual Broadway composers who swear they're not turning in the first draft."
Representing North Coast at the Festival this year are Richie Alfson, Michael Crisol, Michael Poole, Megan Reilly, and Rachel Rosenthal. Alfson co-founded Left Right TIM, an improv comedy team in Boulder, Colorado, and has studied at the Upright Citizens Brigade Theater in New York City. Crisol, one of North Coast's talented beatboxers, placed in the Top 8 of the 2017 American Beatbox Championships and of the 2017 East Coast Beatbox Battle. Poole has studied at the Upright Citizens Brigade Theater since 2015, and performs and tours with several different shows, including "Improvised Gilmore Girls" and "No Chill." Reilly is a rapper, actor and comedian who tours with multiple improv groups-North Coast, Baby Wants Candy, and Broadway's Next Hit Musical. With over 17 years of experience, Rosenthal is an improviser and instructor who has toured nationally with Big Bang Improv and ImprovBoston.
North Coast has been a pioneer in long-form hip-hop improv for almost a decade. Workshop participants will learn from North Coast artists about musical improv basics, freestyling, beatboxing, and how to identify the game within a scene. There are workshops available for beginners who are interested in dipping their toe in the exciting, inventive world of improv, as well as workshops available for more advanced participants that want to dive deeper into rhythm, rhyme, and musical spontaneity.
Encore performances of Anybody and North Coast's classic show will take place on July 20 and July 21 in FST's Bowne's Lab at 7:30pm. Tickets are available for $15 and can be purchased by calling the Box Office at (941) 366-9000 or at www.floridastudiotheatre.org. Single workshops are $35.To enroll, please call Pamela Smith, Education Administrator, at 941-366-1350.
More Hot Stories For You