BWW Review: UNCHAINED MELODIES at Florida Studio Theatre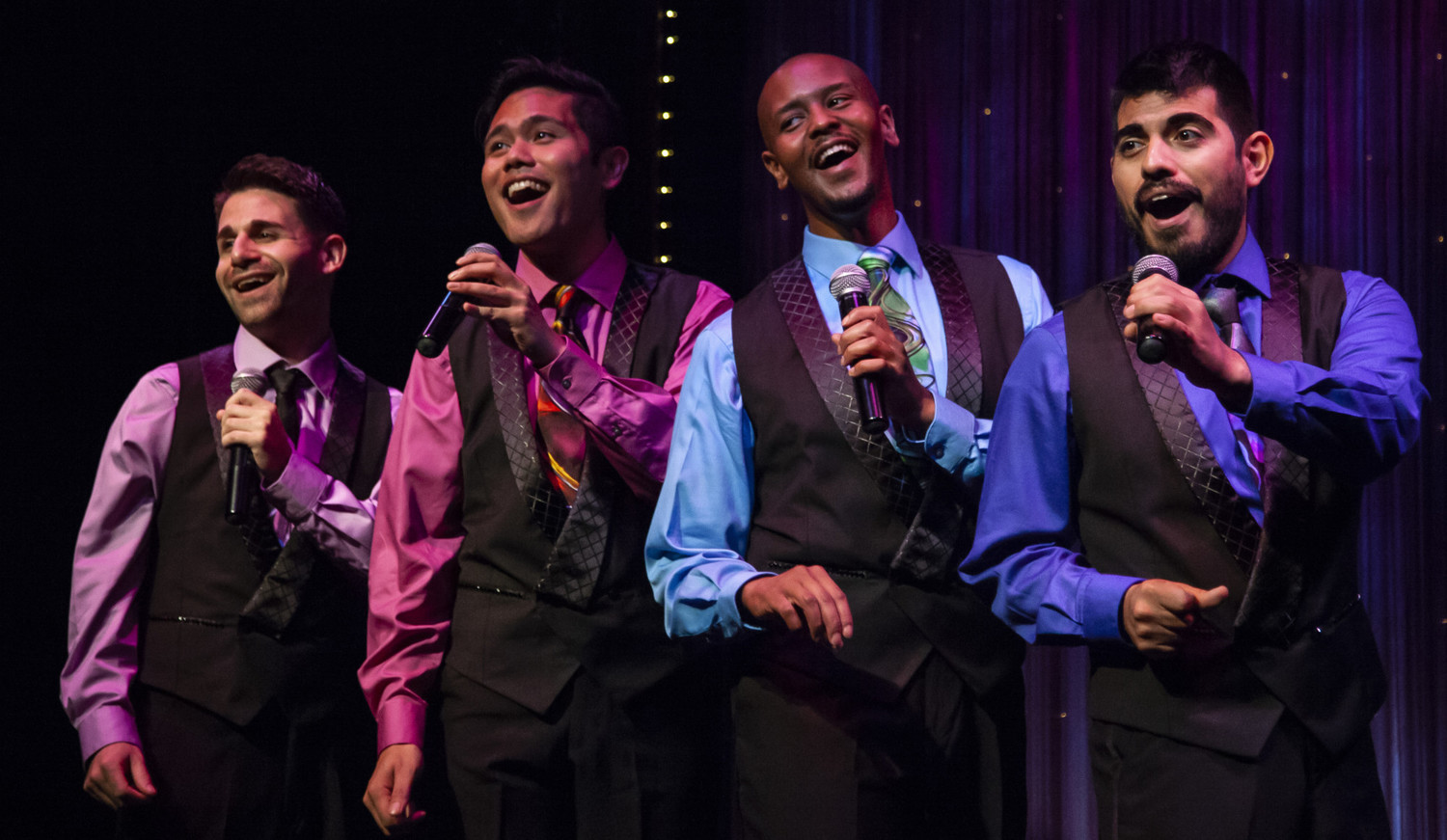 Florida Studio Theatre opened their 24th Winter Cabaret season with the Richard and Rebecca Hopkins production of Unchained Melodies, a tribute to male vintage harmony groups who ignited the urban doo-wop blend of cultures of the 40's and birthed some of the best tunes of the 50s and 60s.
Vocalists, second tenor Nick Anastasia, tenor Micah Jeremiah Mims, baritone Nathaniel P. Claridad and bass David Marmanillo came prepared to rock our socks off. And they did! This fast-paced jog down memory lane was jammed packed with over 30 iconic songs, history lessons about many of the singers and songwriters, and authentic choreography. These gentlemen captured the tight ensemble harmonies of days gone by and also proved their caliber as soloists as each were showcased with solos and song sections that highlighted their vocal prowess. The interaction between the guys during and after songs sets was amusing to watch. They genuinely had a good time with each other and we had fun watching them.
Some of the melodies we enjoyed, during the first act were "Blue Moon", "The Great Pretender", "Earth Angel", "Sh-Boom", "In the Still of the Night", "Save the Last Dance","Teenager In Love" and "Shop Around". The audience warmed up singing along during some of the first act and by the second act they were ready to jump in on "The Lion Sleeps Tonight". This song particularly had the best and most playful choreography, taking full advantage of the jungle theme. An animated version of "Along Came Jones" kept the lively beat going with cowboy hats and a stick pony. Favorites during the second act were "Walk Like a Man", "On Broadway", "Under the Boardwalk", God Only Knows", and of course "Unchained Melody".
Honorable mention goes to Micah Jeremiah Mim's heartfelt and tearful rendition of "Unchained Melody". There was not a dry eye in the house. He had someone very special in mind in which he was focused. He took himself to that quiet place and opened his heart. And we went along on that journey and watched in awe.
Beautiful arrangements and piano accompaniment by the very gifted Jim Prosser were delightful. He sounded like he had a whole band behind him. He sang along with the guys and extended the excitement to his side of the stage with his cheerful expressions. Director Catherine Randazzo ran a tight and lively ship with a lot of songs to deliver. She brilliantly gave her cast some room to have fun with well-placed wisecracks and antics. Choreographer Savannah Holds accurately captured the smooth moves of the 50's and 60's, and kept the dance moves entertaining and often amusing. Costume designed Susan Angermann dressed the guys in sharp tuxedos with blue jackets and sparkly black bow ties for the first half of the program. Returning for the second half, the guys brought a cool vibe to the stage in loose ties, colored shirts, and vests. The entire cast and crew made Unchained Melodies a deliciously engaging show.
Unchained Melodies runs through February 3, 2019 in Florida Studio Theatre's Court Cabaret, where you can also grab a lovely dinner and fine libations. For more information visit www.floridastudiotheatre.org.