Review Roundup: A DOLLS HOUSE PART 2 at Berkeley Rep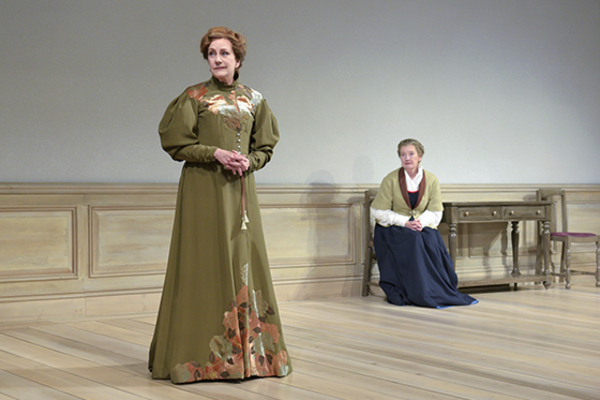 Berkeley Repertory Theatre presents A Doll's House, Part 2, written by Lucas Hnath and directed by Les Waters, which continues through Sunday, October 21.
Who's that knocking on the door? Nora is back in this audacious Tony Award-nominated comedy. It's been 15 years since she slammed that same door on her marriage and children in the revolutionary final scene of Ibsen's signature play. Now a successful yet scandalous writer, she's being blackmailed by a judge and needs her former husband's help. But her family has a few grievances they need to air first.
The creative team includes Andrew Boyce (scenic designer), Annie Smart(costume designer), Yi Zhao (lighting designer), and James Ballen (sound designer).
For the 2018-19 season, Berkeley Rep recognizes BART, Peet's Coffee, and Wells Fargo, who have generously renewed their commitment as Berkeley Rep's official season sponsors. Berkeley Rep is also delighted to have Michael and Sue Steinberg, Jack and Betty Schafer, and The Strauch Kulhanjian Family on board as season sponsors. A Doll's House, Part 2 is made possible by lead sponsors The Bernard Osher Foundation and Bruce Golden and Michelle Mercer and executive sponsors Bill Falik and Diana Cohen.
Berkeley Repertory Theatre has grown from a storefront stage to an international leader in innovative theatre. Known for its ambition, relevance, and excellence, as well as its adventurous audience, the nonprofit has provided a welcoming home for emerging and established artists since 1968. Over 5.5 million people have enjoyed nearly 500 shows at Berkeley Rep, which have gone on to win five Tony Awards, seven Obie Awards, nine Drama Desk Awards, one Grammy Award, and many other honors. Berkeley Rep received the Tony Award for Outstanding Regional Theatre in 1997. Its School of Theatre engages and educates some 20,000 people a year and helps build the audiences of tomorrow with its nationally recognized teen programs. Berkeley Rep's bustling facilities - which also include the 400-seat Peet's Theatre, the 600-seat Roda Theatre, and a spacious campus in West Berkeley - are helping revitalize a renowned city. Be a Rep. Learn more at berkeleyrep.org.
Let's see what the critics have to say!
Karen D'Souza, Mercury News: While much of the play's wit seems to stem from theatergoers' familiarity with the original narrative, this is no winking gimmick of a drama. Indeed, Waters never leans into the play's comic moments, instead forcing us to grapple with the heartache that plagues most of these characters. Every interaction here, even a lighter bit of repartee, seems tinged by an unshakable sense of loss. The nakedness of the family's pain is the core of the Tony-nominated piece.
David Joh Chavez, Bay Area Plays: Long one of my absolute favorite directors, so many of the play's signature moments in this Les Waters-directed show were about the connection between the cast of four on Andrew Boyce's effectively static set. Or it can be argued, the lack of connection. This play's brilliance is in the way it drives each character's perspective, advocates evenly for each of them, and shows Nora's choice and how it impacted the others she left behind for the past 15 years.
Kedar K. Adour, Theatre World im2: The cast gave each of their characters verisimilitude that would make Hnath proud. Mary Beth Fisher's Nora radiates strength without ever questioning her initial decision to leave 15 years ago leaving the doll image behind. Nancy E. Carroll creates an Anne Marie not only with her strong verbal attacks but with the use of her facial muscles to express doubt, anger and strength. Nikki Massoud as Emmy brought a breath of youth's optimism into the play. John Judd's as Torvald was a marvel of attempting to be fair, yet obviously deeply hurt for Nora's lack of understanding.
Sasha Paulsen, Napa Valley Register: Perhaps the most poignant moments, however, occur when Nora proclaims that the future will be entirely different with no marriage, free love and freedom for all. More than a century after Nora is making these audacious predictions, if you set her proud words against current events, you'd have to say, "Not quite yet, Nora. Not yet."
Chad Jones, Theater Dogs: Waters deftly balances humor and drama, though the play ends up feeling more like a drama, especially where Nora and Torvald are concerned. A Doll's House, Part 2 is thought provoking and incredibly entertaining. It's also substantial in that it sits with you afterward. You can leave the doll's house, but it doesn't leave you.