Click Here for More Articles on SHAKESPEARE SPOTLIGHT
Photos: First Look at Cal Shakes' A MIDSUMMER NIGHT'S DREAM
California Shakespeare Theater continues its 2014 season with Shakespeare's comic exploration of love in all its glory and madness, A Midsummer Night's Dream, directed by Shana Cooper, with movement by Erika Chong Shuch. A Midsummer Night's Dream plays at the Bruns Amphitheater now through September 28. BroadwayWorld has a first look at the cast in action below!
Ms. Cooper, whose previous Cal Shakes credits include boldly imagined productions of Taming of the Shrew and last season's Romeo and Juliet, infuses Dream with an exuberant physical life in collaboration with choreographer, Erika Chong Shuch, who also plays the roles of Titania and Hippolyta.
The company of A Midsummer Night's Dream includes: Danny Scheie, fresh from his triumphant performance as the Dromios in The Comedy of Errors, as Puck; Margo Hall (last seen as Lena in A Raisin in the Sun) as Bottom; Daisuke Tsuji (whose many Oregon Shakespeare Festival credits include the Fool in 2013's King Lear), making his company debut as Oberon and Theseus; and Erika Chong Shuch (whose many credits at Cal Shakes include the movement for and the role of Ariel in 2012's The Tempest) as Titania and Hippolyta. The young lovers are played by: Tristan Cunningham and Lauren English as Hermia and Helena; and Dan Clegg and Nicholas Pelczar as Lysander and Demetrius. In addition to Ms. Hall, the Mechanicals are played by: James Carpenter (last seen as Alfred Doolittle in Pygmalion) as Starveling; Catherine Castellanos (last seen as Mrs. Pearce in Pygmalion) as Snout; Craig Marker(who returns to Cal Shakes for the first time since 2010's Macbeth) as Flute; and Liam Vincent (who appeared in both Raisin in the Sun and The Comedy of Errors this season) as Peter Quince; with dancers Travis Rowland and Parker Murphy appearing, along with other members of the acting company, as the Fairies.
The creative team for A Midsummer Night's Dream includes set designer Nina Ball, whose designs have been seen throughout the Bay Area, including this season's The Comedy of Errors; costume designer Katherine O'Neill, founding member of New House Theatre, and costume designer for Cal Shakes' 2011 production of The Taming of the Shrew; lighting designer Burke Brown; whose work for theaters, dance and opera companies has been seen around the country and internationally, including The Joseph Papp Public Theater, Cleveland Playhouse, Asolo Rep, the Baryshnikov Arts Center, Abbey Theatre (Dublin), Alvin Ailey, and Yale Baroque Opera Company; and sound designer Paul James Prendergast, who designed Cal Shakes' Romeo and Juliet and King Lear, and has provided numerous soundscapes at Oregon Shakespeare Festival, the Guthrie, and Seattle Rep, among others.
Single tickets for A Midsummer Night's Dream range from $20 to $72, with discounts available for seniors, students, military families, persons age 30 and under, and groups. Prices, dates, titles, and artists are subject to change. For information or to charge tickets by phone with VISA, MasterCard, or American Express, call the Cal Shakes Box Office at 510.548.9666. Additional information and online ticketing are available at www.calshakes.org.
Photo Credit: Kevin Berne

Daisuke Tsuji as Oberon and Danny Scheie as Puck

(clockwise from left) Tristan Cunningham as Hermia, Danny Scheie as Puck, Daisuke Tsuji as Oberon, and Nicholas Pelczar as Demetrius

Danny Scheie as Puck, Daisuke Tsuji as Oberon, Tristan Cunningham as Hermia, and Nicholas Pelczar as Demetrius

Danny Scheie as Puck, Nicholas Pelczar as Demetrius, Lauren English as Helena, Dan Clegg as Lysander, and Daisuke Tsuji as Oberon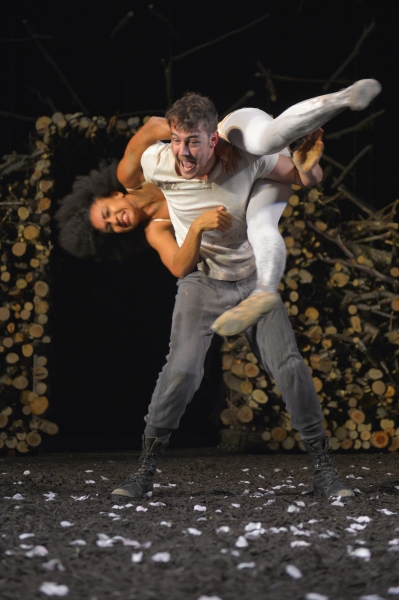 Tristan Cunningham as Hermia and Dan Clegg as Lysander

Danny Scheie as Puck, Lauren English as Helena, Tristan Cunningham as Hermia, and Nicholas Pelczar as Demetrius

Erika Chong Shuch as Titania and Margo Hall as Bottom and (rear) Daisuke Tsuji as Oberon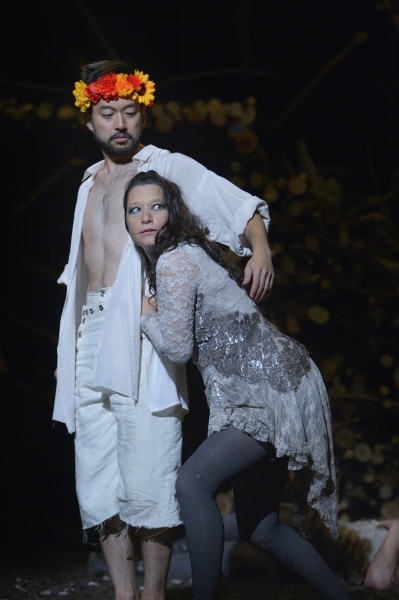 Daisuke Tsuji as Oberon and Erika Chong Shuch as Titania

Erika Chong Shuch as Titania and Daisuke Tsuji as Oberon

Margo Hall as Bottom (playing Pyramus), Nicholas Pelczar as Demetrius, and Lauren English as Helena