Loretta Greco Named Recipient of Zelda Fichandler Award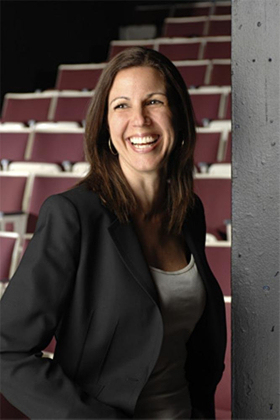 Stage Directors and Choreographers Foundation (SDCF) will present the Zelda Fichandler Award to Loretta Greco, Artistic Director of the Magic Theatre, at a special ceremony hosted by Larry Goldfarb at Villa Taverna in San Francisco on January 31. The award was originally presented at an event in New York City on November 11, 2018 and accepted by Taylor Mac on Greco's behalf.
"The Magic Theatre Board of Directors felt that an honor this important should be celebrated with Loretta's peers in San Francisco," states Goldfarb. "We are thrilled that Pam MacKinnon, SDC President, and Laura Penn, SDC Executive Director, among others, will be in our great city to present Loretta with the Zelda Fichandler Award." Other guests at the event will include Ian Atlas, Sandra Hess, Kathryn Kersey, John Marx, Bennett and Molly Young, Michael John Garcés, Jonathan Moscone, and Eric Ting, to name a few.
Loretta Greco, has served as the Artistic Director of Magic Theatre in San Francisco since 2008, where she has championed and premiered new work from Taylor Mac, Mfoniso Udofia, Jessica Hagedorn, Han Ong, Barbara Hammond, Luis Alfaro, John Kolvenbach, Linda McLean, Lloyd Suh, Theresa Rebeck, Sharr White, Polly Penn, Victor Lodato, Anna Ziegler, Richard Montoya, Penelope Skinner, and Octavio Solis. Her directing credits include The Story, Lackawanna Blues, and Two Sisters and a Piano at The Public Theater in New York and Sweatand Blackbird for ACT in San Francisco.
The Fichandler Award recognizes directors and choreographers who are in the center of their creative lives, demonstrate great accomplishment to-date and promise for the future, and who have made prominent achievements in the field with singular creativity and artistry and deep investment in a particular community or region. The Award is given annually within rotating regions of the U.S. This year's finalists Michael John Garcés of Cornerstone Theatre Company (Los Angeles, CA), Ron May of Stray Cat Theatre (Phoenix, AZ), and Art Rotch of Perseverance Theatre (Douglas, AK) are also be recognized for their contributions to the field. The first recipient of the Fichandler Award was Jonathan Moscone in 2009.
SDCF Board President, Sheldon Epps said in a statement, "This award aims to highlight the important work of the Foundation, which is to serve directors and choreographers at every stage of career while celebrating the craft, artistry, and dedication of the winner and finalists. On behalf of the SDCF Board, I thank our colleagues on the Fichandler Committee for their service. I join them in congratulating Loretta, as well as the distinguished finalists."
Zelda Fichandler (1924-2016) dedicated her early career to the establishment of America's regional theatre movement. In 1950 she founded Washington D.C.'s Arena Stage and in 1968 she produced The Great White Hope, which became the first production to transfer from a regional theatre to Broadway, winning the Tony and the Pulitzer Prize, and launching the careers of James Earl Jones and Jane Alexander. Her production of Inherit the Wind toured Soviet St. Petersburg and Moscow and Arena Stage was the first American theatre company sponsored by the State Department to do so. Like many other regional theatres afterward, Arena Stage cultivated an evolving but resident company over the decades that included some of America's best actors.
Founded in 1965, Stage Directors and Choreographers Foundation exists to foster, promote, and develop the creativity and craft of stage directors and choreographers. SDC Foundation's mission is to create access to the field, to connect artists, and to honor the theatrical legacy of these artists. The centrality of the director's/choreographer's role in theatre and the impact that they have on other artists' careers-from playwrights to designers to actors-makes SDC Foundation's services essential to the theatre industry's health and continued vitality. www.sdcfoundation.org