Click Here for More Articles on FOOD & WINE
Get to know THE FRUITGUYS and CEO/Founder Chris Mittelstaedt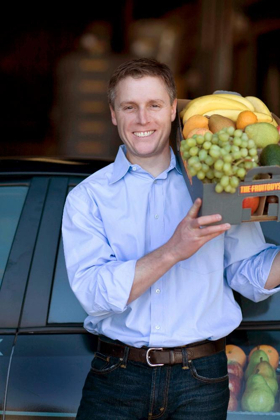 Some business ideas are just plain genius. That's what we think about The FruitGuys. Many offices and places of business strive to have healthy employees and this is a company that helps make it happen by directly delivering fruit and smart snacking options. Partnering with local farms, The FruitGuys always have the freshest fruit readily available. And your delivery arrives perfectly packed and ready to eat.
We had the opportunity to chat with The FruitGuys Founder and CEO Chris Mittelstaedt. Mittelstaedt has a B.S. in business from American University and was the captain of the University's Rugby team. His entrepreneurial spirit was already evident in college as he had franchised the business, College Pro Painters and ran it successfully during college breaks and summers. Mittelstaedt has been responsible for The FruitGuys vision and the company's growth since founding it in his one-bedroom apartment in San Francisco in 1998. And he currently lives in San Francisco with his wife, three children, two dogs, and one cat.
We asked Mittelstaedt if he was always a fruit lover. "As a kid, sure. I grew up in the western area of Philadelphia and sold vegetables that came from our garden." He said that the fresh smells of cucumbers and bell peppers still bring back good childhood memories.
We wanted to know how Mittelstaedt came up with the distinctive idea for The FruitGuys. He told us that he wanted to start his own business when he was working in the San Francisco area and he and his wife were expecting their first child. After talking to a friend, Mittelstaedt realized that most offices did not provide healthy snacking options for their employees. The idea of bringing fresh fruit to the workplace was both inventive and unique.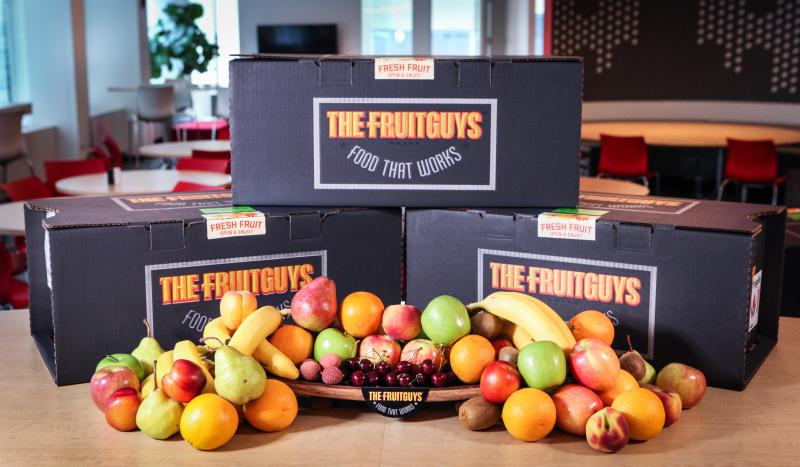 Now that The FruitGuys has been operating for nearly 20 years, Mittelstaedt keeps up with the challenges of a growing business. He stated, "I am constantly learning. We now have over 160 employees, and I want to be able to always lead the staff and keep the business dynamic. We'd like The FruitGuys to continue to be a strong, stable business ready to adjust to how is the world changing. I think about that all the time, how our business is going to have to expand and adapt."
You will feel good about doing business with The FruitGuys. Mittelstaedt has placed an emphasis on giving back to the communities where they operate by starting a Community Fund and the GoodWorks program to support sustainable agriculture and small farms, and to fight hunger in America. GoodWorks grants up to $5,000 to small farms and agriculture nonprofits and makes weekly donations of leftover fruit to food banks, schools, homeless shelters and other nonprofits across the nation. You can find more information about GoodWorks here: https://fruitguys.com/about-us/goodworks and the Community Fund here: https://fruitguys.com/about-us/fruit-guys-community-fund.
We are impressed with the fact that The FruitGuys have always made altruism a priority. Even before the company's charities were formalized, they would go downtown in San Francisco and give away their left over fruit to people, helping the hungry one by one. Middlestaedt stated, "I believe in my core that our entire civilization relies on being kind to each other and helping people in need. If we do not have philanthropy, we do not help others. I feel blessed that we can share with people."
We also like the variety of the well-chosen snacks food items that The FruitGuys provide including items that are organic, gluten free, low calorie, high protein and high fiber. They include The FruitGuys Fruit & Nut Medley, The FruitGuys Just Almonds, Chomperz Crunchy Seaweed Chips, JiMMYBAR! Clean Snack Bars, Dang Sticky-Rice Chips, Banana Organic Peanut Butter Chewy Banana Bites, Jackson's Honest Sea Salt and Vinegar Potato Chips, Oloves Natural Green Pitted Olives, Wild Zora The Original Meat & Veggie Bars, Green Plate Foods Natural Smart Cookies, and more.
Make the right choice for you, your employees, and friends and order fresh, delicious fruit and smart snacks from The FruitGuys. They also have great gifting options.
For more information about The FruitGuys, to make an order, or to sign up for their newsletter, visit https://fruitguys.com/. You can also call them at 877.601.3126 or e-mail them at info@fruitguys.com.
Follow The FruitGuys on social media.
Facebook: The FruitGuys
Twitter and Instagram @FruitGuys.
The FruitGuys are also on YouTube.
Photo Credits: Courtesy of The FruitGuys
Related Articles