Garrett Clayton Brings IT TAKES THREE to Feinstein's at the Nikko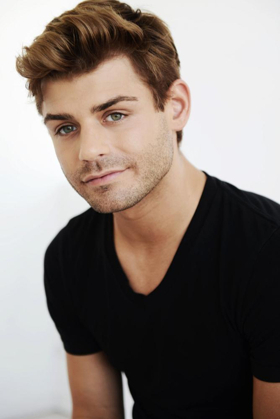 Triple threat Garrett Clayton will present a celebratory evening of cabaret, music, and dancing with his all-new show, It Takes Three, at Feinstein's at the Nikko on Friday, June 21 (8 p.m.) and Saturday, June 22 (8 p.m.). Through the hits of Broadway, pop, and some of your favorite divas, Garrett Clayton-joined by Ashley Argota and Desi Dennis-Dylan-will tell tales of their friendships, navigating Hollywood, and their own personal awakening...peppered with fan kicks and jazz hands. Tickets for Garrett Clayton range in price from $45-$75 and are available now by calling 866-663-1063 or visiting www.feinsteinsathenikko.com. Tickets prices are subject to change without notice.

Garrett Clayton is best known for his leading role in the hit Disney Channel movies "Teen Beach Movie" and "Teen Beach Movie 2." Clayton will next be seen in the indie film "Peel" opposite Emile Hirsch. He can currently be seen in "Between Worlds" opposite Nicholas Cage, and "Reach," an important film that looks at depression in young people. Previously, Garrett played Link in NBC's "Hairspray Live!" and Chase on ABC Family's "The Fosters." He also starred as the lead of the indie feature "King Cobra" opposite James Franco and Christian Slater, which premiered at the Tribeca Film Festival to incredible reviews. His film "Don't Hang Up" opposite Gregg Sulkin premiered at the Los Angeles Film Festival. He was recently in "God Looked Away," opposite Al Pacino and Judith Light, at The Pasadena Playhouse. Raised in the suburbs of Detroit, Michigan, Clayton performed in regional theater productions ofHigh School Musical 2, You're a Good Man Charlie Brown, Peter Pan, and Beauty and the Beast.

Located within Hotel Nikko (222 Mason Street, San Francisco), Feinstein's at the Nikko presents a wide range of entertainers from stage and screen all within an intimate 140-seat cabaret setting. Past performers include Tony Danza, Lea Salonga, Megan Hilty, Minnie Driver, Jeff Goldblum, Billy Porter, Betty Buckley, Caissie Levy, Darren Criss, Megan Mullally and Stephanie Hunt, Jim Brickman, Kathleen Turner, Linda Eder, Cheyenne Jackson, Rita Moreno, Tommy Tune...and Michael Feinstein himself!

There is a $20 food and beverage minimum per person inside the showroom which guests can use towards cocktails as well as a variety of small plates crafted exclusively for Feinstein's at the Nikko, through Restaurant Anzu. Cheese and dessert platters will also be available in the showroom.

For additional information on Feinstein's at the Nikko, visit: www.feinsteinsatthenikko.com.