FROST/NIXON Comes to TheatreWorks Silicon Valley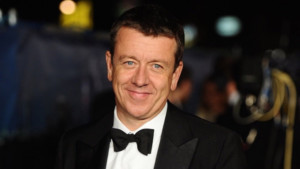 TheatreWorks Silicon Valley will kick off the new year with the Tony and Olivier Award nominated drama Frost/Nixon. Written by Golden Globe winner Peter Morgan (creator of Netflix's The Crown), Frost/Nixon is a riveting political prizefight where the cameras roll, the truth spins, and it becomes clear that he who controls the medium controls the message. With America caught in the riptides of Watergate and Vietnam, the former leader of the free world and a lightweight British talk-show host clash in a legendary series of TV interviews that will determine the President's legacy forever. Directed by Leslie Martinson, Frost/Nixon will be presented January 16 February 10, 2019 (press opening: January 19, 2019) at Mountain View Center for the Performing Arts, 500 Castro Street, Mountain View. For tickets ($40-$100) and more information the public may visit TheatreWorks.org or call (650) 463-1960.
Frost/Nixon debuted at London's Donmar Warehouse in 2006 to critical acclaim, and then transferred to the West End's Gielgud Theatre later that year, securing three Olivier Award nominations including Best New Play. Its 2007 Broadway premiere garnered a Tony, Drama Desk, and Outer Critics Circle Award for actor Frank Langella for his performance as Nixon, a Drama Desk Award for director Michael Grandage, and was nominated for three Tony Awards including Best Play, four Drama Desk Awards, five Outer Critics Circle Awards, and a Drama League Award. The New York Times declared Frost/Nixon Fast and fluid. A ticking-bomb thriller! and USA Today called it supremely entertaining theater. Its 2008 film adaptation was called spellbinding by The Wall Street Journal and a delicious contest of wits by The Washington Post and it was nominated for five Academy Awards and five Golden Globes.
TheatreWorks has assembled a stellar cast for this production, featuring Jeremy Webb as British talk show host David Frost and Allen McCullough as former president Richard Milhous Nixon, both making their TheatreWorks debuts. Webb has performed regionally at Lincoln Center Theater, Signature Theatre, The Old Globe, Long Wharf Theatre, Hartford Stage, Huntington Theatre Company, Cincinnati Playhouse in the Park, Repertory Theatre of St. Louis, and The Alley Theatre. Webb has also been seen in roles on NBC's Law & Order, Law & Order: Criminal Intent, and Law & Order: SVU, as well as in CBS's Guiding Light. McCullough has been seen in HBO's Vinyl, directed by Martin Scorsese, and in Amazon Prime Video's The Marvelous Mrs. Maisel, directed by Amy Sherman Palladino. He has also appeared onstage in Roundabout Theatre Company's national tour of Twelve Angry Men and in productions by Long Wharf Theatre, Baltimore Center Stage, and the Folger Theatre.
Returning to TheatreWorks where he was seen as Mr. Bingley in this summer's workshop of Pride and Prejudice, Adam Shonkwiler makes his main stage debut as John Birt, BBC's director of news and current affairs and the producer on Frost's team. Shonkwiler's film and TV appearances include The Private Lives of Pippa Lee and The Playboy Club, directed by Kenny Ortega. In addition, he has performed onstage at Lincoln Center Theater, Playwrights Horizons, The Goodman Theatre, Goodspeed Musicals, and San Jose Repertory Theatre. He was also seen in the Marvin Hamlisch and Jerry Lewis workshop stage production of The Nutty Professor and in the national tour for Whistle Down the Wind. Returning to TheatreWorks where he was seen in Peter and the Starcatcher, Kenny Toll plays Jim Reston, a researcher for the Frost team. Toll has also performed at San Francisco Playhouse, Magic Theatre, and Aurora Theatre Company.
Stephen Muterspaugh plays Bob Zelnick, the executive editor of the Frost/ Nixon interviews. Returning to TheatreWorks where he was seen in The Country House and Cyrano, Muterspaugh has also performed at San Francisco Shakespeare Festival and Marin Shakespeare Company. Elena Wright plays Caroline Cushing, Frost's girlfriend. Returning to TheatreWorks where she was seen in Silent Sky, Wright has also performed at Marin Theatre Company, California Shakespeare Theatre, San Francisco Playhouse, and Foothill Theatre Company.
Patrick Russell makes his TheatreWorks debut as Swifty Lazar, Nixon's agent, and Mike Wallace, the famed 60 Minutes correspondent. Russell has performed at American Conservatory Theater, Marin Theatre Company, Magic Theatre, and Aurora Theatre Company. Adam J. Saucedo makes his TheatreWorks debut as Manolo Sanchez, Nixon's valet. Saucedo has performed at Cabrillo Stage and El Teatro Campesino. Craig Marker plays Jack Brennan, a political aide and Nixon's post-resignation chief of staff. Winner of two San Francisco Bay Area Theatre Critics Awards, Marker returns to TheatreWorks, where he was seen in Third, Theophilus North, Brooklyn Boy, Dolly West's Kitchen, and Shakespeare in Hollywood. Marker has also performed at American Conservatory Theater, Berkeley Repertory Theatre, California Shakespeare Theatre, Marin Theatre Company, San Francisco Playhouse, San Jose Repertory Theatre, Aurora Theatre Company, and the Barbican Theatre. Alicia Piemme Nelson makes her TheatreWorks debut as Evonne Goolagong, a top tennis player. A Theatre Bay Area Award winner, Nelson has been seen at Berkeley Playhouse, The Tabard Theatre Company, Crowded Fire Theater, and Bay Area Children's Theatre.
Peter Morgan is a playwright, screenwriter, and producer. His films include The Queen, for which he won a Golden Globe for his screenplay and received an Academy Award nomination, Frost/Nixon, for which he received Golden Globe and Academy Award nominations, as well as Rush, The Other Boleyn Girl, and The Last King of Scotland. He is the creator and screenwriter of the hit Netflix series The Crown, which won the Golden Globe for Best Television Series Drama and received Primetime Emmy Award nominations including Outstanding Drama Series and Outstanding Writing for a Drama Series. Other television work includes the Primetime Emmy Award-nominated The Special Relationship, The Deal, and Longford. His plays The Audience and Frost/Nixon each were nominated for the Olivier and Tony Awards for Best Play.
Director Leslie Martinson is TheatreWorks's former Associate Artistic director, and served as a director and administrator at TheatreWorks for over thirty years. She has helmed many productions at TheatreWorks, including The Four Immigrants: An American Musical Manga, for which she received the San Francisco Bay Area Theatre Critics Circle Award for Direction, as well as Calligraphy, Proof, Water by the Spoonful, Warrior Class, the Regional Premiere of Time Stands Still, the 2012 West Coast Premiere of The Pitmen Painters, and the company's acclaimed 2010 production of Superior Donuts. Other TheatreWorks directing credits include The Grapes of Wrath (co-directed with Artistic Director Robert Kelley), the Bay Area Premiere of Putting It Together, and the West Coast Premieres of The Boys Next Door, Brilliant Traces, If We Are Women, Theophilus North, and The Voice of the Prairie. A graduate of Occidental College, Martinson was a Watson Fellow, a member of Lincoln Center Directors' Lab, a member of the La MaMa International Directing Symposium, and has served on Theatre Bay Area's Theatre Services Committee since 2002. In 2009, she was awarded an Individual Artist Fellowship in Stage Direction from the Arts Council of Silicon Valley for artistic achievement and community impact.