BWW Review: THE LANGUAGE ARCHIVE at Lucie Stern Theatre - A Stunning Production Of Julia Cho's Award-Winning, Quirky Tale Of Love And Miscommunications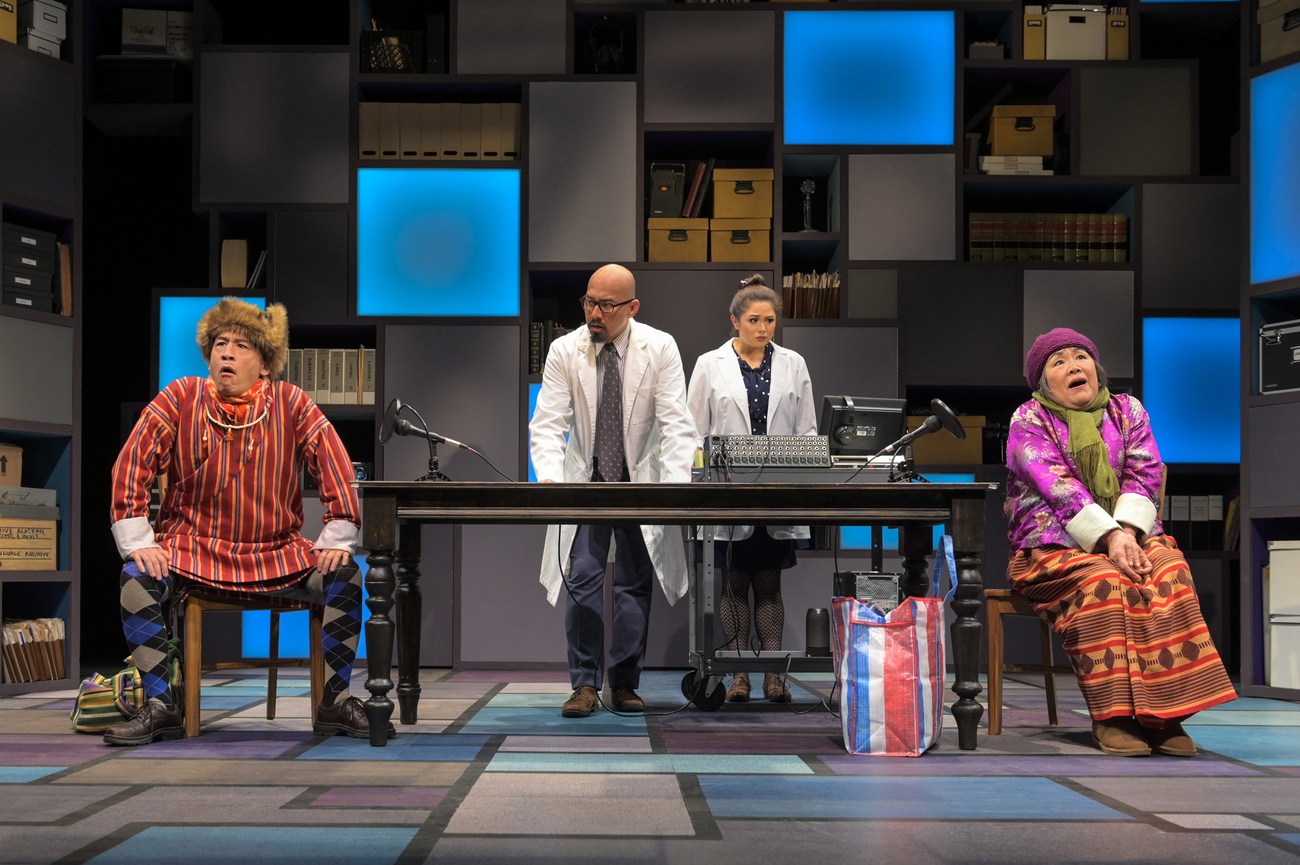 The Language Archive
Written by Julia Cho
Directed by Jeffrey Lo
TheatreWorks Silicon Valley
Robert Kelley likes to deliver the introductory speeches on opening nights of TheatreWorks productions, thanking his sponsors and prepping us for the night's offering. But tonight was not just any opening night - everyone in the audience knew it is Kelley's swan song season after 50 years as Artistic Director, a career that was richly rewarded with a Regional Tony Award this year. When he introduced himself, applause grew to a rolling, sustained standing ovation that seemed to overwhelm the man. It was a much-deserved recognition of a career that presents productions like this season's smash opening of Julia Cho's smart, funny and bittersweet The Language Archive.
It's a play about communication, the preservation of lost and soon to be extinct languages and dialects and the inability of people to speak their hearts and relate to each other. Merging both the scientific and romantic world, Cho marvelously weaves a parable of our time where rhetoric replaces true substance and chasms are created when simple connection would suffice. Commissioned by New York's Roundabout Theatre Company in 2010, Cho wrote the piece after reading an article on the passing of the last speaker of a dying tongue. The play went on to win her the Susan Smith Blackburn Prize and now receives the full bells and whistles treatment TheatreWorks can offer.
Starting with a five-actor ensemble cast of considerable talents; Obie and Lucille Lortel Award winner Francis Jue, stage, screen, TV series/movie actor Emily Kuroda, local luminaries Jomar Tagatac (Holes , Vietgone, Hamlet, Monstress, As You Like It, War of the Roses, Everybody, King of the Yees), Elena Wright (Frost/Nixon and Silent Sky) and Adrienne Kaori Walters (Peter and the Starcatcher , Pride and Prejudice and Norman Rockwell's America). All shine brightly, delivering Cho's intelligent, heartfelt script.
Tagatac plays George, a linguist committed to preserving languages, but who cannot seem to speak to his wife Mary (Wright). Their communication gap had devolved ;into her sending him cryptic notes in his books, shoes and coffee cup. He sees she's sad but cannot understand the root cause. When she tells him she's leaving him, all he can do is beg internally for her not to leave. Wright plays Mary with a sense of distant tension, not able to express or even understand her desire to move on for an unknown future. There's a palpable sense of frustration and regret between the two.
At the office, George and his co-worker Emma (Adrienne Kaori Walters) are ecstatic at interviewing an Elloway couple, Resten and Alta, the last speakers of their dying language. But when ready to record, the couple, played with abundant charm and humor by Francis Jue and Emily Kuroda, the pair bicker relentlessly in English. Mocking her horrible cooking, she throws an old beau in his face, finally casting an ancient 'Ghost Curse' or silent treatment. When George asks why they're speaking in English and not their native tongue, Alta and Restin explain that their language doesn't have such hateful, angry words. Only angry people speak English! The script and Jue and Kuroda's acting was so deliciously comic, it elicited spontaneous applause.
There's other episodes of mis- or non-communication happening here; Emma is madly in love with George but cannot let him know. She takes classes in Esperanto from an overzealous instructor (also played by Kuroda), to hopefully get the courage to say 'I love you' in that universal language (she'll have a bizarre encounter with L. L. Zamenhof, creator of Esperanto (Jue again). Mary is without purpose when she meets a strange man clutching a box and ready to commit suicide by jumping in front of a train. Mary sparks up a conversation and it turns out the man (another character played by Jue) is a baker who gifts Mary his famous starter. She starts a new business baking the finest bread in town and will sell some bread to Emma who coincidentally enters her store.
Cho has excellently interweaved stories about marriage, love and communication. George and Mary's breakup is bittersweet, as is Emma unrequited love for George. Alta and Resten end their silent treatment when Resten is hospitalized with an incurable disease. Their love is timeless even thought their language is not. Earlier, Alta had questioned why George would save a language when the world that created it was gone. Perhaps Cho's bigger theme is that we must speak our truths while we can and not worry about past or future.
Jeffrey Lo is blessed to have such a cast and allows each actor to work with their strengths, both comic and dramatic. There's a delicate balance happening between the script's important messages and the necessary humorous elements. Andrea Bechert's beautifully compartmentalized backdrop of open shelving holding audio equipment and glowing monitor screens was a smart metaphor for George's scientific thinking. Lighting designer Mike Palumbo adds to the clinical atmosphere.
The characters break the fourth wall and address the audience in a sweet denouement, leaving us emotionally satisfied for all concerned. That's the power of fine playwriting combined with the superior vision of Theatreworks Silicon Valley. Its why they won a 2019 Tony Award. The Language Archive reflects everything great about theatre and opens Kelley's final season and company's 50th year with a resounding success.
The Language Archive continues through August 4th, 2019 at The Lucie Stern Theatre, 1305 Middlefield Road, Palo Alto, CA. Tickets available at www.theatreworks.org or by calling (650) 463-1960.
Photos by Alessandra Mello.
Related Articles View More San Francisco

Stories

Shows