UC San Diego Department of Theatre and Dance to Stage WHAT OF THE NIGHT?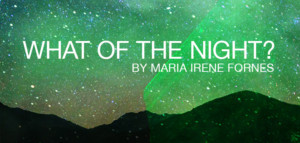 The UC San Diego Department of Theatre and Dance presents What of the Night? by Maria Irene Fornes, directed by Katie Pearl.
What of the Night?, a Pulitzer Prize finalist, offers a panoramic view into the spiritual and economic poverty of 20th and 21st century United States. Taking place over a 60-year span and following four individual family members through four linked plays, What of the Night? lifts the lid off societal oppression to expose the unstoppable humans within. Meet Nadine, who sets her children on their course by teaching them that love means survival at all costs and by any means; meet young Birdie who walks out of that life in search of a better existence. Meet Rainbow who carries her mother's lesson forward, caring for her lover Greta by renting out her body to a man who, unbeknownst to her, is her half-brother, Ray. Meet abusive and power-addictEd Ray, who makes it to the echelons of corporate success only to be terrorized by the emptiness he finds there. Get to know tender-hearted Charlie, who in his old age finds himself in charge of a vast bureaucratized homeless shelter, where Ray and eventually fourth sibling Birdie come under his care.
What of the Night? is a sweeping portrait of society, a brutal castigation of greed, and a brilliant assertion of human spirit. It is a tender and brutal telling of the impossibility of love and the spiritual disintegration that happens when the stranglehold of poverty-- or the forces of great wealth--infiltrate the inner workings of our lives and relationships.
A preview of the show takes place on Nov. 11 at 2:00 PM. The show runs from Nov. 14-18 at 7:30 PM. Performances are in the Sheila and Hughes Potiker Theatre in the Joan and Irwin Jacobs Theatre District on UC San Diego's campus: 2910 La Jolla Village Drive, La Jolla, CA. For information about parking, see the website.
Tickets are $20 for regular performances. Subscriptions and group rates are available. Student tickets are $10 for regular performances. Faculty, staff, alumni and senior citizen discounts available as well. Tickets can be purchased online or by calling the box office at (858) 534-4574.
The cast features Molly Adea (Task Force), Mary Rose Branick (Helena / Lorraine), DeLeon Dallas (Pete / Joseph / Jim), Janet Fiki (Birdie / Dream Restauranteur "Wing"), Kyle Hester (Ray), Nicole Javier (Leah / Greta / She), Levan Korganashvili (Task Force), Kim Monks (Nabine / Reba / Dream Restauranteur "Wang"), Allyn Moriyon (Charlie / Boy), Jenna Nimri (Task Force), Mo Rodvanich (Rainbow / Girl), Alexandra Velazquez (Task Force), Anna Younce (Task Force).
The production staff includes Katie Pearl (Director), Matthew Herman (Scenic Designer), Junior Bergman (Costume Designer), Brandon H Rosen (Lighting Designer), Zhongran Carren Wang (Sound Designer), Hsi-An Chen (Assistant Scenic Designer), Chris Flagstad (Assistant Costume Designer), Mextly Almeda (Assistant Lighting Designer), Mae Ann Ross (Assistant Sound Designer), Ashley Martin (Production Stage Manager), Willie Mae Michiels (Asst. Stage Manager), Jacob Halpern-Weitzman (Asst. Stage Manager).
About the playwright: Maria Irene Fornes is a Cuban-American avant garde playwright, director, and master teacher whose plays and playwriting classes influenced an entire generation of theater artists. As a leading figure of the Off-Off-Broadway movement in the 1960s, Fornes broke open conventions of theater making, shocking and delighting New York audiences with bold, surprising work that continually redefined itself. In 1965 she won her first two 'Distinguished Play' OBIE awards, for both her biting and hilarious musical Promenade and her loopy, satirical The Successful Life of 3 (dedicated to her lover at the time Susan Sontag). She went on to win a total of 9 OBIES, and in 1990 a finalist for the Pulitzer Prize with her play What of the Night? Other notable works include Fefu and Her Friends, which was the first Off Broadway play to have an all-female cast, and Mud, Sarita, and Letters from Cuba. Fornes plays often examine the insinuation of socio-economic roles into intimate relationships, teasing out the continual interplay of poverty, power, love, and sex. Fornes currently lives in Amsterdam Nursing Home in New York City, where she is in advanced stages of Alzheimer's. She continues to be a vital figure in both the Latinx theater community as well as in the American theater in general. In order to propel her legacy forward, leaders from the Latinx Theater Commons are in the process of establishing a Fornes Institute, and a new documentary called 'The Rest I Make Up'-- which follows Fornes' brilliant creative mind in her post-writing years-- is set to be released early next year.
About the director: Katie Pearl is a director, playwright, and social practice artist whose work is fueled by the belief that personal encounter and creative exchange are necessary to maintain a humane world. Her projects range from plays to interactive installation to community-wide collaborations, and often invite audiences and participants into radically imaginative situations that playfully challenge traditional structures and norms. As co-Artistic Director of PearlDamour, the interdisciplinary company she shares with playwright Lisa D'Amour, Katie has co-created, directed, and sometimes performed in a body of work spanning 18 years and 13 cities. PearlDamour's recognition includes an OBIE Award (Nita & Zita), a Creative Capital Award (How to Build a Forest), four Multi-Arts Production Fund grants (LandMark, Terrible Things, How to Build a Forest), and two NEA Our Town grants (Milton). Projects in development include a Steinberg Commission from the Trinity Rep, a new PearlDamour project commissioned by The American Repertory Theatre and the Harvard University Center for the Environment, and The Rest I Make Up, a new documentary she is co-producing about the visionary theater artist Maria Irene Fornes, to be released in the summer of 2017. Katie received her MFA in Writing for Performance from Brown University in 2015. She is currently a Visiting Lecturer at Harvard University and an Anschutz Fellow at Princeton, where her teaching and research focus on the concept of the Artist-Citizen.
Related Articles View More San Diego

Stories

Shows
More Hot Stories For You