Photo Flash: First Look at Ken Ludwig's BASKERVILLE: A SHERLOCK HOLMES MYSTERY at The Old Globe
The West Coast Premiere of Ken Ludwig's Baskerville: A Sherlock Holmes Mystery, a new work by one of America's great comic playwrights, familiar to millions for Lend Me a Tenor and Crazy for You, is directed by Josh Rhodes, who previously choreographed the Globe's productions of Bright Star and Working, as well as Broadway's It Shoulda Been You, First Date, and Rodgers + Hammerstein's Cinderella, at The Old Globe. The production is currently in previews for tomorrow's (July 30th) opening in the Sheryl and Harvey White Theatre, part of the Globe's Conrad Prebys Theatre Center. Although originally scheduled to run through August 23, Baskerville has been extended by popular demand through August 30, 2015. BroadwayWorld has a first look at the cast in action below!
A wildly inventive adaptation of Sir Arthur Conan Doyle's classic mystery The Hound of the Baskervilles makes its West Coast premiere. Ken Ludwig brings to life literature's most famous detective-the inimitable Sherlock Holmes. Five fearless actors conjure the world of Victorian England as Holmes and Watson take on one of the most diabolical cases of their careers. This witty and clever romp delivers chills, laughter, and a great evening of theatre.
Tony Award nominee Euan Morton plays the intrepid Sherlock Holmes. He was last at the Globe as Michelangelo Buonarroti in 2012's Divine Rivalry. He originated the role of Boy George in Taboo on Broadway and the West End, appeared in Broadway's Cyrano de Bergerac and Sondheim on Sondheim, and won an Obie Award for Measure for Pleasure at The Public Theater. Usman Ally is his trusted colleague Doctor Watson. He received a 2015 Obie Award for Off Broadway's The Invisible Hand and has also appeared in Disgraced, The Elaborate Entrance of Chad Deity, The Jungle Book, "Madam Secretary," and "Damages." The 45 other people in the play are portrayed by Blake Segalas Man One (Mary Poppins national tour, Off Broadway's Bones in the Basket and Les Enfants de Paris, "Blue Bloods"), Andrew Kober as Man Two (Broadway's LES MISERABLES and Hair, "House of Cards," "Boardwalk Empire"), and Liz Wisan as Woman One (Other Desert Cities on Broadway, Bill W. and Dr. Bob Off Broadway, the films Ready or Knot and Bitches, "Elementary").
The creative team also includes Wilson Chin (Scenic Design), Shirley Pierson (Costume Design), Austin R. Smith(Lighting Design), Bart Fasbender (Original Music and Sound Design), David Huber (Vocal Coach), Caparelliotis Casting (Casting), and Annette Yé (Production Stage Manager).
The 2015 Summer Season continues the Globe's 80th Anniversary festivities as part of the Balboa Park Centennial Celebration. Tickets for Ken Ludwig's Baskerville: A Sherlock Holmes Mystery are flying out the door! Subscription packages to the Globe's 2015 Summer Season range from $97 to $346; single tickets start at $29. Tickets can be purchased online at www.TheOldGlobe.org, by phone at (619) 23-GLOBE, or by visiting the Box Office at 1363 Old Globe Way in Balboa Park.
Photo Credit: Jim Cox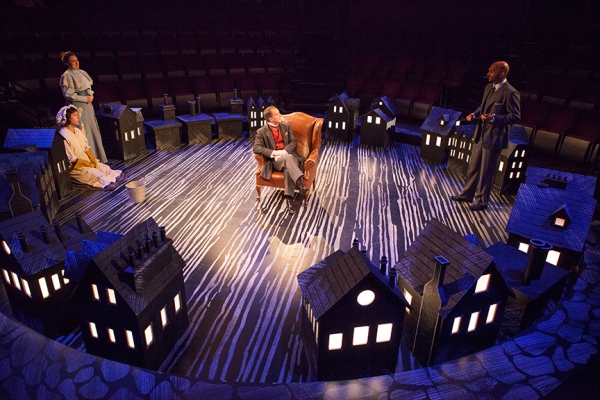 Euan Morton as Sherlock Holmes (center) with (From left) Andrew Kober as Daisy, Liz Wisan as Mrs. Hudson, and Usamn Ally as Doctor Watson

Euan Morton as Sherlock Holmes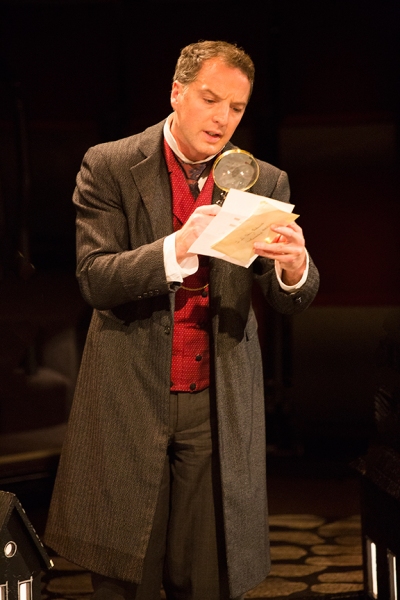 Euan Morton as Sherlock Holmes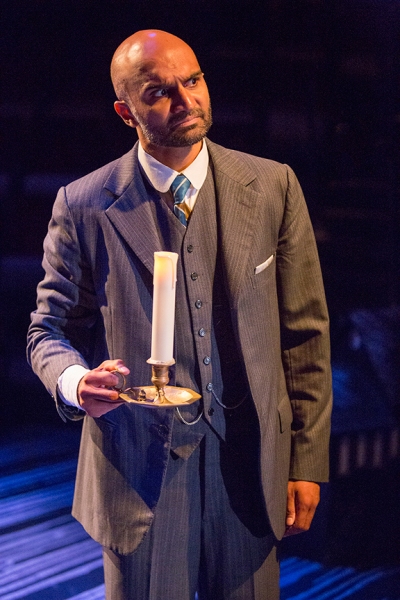 Usman Ally as Doctor Watson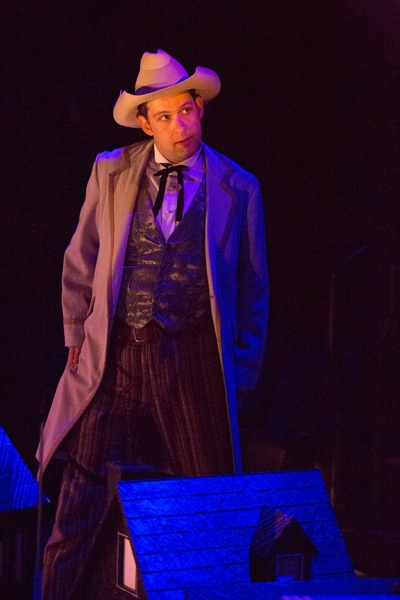 Andrew Kober as Sir Henry Baskerville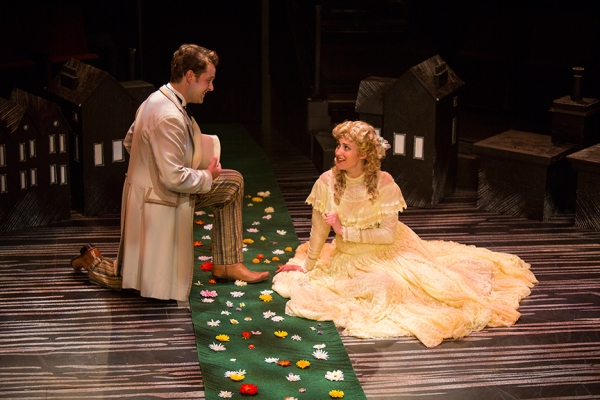 Andrew Kober as Sir Henry Baskerville and Liz Wisan as Beryl Stapleton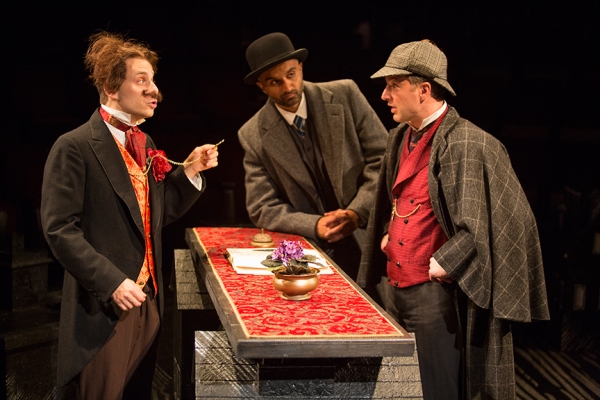 Blake Segal as Castilian Desk Clerk, Usman Ally as Doctor Watson, and Euan Morton as Sherlock Holmes

The cast of Ken Ludwig's Baskerville: A Sherlock Holmes Mystery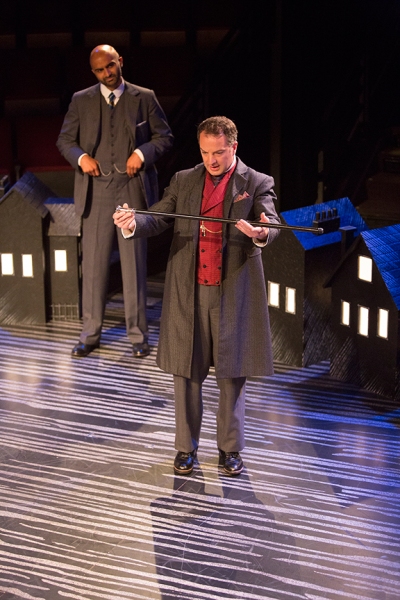 Usman Ally as Doctor Watson and Euan Morton as Sherlock Holmes

Liz Wisan as Beryl Stapleton and Blake Segal as Mr. Stapleton

Blake Segal as Mr. Barrymore and Liz Wisan as Mrs. Barrymore

Euan Morton as Sherlock Holmes, Usman Ally as Doctor Watson, and Liz Wisan as Nurse Malloy

Euan Morton as Sherlock Holmes (foreground) with (From left) Andrew Kober as Daisy, Liz Wisan as Mrs. Hudson, and Usamn Ally as Doctor Watson