Photos: First Look at Euan Morton, David Selby and More in The Old Globe's DIVINE RIVALRY
The Old Globe presents the West Coast Premiere of Divine Rivalry. Based on a real-life event, the drama about two of history's most famous artists-and one of history's most infamous statesmen-is written by Michael Kramer with D. S. Moynihan. Directed by Michael Wilson, Divine Rivalry runs now through August 5 on the Donald and Darlene Shiley Stage in the Old Globe Theatre, part of the Globe's Conrad Prebys Theatre Center. Preview performances run through July 11. Opening night is Thursday, July 12 at 8:00 p.m. Get a first look at the production in the photos below!
Divine Rivalry transports audiences to 16th-century Florence, where two of the world's greatest artists, Michelangelo Buonarroti and Leonardo da Vinci, face off in a painting competition orchestrated by political mastermind Niccolò Machiavelli (The Prince). The fascinating contest forms the backdrop for an even greater battle as the leading minds of the Renaissance clash over political gain, personal riches and the immortality of art.
Shakespeare Festival favorite Miles Anderson returns to the Globe to play the legendary Leonardo da Vinci. Anderson was last seen in the 2011 Shakespeare Festival as Prospero in The Tempest and Antonio Salieri in Amadeus. His 2010 appearance in the title role of The Madness of George III won him the San Diego Theatre Critics Circle Craig Noel Award. Sean Lyons will play Niccolò Machiavelli. Lyons recently appeared in the world premiere of Ether Dome at Alley Theatre and was featured for three years at the Edinburgh Festival Fringe in Moby Dick Revisited, The Grapes of Wrath and The Good Doctor. Euan Morton will appear as Michelangelo Buonarroti. Morton was nominated for a Tony Award for playing Boy George in Taboo and has also appeared on Broadway in Cyrano de Bergerac and Sondheim on Sondheim. David Selby will play Piero Soderini. Selby's Broadway credits include The Heiress, The Eccentricities of a Nightingale and I Won't Dance and has originated roles on the television series "Dark Shadows" and "Falcon Crest."
The creative team includes Jeff Cowie (Scenic Design), David C. Woolard (Costume Design), Robert Wierzel (Lighting Design), John Gromada (Original Music and Sound Design), Peter Nigrini (Projection Design), Telsey + Company (Casting) and Marisa Levy (Stage Manager).
Playwright Michael Kramer is an award-winning journalist. As New York Magazine's political columnist in the 1970s and 1980s, he covered local and national politics. For a decade beginning in the late '80s, he was TIME Magazine's political columnist, covering national and foreign affairs. He was also chief political correspondent for U.S. News & World Report and managing editor of the New York Daily News. He was the editor and publisher of More, the media magazine, and editor of Content, a short-lived magazine about the news business. He is the coauthor of The Ethnic Factor, a book about minority voting patterns that became a standard text on the subject. He also coauthored I Never Wanted to be Vice President of Anything, a political biography of Nelson Rockefeller that was nominated for the Pulitzer Prize.
Playwright D. S. Moynihan began her career in the press/marketing departments of New York's Circle Repertory Company and Ensemble Studio Theatre. She then became Literary Manager of the latter, where she worked closely with writers on the creation and development of new plays. She received her M.A. and Ph.D. in Drama from New York University and taught theater at Sarah Lawrence College for five years. She currently serves as Vice President-Creative Projects for The Shubert Organization.
Director Michael Wilson returns to the Globe where he directed Horton Foote's Dividing the Estate this past winter. He is currently represented on Broadway by the Tony-nominated revival of Gore Vidal's The Best Man. He received Drama Desk and Outer Critics Circle Awards for his direction of Foote's three-part, nine-hour The Orphans' Home Cycle in 2010. On Broadway, he has directed Dividing the Estate (Tony nomination, Best Play), Matthew Barber's Enchanted April (Tony nomination, Best Play) and John Van Druten's Old Acquaintance (Roundabout Theatre Company). His Off Broadway credits include the premieres of Eve Ensler's Necessary Targets, Foote's The Carpetbagger's Children (Lincoln Center Theater), Tina Howe's Chasing Manet (Primary Stages) and Christopher Shinn's Picked (Vineyard Theatre) and What Didn't Happen (Playwrights Horizons), as well as the New York premieres of Jane Anderson's Defying Gravity, Tennessee Williams' The Red Devil Battery Sign and the Roundabout revival of The Milk Train Doesn't Stop Here Anymore. His resident theatre work includes plays and musicals at Alley Theatre, American Repertory Theater, Goodman Theatre, Guthrie Theater and Long Wharf Theatre as well as Hartford Stage, where he was Artistic Director from 1998 to 2011, when Divine Rivalry had its world premiere there, and where he commissioned and developed Quiara Alegría Hudes's 2012 Pulitzer Prize-winning play, Water by the Spoonful. A recipient of the 2001 Princess Grace Statue Award, he is a Morehead Scholar graduate of The University of North Carolina at Chapel Hill. His next project is the American premiere of Christopher Shinn's Now or Later for Huntington Theatre Company.
The Tony Award-winning Old Globe is one of the country's leading professional regional theaters and has stood as San Diego's flagship arts institution for over 75 years. The Old Globe produces a year-round season of 15 productions of classic, contemporary and new works on its three Balboa Park stages: the Donald and Darlene Shiley Stage in the 600-seat Old Globe Theatre and the 250-seat Sheryl and Harvey White Theatre, both part of The Old Globe's Conrad Prebys Theatre Center, and the 605-seat outdoor Lowell Davies Festival Theatre, home of its internationally renowned Shakespeare Festival. More than 250,000 people attend Globe productions annually and participate in the theater's education and community programs. Numerous world premieres such as The Full Monty, Dirty Rotten Scoundrels, A Catered Affair and the annual holiday musical, Dr. Seuss' How the Grinch Stole Christmas!, have been developed at The Old Globe and have gone on to enjoy highly successful runs on Broadway and at regional theaters across the country.
For tickets, scheduling and further information, visit www.TheOldGlobe.org.
Photo credit: Henry DiRocco


Sean Lyons as Niccolo Machiavelli, Euan Morton as Michelangelo Buonarroti and Miles Anderson as Leonardo da Vinci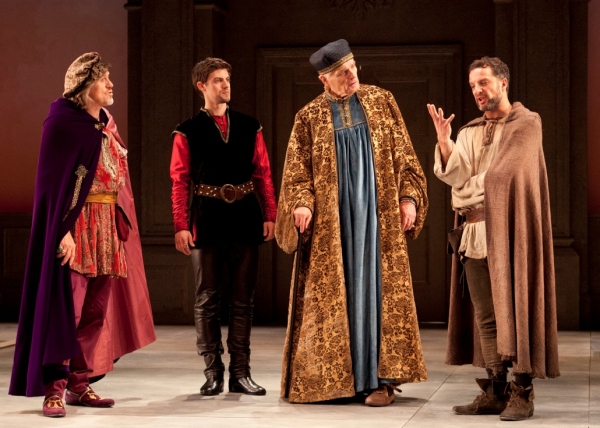 Miles Anderson as Leonardo da Vinci, Sean Lyons as Niccolo Machiavelli, David Selby as Piero Soderini and Euan Morton as Michelangelo Buonarroti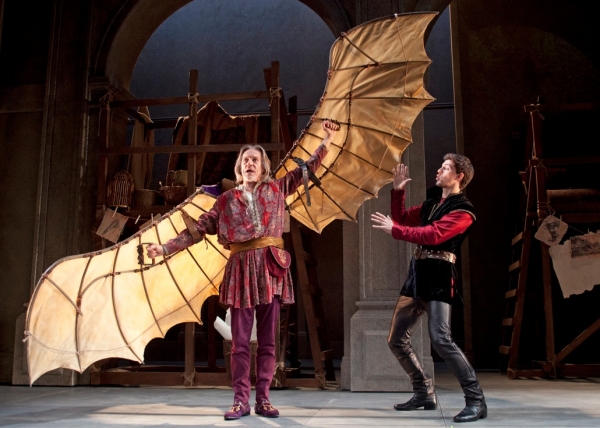 Miles Anderson as Leonardo da Vinci and Sean Lyons as Niccolo Machiavelli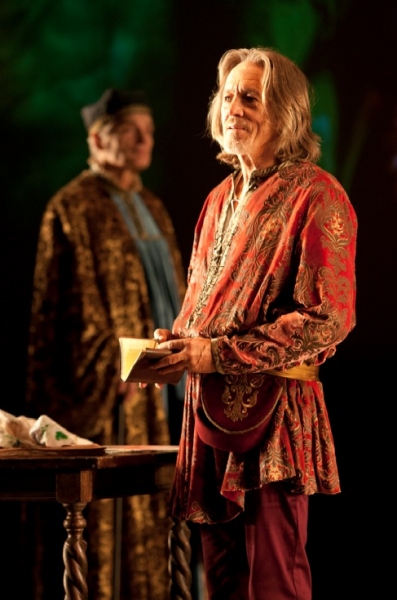 David Selby as Piero Soderini and Miles Anderson as Leonardo da Vinci

Euan Morton as Michelangelo Buonarroti

Sean Lyons as Niccolo Machiavelli

David Selby as Piero Soderini

Miles Anderson as Leonardo da Vinci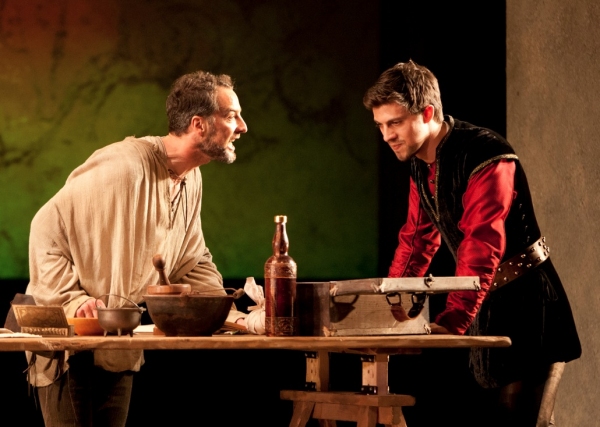 Euan Morton as Michelangelo Buonarroti and Sean Lyons as Niccolo Machiavelli