Photo Flash: First Look at Circle Circle dot dot's Site-Specific Tour SAN DIEGO, I LOVE YOU
Circle Circle dot dot's latest all-original new work has officially opened! "SAN DIEGO, I LOVE YOU" takes audiences on a romantic walking tour through the streets of the fabulous Hillcrest neighborhood in San Diego, and shows love can be found everywhere in many different forms. BroadwayWorld has a first look at the tour in the photos below!
"San Diego, I Love You" is a modern-day comedy/romance site-specific performance piece based on the true tales of several local residents who have been lucky (or almost lucky) with love in our gorgeous city.
So join Circle Circle dot dot at the fabulous kick-off location (Jake's on 6th Wine Bar) and let the company guide you to several secret locations (all within a 4-block walking distance & wheelchair accessible), where you'll be able to peer into the lives of Alex and Chris who are finding themselves unable to resist a romantic entanglement, despite the vast obstacles that stand in their way. *Adult themes, and language are used in this production.
Performances continue February 16, 17 at 1, 1:30, 2, 2:30, 3, and 3:30pm each performance day. Tickets are $15 (Students, Senior, Military, and Actors Alliance) and $20 (Adult). This production has very limited audience space as only 10 tickets per showtime will be made available to purchase in order to help enhance the performance experience for audiences.
Tickets for SAN DIEGO, I LOVE YOU are available only at www.circle2dot2.com before the show, or by e-mailing circle@circle2dot2.comto arrange reservations. Tickets may also be purchased one hour prior to each performance at starting location.
For more information and tickets, visit www.circle2dot2.com.


The audience watches characters Chris and Alex played by Brian Burke and Katherine Harroff

Chris (Brian Burke) and Alex (Katherine Harroff) may be sharing a little too much with each other.

Tour guide, Sam Ginn leads the audience through the Fabulous Hillcrest neighborhood in San Diego.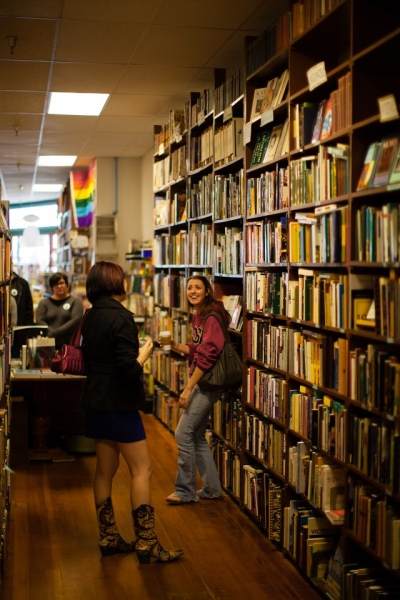 Audiences watch Whitney Shay as Chris and Kathryn Byrd as Alex among the stacks of books.

Whitney Shay and Kathryn Byrd shop for reading material.

Evan Kendig and Shaun Tuazon as Pat and Chris meet for a blind date at the oldest gay bar in Hillcrest.

Shaun Tuazon as Chris and Justin Warren Martin as Alex cut loose on the dance floor!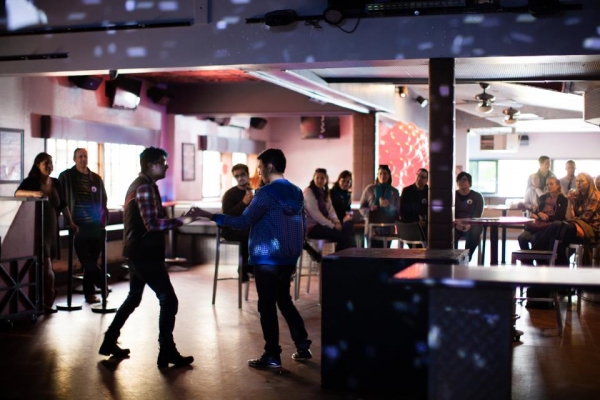 Justin Warren Martin and Shaun Tuazon

Delia Knight as Alex and Jon Huckaby as Sam meet for coffee.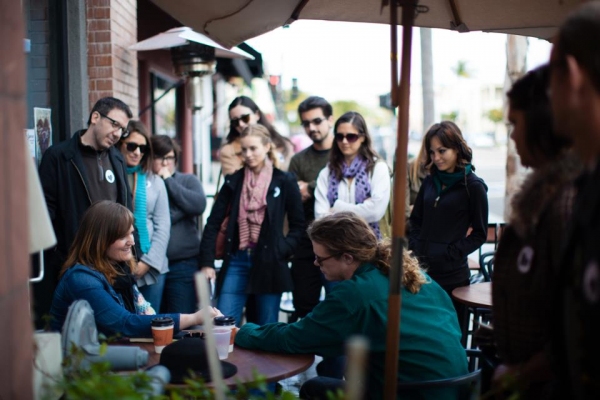 Could it be a happy ending for Alex (Delia Knight) and Sam (Jon Huckaby)?

Michael Nieto and Laura Kaplan-Nieto as Chris and Alex say goodbye.

Laura Kaplan-Nieto (Alex) and Michael Nieto (Chris) share a sweet moment before they say goodbye.

A goodbye kiss, for Chris (Michael Nieto) and Alex (Laura Kaplan-Nieto)

More Hot Stories For You